Some purple and gold news for the masses. First and foremost, Andrew Bynum's MRI results are in and the original diagnosis remains the company line: Strained, not torn. Certainly good to hear, although no return date is included. Or even an updated time frame for a return. For now, everything's up in the air like George Clooney.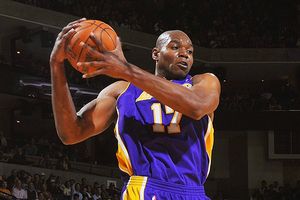 Rockey Widner/NBAE via Getty Images
Andrew Bynum (above) is feeling better, but his injured left Achilles tendon (not pictured) still isn't healed to the point of getting back on the floor.
When it comes to these uncertainties, I'm actively choosing stay as calm as Pau Gasol during an earthquake. For example, I did some Sunday morning radio on 710 ESPN and was asked about a Saturday update (filed by yours truly), which had Drew "progressing," but still unable to run and jump. (I don't know everything about basketball, but even my hoops mind is sharp enough to identify those activities as fairly mandatory.) I noted how Bynum not being ready doesn't necessarily mean he's nowhere close to being ready. It just means he's not ready as we speak, and that's all we know for sure.
Is this willful use of semantics an exercise in self-delusion? Perhaps, when you consider Bynum's history as a slow healer and it's a leg injury, which is more difficult to play through than anything "hand," "shoulder," or even "back." I'd be lying if I claimed not to be a little concerned. But at the same time, unless there's something about medicine I simply don't know -which could very well be the case- a strain is by definition milder than Bynum's 2008 subluxation and 2009 MCL tear. That counts for something in my book. The Lakers are also, even by professional sports standards, cagey when it comes to medical details, which makes any lack of information feel like the standard operating procedure.
Plus, I might as well believe Drew will be back in time for the playoffs, because doom and gloom does me no good. If the worst case scenario proves true, everyone from the players to the coaches to the fans will simply have to deal with it. But until clearly necessary to cross that bridge, I'm willing to remain positive.
Positive enough to believe an immediately seamless return also lies ahead? Hell-to-the-no, between Bynum's struggles to acclimate before last year's title run and the general lack of cohesion plaguing the Lakers all season. But that's another headache I'll table for another day. For now, let's just get him back on the floor.
In the meantime, like BK and I expected, Phil Jackson was fined for his remarks criticizing the referees (and specifically, Bennett Salvatore) following Sunday's loss to the Spurs. 35 grand, to be exact. No surprise, nor do I expect PJ to bear any resentment whatsoever while scratching out a check. These are the kind of penalties The Zen Master always starts collecting around this time of year, and it's never by accident.
Finally, details are starting to surface about Kobe Bryant's new extension. ESPNLA.com's Dave McMenamin got word the additional three seasons Kobe spends in purple and gold will be compensated to the tune of 83.5 million bucks. Yowsa! Even more impressive, it's reportedly backloaded, so the final year (2013-2014) nets Kobe a cool $30.4 million for his troubles. That's like, "K Brothers blogging money."
But like most things in life, the windfall doesn't come without a catch. The contract's structure means the first of the three years will only pay out $25.2 mil, meaning lifestyle sacrifices will ultimately be needed. Hopefully, Kobe's socked away a little cash from past earnings. "Rainy day" money, as its often called. And if such precautions were never taken, well, you're never too old to learn a valuable life lesson. Kobe will simply have to make due like any other Average Joe living paycheck to paycheck.