Earlier, I dropped a few nuggets from Andrew Bynum's meeting with the media Monday in El Segundo regarding his balky left Achilles tendon. Below is the entirety of the exchange. It was good to see Bynum in gym clothes having built up a sweat. As most of you know, I try to avoid making projections about returns from injury, particularly when it comes to Bynum, preferring instead to see evidence of recovery.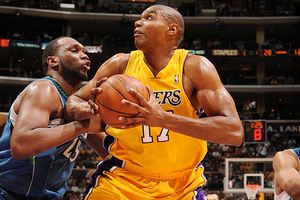 Noah Graham/NBAE via Getty Images
Andrew Bynum says he'll be in uniform when the playoffs begin Sunday.
Like a guy running on a fancy anti-gravity treadmill, for example.
Q: What type of work did you do today?
Bynum: AlterG treadmill. Basically just took about 30 pounds off my back and ran. That's what I did. It worked fine. There was no pain. Then tomorrow (I'll) do a little bit longer, with a little bit more weight on.
Q: When do you think you'll be back?
Bynum: First game of the playoffs.
Q: Is there a certain amount of frustration on your part because you've had injuries the last two or three years?
Bynum: No, I know how to deal with it now. I'm just getting myself back in condition. Keep running on the treadmill. I've been lifting weights. The only thing I'm going to need to get back is timing, but I did the same thing last year and it worked out for us.
Q: And you've seen how your team needs your presence on the floor.
Bynum: Definitely. On the defensive side, especially. When me and Pau are in at the same time, if somebody gets by one of us, the other one can kind of help alter more shots. We've been giving up way too many layups.
Q: Have you ever said to yourself, "Why me? Why do I have to keep going through the injuries to keep me out for a while?"
Bynum: Nah. I said that after the first time, but not anymore. I just cope with it, and come back.
Q: Do you think it'll be tough to come back and assimilate after sitting out almost a month of game action?
Bynum: It'll be tough, but it can definitely be done. We'll be practicing more in the playoffs, which is good because you don't get any days off. So the whole team's going to be there... So I should pick it up pretty quick.
Q: How much on-court stuff have you done?
Bynum: Nothing yet. This was the first day, I just ran today.
Q: So heading into Sunday's game, will you be doing any?
Bynum: I'll probably start Wednesday on the court, after I graduate from AlterG.
Q: How long did you run.
Bynum: 20 minutes.
Q: At a good clip?
Bynum: Yeah, like nine miles an hour.
Q: Once you're back, do you think the team can be as good as you were last year?
Bynum: Yeah, we definitely can. I think we can be better. Everybody just has to accept their role and know this is what we need to do. Offensively and defensively, what everybody needs to do, then just put everything into accomplishing it.
Q: Thursday in Denver you were talking about pain and strength as the two issues that were still lingering. Is the pain still a question?
Bynum: The pain is gone. Pain's gone. So now we're on to the strengthening part of it.
Q: Has it been a steady thing, where you've felt a little better every day, or has it been slower?
Bynum: It's been steady. A little bit better, a little bit better, a little bit better. Never really taking a jump.
Q: How does it feel to not be a part of what you want to be (as a team/individual) down the stretch as well?
Bynum: Well, I am going to be a part of the playoffs, definitely, so I'm still looking forward to that. But in missing these last couple of games I'm also giving other parts of my body a chance to relax, so that's good.
Q: When you come back, what part of your game are you most concerned with?
Bynum: Just getting up and down. You miss a month of playing or three weeks and you've got to come back and be in your best shape, because the playoffs are another level up. So it's gonna be tough. Obviously my minutes are going to be kind of limited at first, and then once I get my conditioning back it'll be back to normal.