The Lakers' final seven regular season game weren't terribly pleasant for Kobe Bryant. Three forged a combined 21-for-70 shooting clip, and the other four were skipped in an effort to rest his finger, knee, ankle and whatever else aches. After several days off, Kobe deemed himself recharged at Friday's practice. Of course, that's his standard assessment, so who knows what Sunday's playoff kickoff against the Thunder -much less beyond- will bring?
Kobe's health is at the front of the Laker nation's collective mind, the worry being too little gas to fuel a repeat championship. The validity of these concerns remains to be seen, but even optimistically, I imagine Bryant's legs, timing and touch won't resurface overnight, and maybe before a few games are settled. Fortunately, I don't think 24 leaning on his teammates during this series, perhaps more than any in his career, is necessarily problematic.
In particular, if Kobe agrees to lean on Pau Gasol to carry a significant load. Here are five reasons why, plus the added bonus: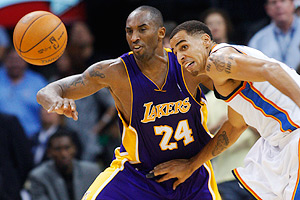 Sue Ogrocki/AP Photo
The average fan may not know who Thabo Sefalosha
is, but Kobe's well acquainted.
1) Kobe's matchup: At full strength, much less below, this could be a difficult series for Kobe to dominate. He'll be checked throughout the game by Thabo Sefolosha, among the league's premier wing defenders with a string of recent success against Bryant. According to ESPN Stats and Information, while guarded by Switzerland's favorite son, Kobe's scoring efficiency dropped to 0.81 points per play (compared to his season average of 0.97), a turnover was committed about 15 percent of time and he shot under 25 percent on jump shots. These bad effects surfaced in pointed fashion during the most recent showdown, where Kobe's turnovers (nine) nearly matched his points (11).
I'm not suggesting Thabo will hold Kobe below a dozen over a series. That would be ridiculous. But he's nonetheless capable of making Kobe work for long stretches, and should Bryant allow himself to become a volume shooter, he's doing the Thunder a solid. Better to be selective and pick your spots, which should still amount to plenty.
2) Feed the hot hand: While the Lakers' recent stretch has been largely unimpressive, a consistent positive has been Gasol. His seven April contests have been nothing short of spectacular. 24.3 ppg. 12.6 boards. 61.5 percent from the field. Nearly five assists. A shade over two blocks. Yes, famously 0-fer from behind the arc, but I'll cut that blemish some slack. Dude's balling, so unless there's some counter-intuitive logic escaping me, I see no reason to slow that roll. Milk the cow until the leche is gone.
Besides, among the Laker principals, Gasol's may the soundest of body. Considering their walking-wounded state, can the Lakers really afford not to utilize that luxury?
3) Playing towards strengths: Call me naive, a sap who dreams of one day celebrating world peace by adopting a pet unicorn. But despite 82 regular season games often spent blatantly ignoring obvious advantages, I still believe the Lakers will begin utilizing mismatches on a regular basis. With that in mind, OKC is a good defensive team, but they're low on bodies to throw at the Laker bigs.
Nenad Krstic is purely an offensive player. Jeff Green is a 'tweener forward. Serge Ibaka is a good shot blocker, but also a rookie who'll get little quarter from the refs. Nick Collison is an average big, no more, no less. Four unspectacular options, and Gasol should eat any of them for lunch. Bynum can also get his against this crew, but by his own admission, conditioning will be a work in progress. At least initially, Pau will probably have to do the lion's share.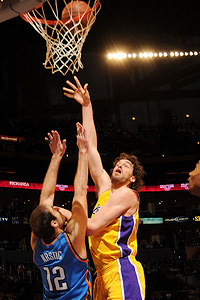 Win McNamee/Getty Images
Getting this close to the basket against
Kristic should be no problem for Pau.
Over a seven-game series, adjustments become a big part of the playoffs. Beyond just throwing the kitchen sink at Pau (or the other Laker bigs), I think this will be a tough hurdle for Scott Brooks to consistently offset. In any event, the burden of proof is on Brooks to provide the counter, not for the Lakers to offer an unsolicited Plan B. Any possession without a touch inside is inexcusable.
4) Self rediscovery: As the Lakers have frequently operated as a team lacking identity over the last month and change, players and coaches alike have mentioned a need to get back to basics. Executing their triangle. Developing a rhythm. Capitalizing on brilliant ball movement. Pushing the ball inside to Pau goes a long way towards goosing that goal. Whether working mano y' mano or finding open shooters or cutters from a double, Gasol's a great conduit from the high and low post. The ball typically ends up moving when possessions begin this way.
(In particular, I also see this approach beneficial for Kobe, creating opportunities to get fed on the move and keep Sefolosha on his heels.)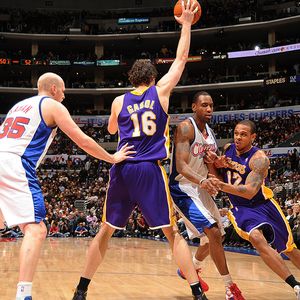 Noah Graham/NBAE via Getty Images
Lots of action can be created off Pau in the post.
There's also an infectious energy created from continual ball movement, a willingness to make the extra pass to find a better shot for the next guy. Even defensive intensity picks up as the ball changes hands more often. Plus, working inside-out tends to slow the game down and create better shots and fewer turnovers, all ways to counter the Thunder's propensity for converting miscues into fast break gold.
Obviously, the ball can't be forced inside at all costs. And this tact needn't center solely around Pau. Ron Artest, Bynum, Lamar Odom and, of course, Kobe will and should get turns manning the painted area. I just think the Lakers tend to exercise their overall strengths most effectively when the interior quarterback is Pau.
I've predicted on many occasions this could be a muddled postseason for the Lakers. They've been stuck in a rut, robbed of continuity all season, and enter the playoffs out of sync. I do think they're capable of playing high caliber ball, but I also think the kinks will be ironed out on the fly. They'll be making it up as they go, slogging through a round or two while figuring out what works. At any rate, in't no time to dilly dally.
5) The extra onus on Gasol to deliver: The fourth game against OKC was one of the season's worst losses, an utter debacle in which Gasol's hands were particularly dirty. El Spaniard went inexplicably passive, settling for jumpers and flip shots while seemingly refusing to drive. Particularly against Krstic, who would have raised his arm before the whistle if Pau had just attacked. Featuring Gasol reminds him of what's needed not just in this round, but the ones to come as well.
Phil Jackson recently tabbed Kobe the Lakers' MVP for the first 50 games, but gave Pau honors for the remainder. Really, both assessments are correct, regardless of time frame. The former is unquestionably the purple and gold's best, fiercest and most dangerous player, particularly in the clutch. But the latter is often the bigger difference between the Lakers being good enough or borderline unstoppable. This series is an ideal opportunity for Pau to make good on his coach's praise.
Bonus: Kobe can pace himself: Lest anybody think I'm suggesting Kobe take a backseat throughout the playoffs, stop. The Lakers remain Kobe's team, and he'll undoubtedly get plenty of chances to prove exactly why. This is just a matter of practicality. If there's a way to negotiate a series while preserving the team's best weapon, that's a no-brainer.
This series could be a legitimate shot at a rare luxury: A successful series with as little heavy lifting for Kobe as possible. The Lakers should at least attempt to cash in.