I just wanted to take a quick sec and make sure the Land O' Lakers readership is aware of a terrific piece about Josh Powell written by ESPNLA.com's Dave McMenamin. It's a very detailed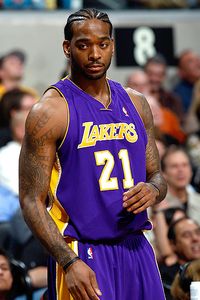 Ronald Martinez/Getty Images
Some players have a clear path to the league laid out for them. Others, like Josh Powell, have to will their way into the game.
look at Powell's difficult career path, which has featured a stint in Russia, little job security and non-stop effort despite typically sparse court time. Since landing with the Lakers, the deep reserve has emerged as a very unique "lead by example" presence for the team. And as McMenamin notes, he's also got the respect and friendship of Kobe Bryant going for him:
When the Lakers had an air-it-out meeting earlier this season after starting a three-game road trip with losses to Miami and Charlotte, reporters entered the gym and Bryant was alone at one end, isolated from the rest of the team. Powell was the one Lakers player to go over and chat with the visibly frustrated Bryant and he was also one of the last two players, along with Fisher, to stay in the gym and discuss the state of the team while the rest of the players put their headphones on and filed out to the bus.

"Josh's perspective is so different than a lot of us and I think that's very good for our team. A lot of his experiences personally and professionally have put him in a place where he doesn't fear challenges, adversity, tough situations," Fisher said.

It's that perspective that gives Powell the confidence to offer constructive criticism of the team, without fear about losing playing time, something that is motivation for many bench players to keep quiet.
Brian and I have always praised the professionalism of guys like Powell and D.J. Mbenga, who consistently stay ready despite their number being infrequently called. Shannon Brown displayed this characteristic last season, which earned him an unexpected spot in the rotation. We both enjoy when players of their ass-busting ilk are somehow rewarded, whether through increased PT, a long-term contract (which Powell would certainly love) or through recognition of their often interesting personal stories.
This article does JP justice.