In life, things often come full circle. The biggest example is quite literally life itself. We are born babies incapable of taking care of ourselves. We die as elderly people left to the mercy of those tending to our needs. Between those milestones are your life's chapters, often filled with full circle situations typically signifying a moment of true significance. And in the case of the Lakers' series-clinching game 6 victory against the Oklahoma City Thunder, there was a 360 moment critical to their semi-finals advancement.
The Lakers' bench finally showed up to play outside of Staples.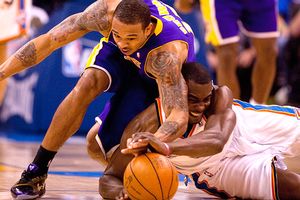 Dilip Vishwanat/Getty Images
Shannon Brown led a redemptive effort for the
Laker bench.
The second and fourth quarters were opened with a crew consisting of Andrew Bynum, Shannon Brown, Jordan Farmar, Lamar Odom and Luke Walton. As true a "second unit" configuration as we'll ever see without severe foul trouble dictating circumstances.
Before the game, I labeled the bench in serious need of making their presences felt. Their work all season has been erratic and more specifically, they were as invisible as Wonder Woman's jet during the previous two games in OKC. A closeout win felt unlikely without at least a couple subs stepping up their games, and unless everyone was cool with a game 7 (I certainly wasn't), the moment was now. The time had come. No more messing around.
And in both chances presented, the artists formally known as bench mob came through.
Checking into the second quarter down 26-27, their 3:38 as a unit pushed the game 35-34 in the Laker's favor. Brown, forgoing his honkin' big thumb wrap providing the touch of a man in oven mitts, rediscovered his stroke. Seven points on three jumpers, the respective assists coming via ball movement from LO, Farmar and Walton. LO got to the rack and the line. Bynum held his own as the defensive anchor. It was a nice warmup act, but the real concert came in the fourth quarter.
With the Lakers hanging onto a slim 76-73 lead to start the frame, Phil Jackson was left with few options besides the second unit. Kobe Bryant's 16 point scoring tear had been silenced by a fourth foul, and his butt was glued to the bench. Derek Fisher also had four fouls. Pau Gasol had already played 32+ minutes and needed a little rest to muster up the energy for his eventual game-winning putback. PJ's hands were basically tied. Even if he wanted another look, he had no real choice but to go with a unit on a mini-roll but still in need of results when things mattered the most.
Success, part deux.
Brown opened the quarter with another triple, pushing his total to 11 on just five shots. Walton hit a step-back baseline jumper, then connected from behind the arc on a sweet overhand cross-court pass from Odom. The first of those buckets was set up by Farmar, quality redemption after airballing a seventeen-footer. There was also resolve demonstrated during potential make-or-break moments. LO, for example, suffered a serious brain cramp after getting a handoff from Walton and forgot about the shot clock. His desperation three-ball hit nothing but oxygen and resulted in a 24 second violation. No matter, because the Lakers turned around and forced a violation of their own. The defense in general was outstanding, as Serge Ibaka scored the only field goal against this particular grouping. With a trio of swats, Odom's impact was especially felt on this side of the ball.
By the time Kobe and Pau checked back in after several minutes of unexpected rest, the lead sat at four and a ginormous test had been passed with flying colors.
"That says a lot about our team and the confidence that everybody has in each other that we're going to go out and get it done," said Brown after the victory.
As for the full circle element, let's take a trip down game 1 Memory Lane, shall we?
With an eight point lead and 12 minutes remaining, Phil sent this exact Drew-Shannon-Jordan-LO-Luke tandem into the game. With Odom now back in his sixth man role and Walton just recently activated from a bad back, it was the postseason's first go at a true bench showing, as opposed to three (or fewer) bench players and two (or more) starters. I was quite surprised and even more nervous by this decision, but was pleasantly impressed by the results. I held out hope this stint could mark the potential reinvention of a once reliable crew of reserves, only to see them disappear on the road. I began to wonder if the strong start wasn't so much the "beginning," but rather the beginning of the end.
Maybe they were just waiting for the true chance to complete the circle on a series. Hopefully, their showing also marked a "back to the future moment" in terms of what lies ahead for this postseason mission.
Hardwood Symbolism
There was a great second quarter sequence that struck me as emblematic of why the Lakers came out on top. Derek Fisher drove into teeth of the Thunder's D, then whipped a pass over his shoulder to Artest in the corner. The small forward was open like a 7-11, but nonetheless clanged the clean opportunity. Oklahoma City got the rebound and the ball eventually ended up in Russell Westbrook's hands. The speedster point guard darted into the lane, then dropped a bounce pass to a trailing Jeff Green.
A pretty bucket appeared in the making until Artest charging from the baseline appeared to distract Green. Certainly something did, because Fish sneaked his way under the basket and stripped the Georgetown product from behind. On the other end of the court, Fish fed Gasol at the baseline and El Spaniard hit a diving Lamar Odom with a no-look pass for an easy dunk.
Why did this sequence stand out so much to me?
1) Defense triggered the basket, just like defense triggered the Lakers' win.
2) This was just one of several occasions where a refusal to give up on a play paid dividends for the Lakers. There was Gasol's game-winning putback. Josh Powell diving to the ground after a loose ball and forcing it out of bounds off Nick Collison. An absolutely sensational lefty layup Kobe worked around the outstretched arms of Green and Durant.
And on down the line.
Whether coming up huge or badly botching the execution, the Lakers' effort was never in question. Such determination can take you a long way.
BIG NUMBERS
36.5: OKC's percentage from the field. Save Jeff Green, no Thunderian taking more than seven shots hit half of them. Even worse, there are dudes on the team who'd have killed for a shooting performance just under 37 percent. Important dudes. Franchise player caliber dudes. Dudes who instead shot a percentage of...
21.8: Otherwise known as five-for-23, the success rate of Kevin Durant while hoisting shots. The kid missed his first seven tries and without 15 visits to the line (14 good) would have struggled to make any dent on this game whatsoever. Really, the evening was no different than his entire series. Durant shot 50 percent from the field only once (game 4) and wrapped up six games with just 43 makes in 123 tries and a paltry 34.9 percent to his name.
Say what you want about Ron Artest's sometimes wonky offense/shot selection, and he may be goofy as all get out, but the cat was brought into town first and foremost to D up scoring machines in the postseason. One down, (hopefully) three to go.
31: The Thunder's total trips to the stripe. Not quite the gaudy rewards received in games three and four (34 and 48, respectively), but nonetheless nothing to sneeze at. Especially since the free throw line presented OKC its only steady diet of offense and they were big on making happy plate. The Thunder typically make hay at the line and tonight's 87.1 percent clip was no exception. That the Lakers were able to withstand this freebie barrage makes Chris Mihm's old jersey number even more significant.
3: You get this many points for a basket drained from behind the far line. Derek Fisher happened to hit three of these particular buckets, none bigger than his 73-all tie-breaker in the third quarter's closing seconds. All in all, Fish was pretty huge, tallying eleven points, six assists and making a few key plays on defense, my favorite a baseline strip of Green. The ensuing Laker possession was converted into a Lamar Odom layup off a gorgeous no-look from Gasol in the lane.
By the way, very quietly, Fish has started hitting shots on a regular basis. He's hit 50 percent or better in each outing of games 3-6, and his connection rate from behind the arc during that time period is 55.5 percent. Might there be enough gas in the tank for one more productive, or at least hugely clutch, playoff run?
.5: The number of seconds remaining in the game after Gasol tipped in the winning basket. Perhaps this could become Pau's new nickname, ala Fish and "point-four."