The Jazz have spent the Western Conference semi-finals looking seriously outclassed against the Lakers. Too much size surrendered. Too few mismatches in their favor. Too many centers named Kyrylo or Kosta. Basically, a crew without any legitimate hope. But as the ol' saying goes, a series hasn't truly begun until a team loses at home. Now on their turf, the Jazz will try to prevent an official start. As the Lakers attempt a 3-0 advantage, here are five factors I could see coming into play during this pivotal Game 3: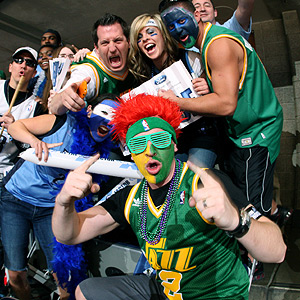 Melissa Majchrzak/NBAE via Getty Images
Funny outfits. Cruel taunts.
1) The Lakers need to mentally prepare themselves for Utah's crowd. I realize EnergySolutions Arena hardly represents uncharted playoff waters. This is the third straight postseason pitted against the Jazz and the rotation has only three players (Shannon Brown, Andrew Bynum, Jordan Farmar) with fewer than five seasons of NBA experience. As a collective, the Lakers are quite familiar with the world being entered. But if it were that simple for the Lakers --or any team, for that matter-- Utah's home court advantage (32-9 this season) wouldn't be so pronounced.
Or nasty.
Oklahoma City's Ford Center, for example, was absolutely bananas. As loud as any building Kobe recalled playing in during the playoffs, and a nice preclude to the noise awaiting the Lakers in Salt Lake City. But the Jazz crowd doesn't just offer equal amplitude. Things are taken to a different, more hostile level. OKC fans rooted passionately against the Lakers while still maintaining a noticeable degree of sportsmanship and respect. SLC houses a crowd more mean-spirited. Jazz fans take pride in creating a hostile atmosphere. Occasionally, they act in a way unfitting of human beings with compassion or dignity.
Everyone's obviously not this insensitive, and I'm sure the overwhelming majority of patrons are very good people outside of this setting. But the reality is visiting teams get treated with a serious lack of hospitality, and the Lakers need to prepare themselves mentally and emotionally. Not to mention physically. Speaking of which...
2) Jerry Sloan has been pleading with his team to match their opponent's toughness. As he famously phrased it, the Lakers "will take your nose and stick it in the ground and turn around on their heels on top of it." He'd love equal nastiness displayed in turn. Even his defensively challenged squads have been famous for physicality leaving opponents black and blue. Similarly, this game shifts to a venue filled with fans crying for blood, and the referees always afford Utah's players latitude to please a crowd. Assuming the 2010 Jazz are up for offering the biggest fight possible --and by all indications, they are-- the Lakers' Saturday will be spent inside an NBA octagon. Their overall physicality remains better, but I expect the Jazz to literally push back considerably more often in Utah than in L.A.
3) Home court advantage for the Jazz isn't just about reaping the benefits of a deafening din. It's about boatloads of trips to the line. Only the Nuggets averaged more free throws on their soil than the Jazz, and despite the Lakers' general success at defending without fouling, I don't expect trends to radically shift. This fact of life can't prompt the Lakers to transform into the referee-obsessed complainers they often become when whistles aren't to their liking. Shut your yap and keep playing. And for what it's worth, the Jazz tend to offer guests plenty of time at the line as well, so whatever bad calls will likely even out.
4) Ball security is often the difference between winning and losing, but it's a must on the road. In Game 2, the Lakers turned over the ball a whopping 20 times, with Kobe Bryant and Pau Gasol accounting for a baker's dozen by themselves. Even worse, the Jazz converted those mistakes into 23 points. Surviving those numbers is a tall order at home, much less on the road where the Jazz will undoubtedly play with more confidence. Turnovers will also rile up a crowd the Lakers are looking to silence as much as possible.
In general, mistakes of any kind become magnified on the road, but turnovers can be especially deadly. Passes need to be crisp and decisive. The ball can't be over-dribbled, particularly with multiple defenders around. The Jazz are good enough at inducing gaffes. They don't need the extra benefit of purple and gold carelessness. Treat the rock like a mother bird treats her eggs.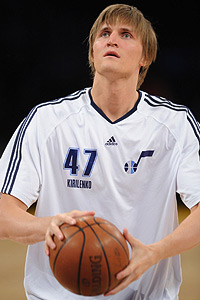 Noah Graham/NBAE via Getty Images
AK-47's new 'do is less intimidating
than the old "Ivan Drago" look. Will
his game follow suit after injury?
5) After a long bout with a strained left calf, a de-spiked Andrei Kirilenko will be active for game 3, which theoretically provides the Jazz with a new defensive edge. Aside from his ability to terrorize out of nowhere from the weakside --picture a more refined and experienced Serge Ibaka-- he's probably the Jazz's best defender checking a guy straight up. In theory, this provides Utah with a solid option for slowing Kobe, and maybe even bigger guys like Pau or Lamar Odom. In reality, I need to see it before I believe it, and I definitely hope the Lakers go out of their way to provide proof one way or the other.
Kirilenko has played two games since March 12. I don't care if this week's practices were exceptionally beneficial, they won't come close to simulating the speed, atmosphere and emotions of a real playoff game. Ditto whoever played scout team "Kobe." Believe me, that dude ain't the real deal. Any player marked by AK-47 needs to put the Russian to the test. He may be nowhere close to 100 percent physically. I'm expecting the layoff to yield exploitable rust. He may even be a little tentative. The Lakers need to learn for sure one way or the other.
When Kobe played a January game against Dallas while fighting back spasms, the Mavericks made absolutely no effort to test his mobility. This was a shockingly inexplicable tactical error, one I hope isn't repeated by the Lakers.
Along these same lines, while I think Kirilenko's return is probably a net plus for Utah, it wouldn't surprise me if there were several possessions with him and his teammates on completely different pages. Continuity breeds timing and a lack of continuity, as Laker fans have witnessed all season, often results in teammates bumping heads. Hopefully, miscommunications will surface, then get pounced on.
On the other side of the coin, Kevin Arnovitz of True Hoop fame has five items of advice for the Jazz.