Finally, it's here.
The Western Conference Finals are upon us.
Lakers vs. Suns. Speed vs. length. Pick-and-roll vs. the triangle. Jack vs. the Gorilla. And while only one of these teams was expected to be here back in October when all the pundits made their preseason predictions, the Suns have been among the NBA's best teams for a while now. Their presence is no fluke.
Personally, I believe this has the potential to be a monumentally entertaining series. And to get a better feel for how it'll go down, Andy and I roped Seth Pollack of Bright Side of the Sun and Michael Schwartz of Valley of the Suns -- the places to go for coverage of Steve Nash and Co. -- for a little Bloggers roundtable discussion.
Though in the world of the web, the table can be made any shape you'd like.
Let's get rolling...
Seth, I'll be honest. At the beginning of the season, I thought the Lakers might see Phoenix in the playoffs, but thought it would more than likely come in the first round, if it came at all. Truth be told, are you surprised the Suns are not only playing in the Western Conference Finals, but enter as one of the NBA's hottest teams? (No Sun pun intended...)
Seth Pollack, Bright Side of the Sun: Awesome and thanks and lets get it on.
Anyone who is not surprised by the Suns getting to the WCFs is the homer of all homers. As in BIG YELLOW DOUGHNUT EATING HOMER. Doh!
Grant Hill relayed a story recently when asked why he chose to re-sign with the Suns. It came down to NY if he wanted a "good city", Boston if he "wanted to win" and Phoenix if he wanted to "enjoy going to work everyday". Even he never expected to find all three in Phoenix.
Of course, the Suns only made it this far through a combination of fortunate factors. The Nuggets imploded
when [George] Karl had to leave. The Jazz roster regressed and then had injury issues. Richard Jefferson was a bust and the Spurs never had a front court past Timmy anyway. Blazers got hurt. Rockets got hurt. Even Blake Griffin got hurt.
Meanwhile, the Suns stayed very healthy this season, outside of Robin Lopez's foot and back. Nash and Hill both played the entire season and are still going strong. Amare recovered from almost losing his vision. Richardson is in tip-top form. The young bench players both improved and stayed fit.
On top of that, this team gelled like a peanut butter and banana sandwich with a side of chips and a glass of milk.
You can certainly say the Suns are beating even their own expectations, but in large part that's due to taking advantage of fortunate circumstances. Not to take anything away from the Suns' accomplishments -- they are playing fantastic ball right now -- but the road to get here has been a bit easier than it would have been in 2009.
The Lakers on the other hand, look like a dis-unified team who managed to be the brightest bulb in a fairly dull string of lights.
The question now, Brian, is if the Lakers have the unity and determination to overcome adversity when the Suns inevitably run them out of the gym at some point in the next four games and also manage to grit out another win in LA. I think we all can agree if the Lakers give the Suns the same chances to steal games they did Utah and Oklahoma, the outcome will be different.
Say what you want about the "Heart of a Champion" but the Spurs' souls were crushed at half time of Game 2 when the 34%-shooting Suns tied the game at 51. From that point on they knew they couldn't win. How will LA respond?
Brian Kamenetzky, Land O'Lakers: Seth, it's funny you mention the notion of the Suns running L.A. out of the building at some point in the series, because I absolutely agree it'll happen. I think there will be one game, maybe two even, where the Suns get red hot, start burying triples, and the Lakers abandon their interior game to try and catch up.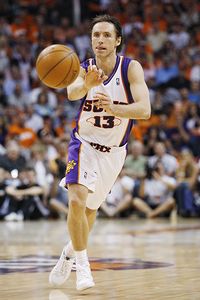 Franklin D. Ross/AP Photos
With Nash running the show, Phoenix
could get at least one lopsided win.
Which, of course, would likely have the opposite effect.
I don't know so much about the grinding out a win in L.A. part. But even if the Suns do steal one at Staples, one thing in which I'm confident is the Lakers' ability to win playoff games on the road. They didn't show much away from home during the regular season, but won a grinder in OKC, then two in Utah, and last year won critical games on the road en route to the title. Four straight closeouts on the road they've won, if my math is right, going back to Denver and Orlando last season.
They won't be intimidated playing in Phoenix (where, it should be noted, they've already won this season).
A couple months ago, I would have been less confident in how the Lakers would respond to a bad playoff loss, or stretches where the opponent was having its way with them, but over the first two rounds, I've been impressed with how they've played in the postseason. It helps they've become much healthier (and will be even more so after another week between games).
And I think the experience of six games vs. the Thunder, a team without experience but presenting a litany of matchup problems, helped them a lot.
Andy, you've been higher on this Phoenix team than most for a while. We all know the possible shortcomings (ha!) of the group, but now that they've made the Western Conference Finals, what about them do you think makes them a legitimate threat to L.A.?
Andy Kamenetzky, Land O'Lakers: Well, for transparency's sake, I should make it clear I wasn't the sage guru who predicted in preseason Phoenix would shock the world. While I wish I were such a genius, like most folks, I thought they were a fringe 7-8 seed at best. It wasn't until early-February that the Suns struck me as a potential threat to go a round or two in a Western Conference with little separation between teams. From there, they've looked increasingly better leading into a playoffs where they've often looked incredible.
And yeah, even though I'm still very confident we're looking at the Lakers' third consecutive trip to the Finals, I do consider the Suns a legit threat to L.A. They have a point guard who gets deep penetration, which typically causes problems for the Lakers. The transition game -- where the Lakers struggle the most defensively -- is deadly, but the halfcourt sets are also good, which just makes for a hard team to cover in general. What's lacking in size is made up for in scrap. This isn't a team backing down to anybody. Chemistry is awesome and defense has improved.
But what really stands out to me, particularly in relation to a series against the Lakers, is Phoenix's bench. For all of the criticism Mike D'Antoni endured over not emphasizing enough defense or being too "fun n' gun," I thought his biggest, most overlooked flaw was a reluctance to go more than seven-ish deep. Alvin Gentry has given his reserves a longer leash, and the trust has been rewarded. Phoenix's second unit has been very productive, despite their biggest name, Leandro Barbosa, playing arguably the most ineffective basketball off the Phoenix bench. Everyone seems to understand their role and relish it.
Especially Jared Dudley, who seemed to be in the middle of every good play against the Spurs. During four games, his +/- was never in the red. He's also got the highest +/- of any Sun during the postseason. As I always say, stats can't tell you everything, but they rarely tell you nothing, either. Lamar Odom used to consistently measure out like this last season, and we all saw how much the Lakers benefited from his play.
In the meantime, the Laker bench has been very inconsistent and unreliable during the playoffs. If they don't bring it during this series, leads will be lost, deficits will grow and the starters will have to play long minutes.
Michael, you're up. Which Laker strength do you think can hurt the Suns most, and how do the Sunds go about trying to neutralize it?
Michael Schwartz, Valley of the Suns: Yeah, Andy, you're absolutely right about the Suns' bench. This is the biggest area of strength I see for Phoenix entering this series. A different bench player or two stepped up pretty much every game against San Antonio to make game-changing contributions, and really it's been that way all year. This team is legitimately 10 deep, and like you said, we could never say that about a Mike D'Antoni team.
As for your question, I'm most worried about the Lakers' quality size and length inside. Not that anybody in the league can necessarily shut down Pau Gasol, Andrew Bynum and Lamar Odom, but when the Suns are playing Amare Stoudemire and Channing Frye together they are pretty susceptible to interior scoring. Kobe is Kobe, sure, but this is the one area I'm most concerned about entering the series. If the Lakers pound it down low, can the Suns get the necessary stops? If they double team, how much does that open up the Lakers' perimeter game?
The Suns did a nice job of keeping LaMarcus Aldridge and Tim Duncan in check this postseason, but this is a whole different beast, and none of those teams had a Kobe Bryant to kill you on the perimeter.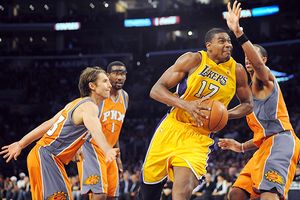 Harry How/Getty Images
How well the Suns control Andrew Bynum and L.A.'s other bigs both offensively and on the glass will be a major factor.
Staying with the big man theme, will the Suns be able to rebound the basketball? During the playoffs, the Suns rank third of all postseason teams in rebounding differential (+2.8), even better than the Lakers (+1.7), and that's after going up against a pair of teams that ranked in the top 10 in rebounding differential in the regular season. During the Suns' season-ending run, there was a stretch there where the Suns won pretty much every game in which they won the rebounding battle and lost every game when they lost it (including the March 12 game against the Lakers), so I think this will be huge as well, and likely getting Robin Lopez back should help a ton in this regard.
Now Brian, a lot of us have been waiting for Ron Artest's next blowup, and aside from that little Twitter hissy fit, it just hasn't happened. What's been different about the Tru Warier this season?
Seth Pollack: Can I just jump in here, fellas? While Michael is right of course about the Laker's length and post scoring, that is what it is. The Suns are the much better three-point shooting team. The Lakers have three guys that can score in the post.
What the Suns need to worry about is the passing out of the low block. When Kobe and Pau have the ball down low, the Suns defenders CAN'T get caught watching the action. They have to stick with their man and avoid easy baskets by cutters. Those kind of easy looks will hurt the Suns as much as transition baskets will hurt the Lakers. Fortunately, the Suns now have a coaching staff that knows how to game plan against such things and players that will hold each other accountable for defensive lapses so this is fixable.
Brian Kamenetzky: Jeez, Seth. Where are your manners? Ron wouldn't appreciate that sort of breach of decorum…
Artest's season has been weird, but mostly defined by its lack of weirdness. There were a few things here and there -- the aforementioned TwitterGate! and the oddness of the concussion around Christmas -- but overall, he's been very normal, keeping in mind Ron's normal isn't really your normal or my normal.
In some respects, I think it's been to his detriment. He's tried so hard to fit in, at times I'm not entirely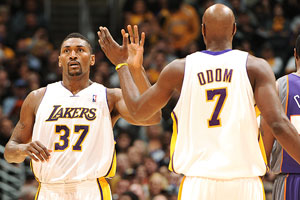 Win McNamee/Getty Images
Ron Artest, a wild card generally, could be even more so against the Suns.
sure he's allowed the better parts of his personality and game to emerge. I think it has hurt his overall confidence fitting in with the offense. Ron feels to me a little self-conscious in the sense that he's hyper-aware of people waiting to call him a distraction, so he's swung the other way on the pendulum.
As for his play on the court, I still see it as a net positive. He's proven his value over and over on the defensive end, changing games in profound ways. There have been times where you simply watch him on that end like you might Kobe on offense. It's pretty amazing.
Unfortunately, he's had a tendency of late to change the game in profound ways offensively, too. And not the good kind of profound. He shot 26.8 percent from downtown in March, then 25.9 percent in April. In the playoffs, he hit six of his 20 three-point hoists against Oklahoma City, and only six of 32 against Utah (four in one game).
As a result, he's become more hesitant in the offense overall. Artest is trying to get inside a little more on the dribble- a very good idea because a) he's so big it's often successful despite a total lack of hops, b) he's a very good interior passer, and c) those shots aren't three pointers- but is also thinking more, too. When a player has to stop and think in L.A.'s offense, bad things happen.
To me, this is a series where Artest becomes a real wild card. He's so huge, if Artest is willing to get inside (and the Lakers are committed to getting him there) he could have a big impact. If he's a presence in the Lakers' offense it will become that much harder for Phoenix to double Gasol or send extra bodies at Bryant, and they don't have a natural cover for Artest, either. But if Ron gets caught up in the quick shot mentality the Suns like, he could be a problem. For the Lakers, I mean.
It'll be an interesting to watch him defensively this series, too. There's no Kevin Durant, ready-made matchup for him to focus on, and so much space in which to operate. He's grown far more mobile during the season, losing weight and getting his feet healthy. I think he'll see a lot of time on Richardson, and if he can make J-Rich, who had a horrible four games against L.A. this year, less a factor, the juggernaut that has been Phoenix's offense in the playoffs will suffer.
My question for the Suns bloggers: Given all the matchups on both sides of the floor, what player on the Lakers do you most fear in this series? I have some thoughts… curious if you agree (but you won't know until you answer- ha!)
Michael Schwartz: The easy answer that most of America would pick of course is that Kobe character. I hear he's still kind of good.
But for this series I think the Lakers will be better off if he pounds the ball down low and picks his spots to dominate. I'm not saying the Black Mamba shouldn't take a healthy amount of shots -- he should -- but he can't get caught up in going shot-for-shot with the Suns, as you guys were saying earlier. We all know how that normally ends up in a Suns game.
Therefore, I most fear Pau Gasol. He's so skilled, versatile and smart that I just don't know who on the Suns can guard him. From the little I've watched of the Lakers in the playoffs, every time I turn on the TV he seems to be using his length to corral a rebound and tip (like he did to finish off OKC), so it's going to take more than putting a body on him to slow him down.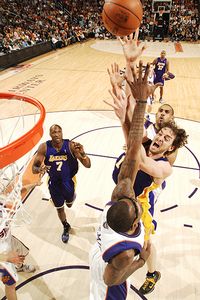 Barry Gossage/NBAE via Getty Images
The Amare Stoudemire/Pau Gasol matchup is one of the series' most critical.
If memory serves me right, the Suns put Lopez on him a decent chunk in the last meeting, but I doubt Lopez plays too many minutes, and his conditioning even with the week off could be such that he's a foul machine. Amare doesn't quite have the length to match up (plus, nobody has ever confused him with an all-world defender even if his defense has improved), and as good a job as Channing Frye did making Tim Duncan work, he didn't exactly slow The Old Fundamental down.
If Gasol (and Bynum, too, of course) can control the offensive glass, something the Suns are very susceptible to, the Suns will be in big trouble.
Now Lakers bloggers, there seems to be times when Kobe tries to take over games and others where he defers and tries to get everybody else involved (and I'm not talking about when he's trying to prove a point). Should the Suns fear Kobe more when he's in scoring mode or facilitator mode?
Brian Kamenetzky: You should definitely fear Kobe the facilitator.
The Lakers have so much skill on the offensive end, they suffer when one guy -- even if it's Kobe -- dominates excessively. Gasol was described by Odom this week as a point guard in the high post, and Odom of course can move the ball and run the floor like almost no other big man in the league. Bynum has some shortcomings overall, but is capable of dominating on the low block. He's that skilled. And so on.
If they get movement of men and ball, the Lakers generally find good shots and pile up points. And against a team like Phoenix, good shots mean fewer easy run outs coming back the other way. The benefits for L.A. on that front are pretty obvious.
It's not really about shots, but touches. When Kobe gets everyone else's hands on the ball, even if in any given possession he ultimately takes the shot it's more likely to come in rhythm and keep his teammates interested. He becomes a dual threat. Opponents always have to respect Kobe's scoring ability, but can't simply throw bodies at him without paying a penalty. (Incidentally, talking to scouts and coaches, I've never heard any say Bryant with tunnel vision, where he only looks to score, is a more dangerous player.)
It's a balancing act, one Kobe has grown increasingly good at maintaining.
One last thing, and I think Andy agrees with me on this: I don't accept the proposition as an either/or. Facilitator Kobe can be just as dangerous as shoot-all-the-time Kobe. This season has seen stretches where he's been able to control games without shooting, just by drawing defenses and making the right pass.
Andy Kamenetzky: I agree Kobe's more dangerous while facilitating (as opposed to truly in "scoring on every possession" mode) and I concur the "either/or" mentality is ridiculous. It actually drives me nuts how Kobe being "the facilitator" is somehow code for "not being aggressive," which is code for "not trying to hit 40." This is absolute nonsense, not to mention fairly belittling. The guy is dictating the pace, pulling the strings, and putting his fingerprints all over the points generated by his team (and you know he'll score some of them anyway).
In what world is this "passive?"
It's not like the guy's sitting in a lawn chair with a margarita, softly under-handing the ball to players and saying, "You take it." He's attacking the seams, setting up shop on the block, forcing the defense to make decisions, etc. And he'll still inevitably get his 20-30. Few players in the league can make defenses so radically pick their poison.
Here's the deal: By definition, when Kobe is on the court, he's aggressive. That's who he is. The exceptions are rare enough to prove the rule. By definition as well, Bryant's always looking for his shot. Again, that's who he is. It's simply a matter of whether he's looking for everyone else's, too. When that's the case and his teammates hold up their end of the bargain, Kobe's almost impossible to stop.
Seth, you're up. For all the talk always swirling around Kobe, Pau Gasol has arguably been the most dominant Laker during the playoffs. He's definitely been the most consistent. Michael acknowledged earlier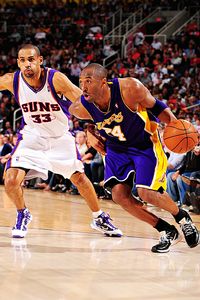 P.A. Molumby/Getty Images
Kobe Bryant shot nearly 55 percent in four games vs. the Suns this season. Grant Hill is likely to draw him defensively-- can he limit 24's output?
Phoenix's vulnerability in the middle? How do you picture Phoenix attempting to slow El Spaniard?
Seth Pollack: Kobe is the greatest thing ever!!!
Yawn....Where were we again? Oh, right stopping Gasol.
I would imagine we will see a lot of the same strategies the Suns used against Tim Duncan. Remember him? The greatest power forward (who's really a center) of all time? The Suns will throw a combination of Amare and Frye and even some Lou Amundson at him for straight up mano y mano defensa. They will toss in a variety of traps and double teams. They will front him at times and bring help from the baseline. They will attack him when he puts the ball on the deck. Basically, they will mix up their coverages and do everything possible to make his life a living hell, then try and run his fuzzy face into the ground on the other end of the floor.
Pau is a very, very good player, but he can't keep up the effort for a 40 full minutes of play. That's what the Suns are going to throw at him and the rest of the Lakers -- 48 minutes of constant pressure and overwhelming effort.
Perhaps the more relevant question is how the Lakers plan on stopping the only two-time MVP playing in this series?
Andy Kamenetzky: Okay, I deserved Seth's mockery. Upon second glance, my earlier response definitely came off more like fan boy chest-beating instead of the point I was getting at. Not that I don't think Kobe's a fantastic player, but I was really addressing how much the often-oversimplified "aggressive vs. facilitator" argument drives me batty. I probably did too good of a job making clear my displeasure.
At any rate, your question...
Like Kobe, I think "stopping" Nash is a very relative prospect. He makes shots from anywhere on the floor and from angles humanly and inhumanly possible. More-or-less, there's no pass he can't complete, in or out of tight quarters. This makes guarding him quite the chore. Thus, like it is marking Kobe, I think it's more a matter of making him work as hard as possible all game to get his. Pick him up early. Play him physically. If he gives up the ball, work hard to make sure it stays out of his hands. Deny, deny, deny. A "no layups" rule needs to be enforced whenever possible. Make him expend energy on the defensive end.
And be mindful at all times of the other four guys without the ball, because I guarantee Nash knows exactly where they are. The Lakers can't lose track of anybody. Limit his effectiveness by limiting the effectiveness of everyone else.
Derek Fisher once said something interesting when asked about his approach to checking Nash:
"There's no science with guarding him. I think you just have to try keeping him guessing. He's so good, even on the fly. He's like Tom Brady and Peyton Manning. If you try to take one thing way, he audibles and goes to something else. If you give him a steady diet of one look, he's too good. he's too smart. He's going to figure it out."
Of course, considering he's also a pretty smart player to boot, again, easier said than done.
Okay, enough analysis. Let's shift into Nostradamus mode. Final thoughts, along with a prediction, from everybody.
First things first, I think this is gonna be a really fun, competitive, and entertaining series. It pits two teams playing very well at the moment possessing distinct advantages and disadvantages against each other, which is why I think both will rack at least one blowout win. Maybe two. But assuming they maintain focus and discipline, the size and matchups in the Lakers' favor will ultimately be too much for Phoenix to handle, especially with Robin Lopez (whose importance is underrated) getting his legs back.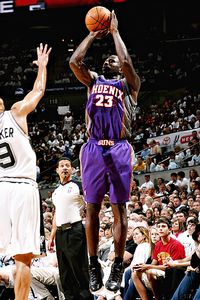 Chris Covatta/Getty Images
Can Jason Richardson remain absurdly
hot from behind the arc?
Lakers in a highly contested seven.
Michael Schwartz: Common sense would dictate a Lakers pick. They are the defending champs and do possess the kind of size the Suns will struggle to match up with. They're smoking hot, and you get the feeling that Kobe can smell that fifth ring to break his tie with Shaq.
But nothing about this Suns season has made sense. Not the scorching hot 14-3 start, not the 12-18 mediocre middle and not the ridiculous 36-9 finishing kick that includes a stellar 8-2 mark in the playoffs. The Suns are playing so well right now because they're making smart rotations on defense and they have so many offensive weapons that you really have to pick your poison. Then there's the stellar bench and the kind of chemistry that championship ball clubs possess (I know, haha, a Phoenix person talking about championship chemistry). Combine that with the return to health of Robin Lopez, an ailing Andrew Bynum and a star in Steve Nash who knows this could be his last shot at a ring, and I'm predicting the unthinkable: Suns in six.
Seth Pollack: I originally had the Suns in six due to a variety of reasons: The VERY favorable matchup for Nash. Amare's domination of Pau in isolation situations (66.7 FG%). That the Suns have rebounded better in the playoffs (against better teams) than the Lakers. The bench, Bynum's knee getting worse while Robin Lopez's back gets better. The poor offensive production from Artest and Odom's lack of consistent play. Then there's the fact only two Lakers players average over 11 points a game, meaning Phoenix's defense has a much easier task than the Lakers', who can't key in on any one, two, or even three guys.
But I forgot about Kobe Bryant and how great he is. The Suns are going to fall at his feet and weep in fear. He's so AWESOME!
Lakers in three.
Brian Kamenetzky: Pollack, again breaking out the sass! (Though really, doesn't it kinda matter the Suns don't have a good cover for Kobe? The guy shot almost 55% against them this year.)
I have the sense you feel the Suns aren't being given enough credit? Is that just me? I think you may be right, though. Michael pointed out how good they've been down the stretch, and we all saw what they did to San Antonio (and Portland, but that was more expected). The Suns are legit, no question. The bench is rolling, the chemistry is great, the defense is improved.
At the same time, Richardson is shooting 51.5 percent from downtown in the playoffs- he won't do that against the Lakers. For that matter, during the regular season (yes, all in-season matchups need to be taken with a grain of salt, but even appropriately salinated lessons still apply) the Lakers were able to hold Phoenix to a level of efficiency far below their season averages. In four games, they limited the Suns' production behind the three-point line, and conversely, the Lakers scored with more efficiency than they did against the rest of the league.
Obviously there's the Bynum factor- his health and mobility would allow the Lakers to fully take advantage of their height advantage. Right now he's a major question mark. But either way, in the end I believe the Lakers are more able to handle Phoenix's strengths than the Suns are L.A.'s. Over seven games, the Lakers can attack Nash and Stoudemire defensively, and because the Suns don't generate turnovers, if the Lakers exercise decent shot selection Phoenix won't be able to produce enough easy points.
It won't be easy, though. There will be a couple blowouts, and the Lakers will take at least one on the chin.
But they'll get to four first. L.A. in a very tough, very tight six games.
Thanks again to Seth and Michael for participating. Make sure to check out Bright Side of the Sun and Valley of the Suns throughout the series for great coverage.