From ESPN The Magazine's Chris Broussard:
"The Chicago Bulls have reached out to Phil Jackson through back channels to gauge his interest in returning to the franchise he won six NBA titles with, according to two sources with knowledge of the situation. There has been no direct contact between Bulls officials and Jackson, according to the sources, but people close to both parties have spoken and come away with the belief that Jackson would be open to a potential reunion in Chicago next season. Gar Forman, the Bulls' general manager, refused to comment on the club's coaching search when reached Monday night by telephone..."
My initial reaction?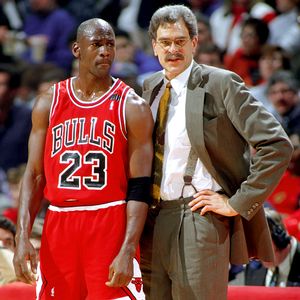 Brian Spurlock/US Presswire
Phil Jackson had a pretty good run in Chicago. Would he consider going back?
Get used to this sort of thing.
Because so much of Phil Jackson's future seems tied to LeBron James, it seems appropriate the process of figuring it out has a Jamesian feel, heavy on tea leaves and parsing. I don't know what it means. I don't know what back channels are being referenced, nor how concrete the conversations were or when they took place. There is belief among the sources Jackson would be "open" to a second run in Chicago. That leaves a fair amount of wiggle room, as well. What were the "if's" in the conversation? What does "open" mean? Is Jackson eager to return, or just unwilling to say on May 25th it won't happen?
The vague nature of things is obviously related to context: Jackson's team takes the floor tonight in Game 4 of the Western Conference Finals. Mavs owner Mark Cuban was just fined 100K for tampering after fairly innocuous comments about his team's interest in a potential LBJ sign-and-trade. Can you imagine what the penalty would be for even quasi-formal contact between the Bulls and Jackson? Anything beyond the sort of shadowy, behind-the-scenes stuff would be tampering on a fairly cosmic level.
My guess -- and that's all it is -- is while Jackson's camp may not be responsible for the report, they probably don't mind it being out there. There's a negotiation upcoming, and the threat of P.J. possibly coaching somewhere else next season (as opposed to simply retiring) gives his side some leverage. Kobe Bryant has stated publicly his desire to have Jackson on the sidelines next season and won't be pleased if he walks, particularly to another franchise. Plus, signs he could go make fans and season ticket holders nervous.
It all matters, and plays into Jackson's negotiating power.
Jackson, like James, won't stop being connected to different teams and owners in different scenarios (some plausible, others laughable) until he actually signs a deal somewhere or retires. This sort of "No tampering here!" contact is common with potential free agents, players and high profile coaches alike. I don't think we're anywhere different this morning than we were last night when the story broke.
So with that in mind, here are my broad feelings:
*If the Lakers are truly interested in lowering Jackson's salary to no more than $5 million next season, they vastly increase the risk another owner (Cuban, Dan Gilbert in Cleveland, new Nets owner Mikhail Prokhorov, or Jerry Reinsdorf and Co. in Chicago) swoops in to make him a sweetheart financial offer. I don't believe Jackson would go to a rebuilding team just to collect a paycheck, but obviously this summer has the potential to re-make a lot of franchises quickly. A bad situation today could look far better in a few weeks.
*That Jackson will not make $12 million in L.A. next year seems to be well-established. But I still have trouble believing the Lakers, with Jackson on the verge of his third straight Finals appearance, would force him to take a nearly 60 percent pay cut. If they actually want him to come back, that is.
*It can't be taken for granted the basketball/financial ends of the organization (meaning Jerry and Jim Buss, I presume) truly want Jackson to return. There is an element of the "offer he can't accept" vibe in play, similar to the type floated by the Yankees to Joe Torre, eventually landing him in Dodger Blue.
*Years could be a factor, not just cash. With the lockout looming, there are questions about whether the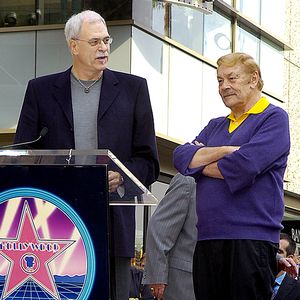 Darryl Dennis/Icon SMI
What exactly is the relationship between Jerry Buss and Phil Jackson?
Lakers want to pay Jackson a high salary for a season cut-short or eliminated almost entirely. If another team gives Jackson a second season, work-stoppage-be damned, it could be important to him.
*Much of what we've seen is posturing from both sides.
*At this point in his career, I don't believe Jackson wants to join a team a couple years off from title potential. Meanwhile, the Lakers don't want to -- or shouldn't at least -- risk the championship window they have with Kobe. This summer's player movement could change things, but it seems unlikely the Lakers won't enter next year as a strong favorite to represent the Western Conference in the Finals for (likely) the fourth straight time. The right-now appeal of another city for Jackson includes the chance to coach James (giving Jackson a chance to coach each of the most dominant players over different eras in Jordan, Shaq, Kobe, and LeBron) and/or other stars, less burdensome travel, and the opportunity for one last new challenge before hanging up the clipboard. With all the uncertainty connected to other options, the Lakers have a distinct appeal. Plus, Jackson's girlfriend lives here, and has pretty strong ties to the purple and gold. The only real reason to go is if the working relationship between Jackson and Dr./Jim Buss grows too sour, or if he believes whatever salary he's eventually offered is too insulting to accept.
*From a basketball standpoint, the Lakers lose out if Jackson leaves. There isn't another coach out there who is as good, or even close. On the other hand, I'm not running the cost/benefit analysis from a financial standpoint.
*In the end, I think he returns, but if earlier in the season I was 90 percent convinced he would stay, now I'm probably down somewhere in the mid-60s.