A few days back, we ran a series of poll questions on the blog, just to help get people get into a Finals mood and take the temperature of Lakers fans on a few important issues. One question read as follows: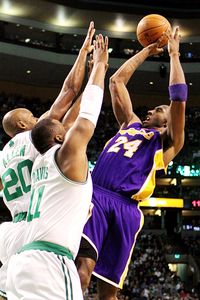 Jim Rogash/Getty Images
Beating the Celtics in the Finals is tough, but something Kobe must do to be the G.L.O.A.T., so say Lakers fans. Or the kind who answer poll questions, at least.
"To be considered the Greatest Laker of All Time (G.L.O.A.T) does Kobe need a title over Boston?"
About 15 percent said he's already the G.L.O.A.T, another eight percent have decided he'll never pass (insert ultimate Laker here), and six percent said no. That leaves a full 71 percent of those responding- and given our demographic I presume we're talking predominantly Lakers fans- believing yes, he does. For all his accomplishments already banked and those yet to come, now that he'll have had two cracks at the Celtics for a title, if Kobe wants to stick his flag at the summit of Mt. Purple and Gold, he have to vanquish The Green.
I'll admit, I found that number surprising.
Growing up in St. Louis through the 80's, I assumed the Lakers and Celtics played about seven thousand times a year, because those are the only two teams I remember seeing on TV. Even with my semi-casual relationship to basketball and the NBA, I was able to develop an understanding of the rivalry's importance. But I don't have that visceral hatred for the Celtics running through the veins of die-hards and native Angelinos. It's the sort of thing that changes fans on a molecular level, like being bitten by an irradiated spider or exposed to gamma radiation. I get that.
At the same time, even if the Lakers don't win a second straight title this month, the window doesn't close on Kobe. He could certainly add a couple more rings, giving him a larger jewelry collection than Magic or Kareem (with the Lakers, at least). In terms of Lakers records, Kobe owns a ton of them now, and by the time he's done will be near or at the top of just about every counting stat available, in some cases by a mile or six. The resume is already impressive, putting him in rarefied air. As ESPNLA.com's Dave McMenamin notes in his feature on Bryant, there aren't all that many mountains for him to climb.
So my question, and the Question of the Day, is this: If you think Kobe has to knock off the Celtics to be the G.L.O.A.T., why? If you don't, why not? Is it a major consideration? More of a tiebreaker? Icing on an already impressive cake?
For many, the question isn't simply about Lakers vs. Celtics, but all the other factors fans toss in the hopper when considering the G.L.O.A.T. Earlier this season when ESPNLA.com took a look at the 50 greatest Lakers of all time, I put Magic at the top of my list, and wrote it would be hard for Kobe to pass him, despite everything he has and will do before he's done. Play the word association game with me, and if you say "Laker" I'll say Magic Johnson. For me, and at the time at least we found this was the prevailing opinion, Magic is ingrained in the franchise and city in ways Kobe can't match.
As Andy wrote, the deck is stacked against Kobe.
But of all the criteria I considered, I didn't occur to me to think, "Magic beat Boston, Kobe didn't." Again, maybe that's a product of my upbringing, or that for me the intangibles surrounding Magic were so key in forming my opinion. Clearly, it's something Lakers fans consider, and it's certainly legitimate. The rivalry is huge, and now encompasses three generations of teams. For so many years of Kobe's career, Boston was awful. It wasn't fair to punish Bryant for not being able to topple a team that couldn't get themselves to a Finals.
Now that he's been given two cracks at them, it's time to deliver.
It gets to how deep a connection Lakers fans have to their team's history, which I think is awesome, even if not completely fair.
Of course, regardless of what happens this time around against the Celtics, time could be kind to Kobe. There were fans who never believed there'd be someone better than George Mikan, more still who thought no Laker could exceed the accomplishments of Elgin Baylor and Jerry West. Then came Kareem, and then Magic. Nobody- nobody!- can top Magic, right? But as the generation that knows him more as the guy on TV doing commentary who used to play some ball becomes more dominant, the standing of Kobe, the guy younger fans saw play for when it's all said and done seems likely to be near-two decades in purple and gold, will rise.
Apparently, though, if he beats Boston Kobe won't have to wait quite that long, at least in the minds of some fans.