With 8:36 to play in the fourth quarter of Game 4 at TD Banknorth Garden in Boston, Shannon Brown drove to the bucket, missing the layup inside. Pau Gasol grabbed the rebound, but before he could get the put-back out of his hands he was blocked by Ray Allen. The loose ball was tipped towards the arc by Tony Allen, then nearly picked off by a hustling Jordan Farmar, who skied up for the ball but instead landed with a thud on the parquet empty-handed.
Like much of the game to that point it was a sloppy sequence, but with all the effort demanded by the Finals. At different times through the first three games, each team has managed to win those little battles. This time, Glen Davis emerged with the ball, and fed to Ray Allen.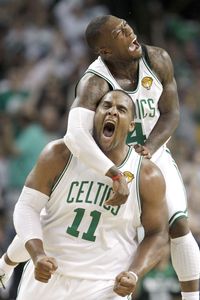 Charles Krupa/AP Photo
In the fourth quarter, Glen Davis came up huge for the Celtics, carrying them to a critical Game 4 win.
He took the ball up the left wing, and before Brown could set himself defensively, broke him down with the right-handed dribble through the lane. As the Lakers defense closed, one Allen dished to the other. Tony Allen missed wildly on his layup attempt, but Davis was there to grab the board. He powered up through Lamar Odom and scored, with the and one.
As the Garden crowd exploded, Davis moved towards halfcourt and let out a primal scream, a long stream of spittle (call it drool, if you'd like) bridging the space between his lips and jersey. Nate Robinson leaped on to his broad back, the lil' fella looking like one of those adorable, fuzzy animal backpacks elementary school kids carry around. And why not celebrate? Davis' tough finish inside gave Boston a six-point lead. After the free throw, it was seven.
Boston's signature moment came with a heavy side of saliva. Not that Davis cared. "When you're in the moment, you're in the moment," he smiled postgame press conference. "Slobber, snot, spit- please excuse me. Kids, don't do that. Have manners."
Good advice, though Davis certainly hadn't shown any towards the Lakers. It was his sixth point to that point in the quarter, two of his buckets coming off feeds from Nate Rob. Big Baby was everywhere, grabbing rebounds, powering through L.A.'s interior defense. "I just felt like a beast," Davis said. "I'm going to be honest with you all, I felt like I couldn't be denied. If a rebound was in my vicinity or if the ball was going to be laid up, I just felt like I couldn't be denied."
Looked that way, too.
He would finish with 18 points, part of a monumental effort from Boston's reserves, particularly down the stretch. In a must-win game, reserves have to be unusually special for a coach to leave the likes of Paul Pierce, Kevin Garnett, and Rajon Rondo on the bench deep into the fourth quarter of a tight game, but that's how good Davis and Co. were, earning a whopping 9:10 of burn in the final period before Doc Rivers brought back his stars at the 2:50 mark.
Davis' output equaled L.A.'s total from the bench, spread thin by the absence of Andrew Bynum for all but 12 minutes of the game. But Boston's reserves didn't just outplay their purple and gold counterparts, but the starters as well in critical minutes, opening up a game that had been stuck in the mud through three quarters. It wasn't simply a question of one bench being good and one lacking- Boston's bench was better than everyone in the fourth. The night was there for either team to take, and the Celtics took it.
It just wasn't taken by the players you'd expect.
"It was just their energy," Rivers said. "It was just their whole energy. I thought we were lacking that in that one stretch. Nate [Robinson] came in, Tony Allen was phenomenal tonight with his energy. Baby was phenomenal. Rasheed [Wallace] was unbelievable. I just thought the entire bench unit, with Ray, was great."
For Lakers fans, it was a disturbing flashback to 2008, when without Bynum the context of the frontcourt matchups was completely different. Boston had more space to attack the basket, and was far more effective on the glass (tonight, they were +6 on the glass in the second half). Guys like Leon Powe had Baby-esque moments helping to change the series. Offensively, as it was in '08 the Lakers struggled to move the ball. The Celtics were able to crowd Pau Gasol and focus more attention on Kobe Bryant, working to make each of his looks tough. Boston seemed to get a hand on every ball, notching 21 deflections in the second half. Easy points- something Bynum frequently generates with dunks and putbacks- were hard to find.
Anyone wondering what Bynum's presence does for the Lakers has an answer.
-- Brian Kamenetzky
LACK OF BALL MOVEMENT CRITICAL
As one would expect, the Lakers were none-too-pleased about the outcome of tonight's game. But even more than dropping a game to the Celtics in and of itself, they were upset with why they lost. Obviously, everyone was displeased by factors like Big Baby and Lil' Nate running wild, the rebounding disparity, and defense lapses allowing Boston to shoot a whopping 63.2 percent during the final frame. But as much as anything, the team took itself to task over the way their offense evaporated into a sea of isolated inertia.
Especially since it was entirely their own doing.
As the game progressed, whoever started with the ball stood a disturbingly good chance of ending up the one taking the shot. Often these were jumpers, and deep in the clock. Even when the basket was attacked, the sequence were typically born from one-on-one action. As a result, just four assists on fifteen total buckets during the second half, and literally one dime in the fourth quarter. Not surprisingly, this made the Laker offense easier to defend, which likely accounted for a whopping 21 defections by the Celtics over the final 24 minutes. (For their part, the Lakers managed just three after matching Boston's 15 in the first half.)
"We didn't run our stuff," explained a notably terse Shannon Brown. "The ball got stagnant. We had to take tough shots."
Derek Fisher expanded on Brown's frustrations. No question, many a "hustle" play was won by Boston during the second half, an occurrence deemed unacceptable heading into Game 5. But at the same time, Fisher felt urgency wasn't lacking, but rather focus... not to mention identity. As has been periodically the case with this team, there was an insistence on making life more difficult than necessary, as opposed to playing towards strengths and on a purposeful page.
As has also been periodically the case, this habit came back to bite them.
"In terms of mindset and urgency, I think that was there was that was there for us," said Fisher. "We got out of character in the second half in terms of our execution and some of the things we need to do. For the most part, we were getting some stops in the third and fourth quarter. [But] offensively, we were bad."
Even while offering props to some quality lockdown by the green, Fisher felt the larger problem wasn't what Boston was doing to them, but rather what what they allowed them to due because of mental breakdowns
"Some of it was obviously their defense," agreed Fisher. "But we're well versed in being able to get things when a team decides to pressure or break down or deny a pass. We recognize those things. You always have to give your opponent credit when you're out there. But at the same time, we were definitely in control of the mistakes that we made, so we have to be much sharper and have a sense of what we're trying to accomplish out there."
Everyone acknowledged the difficulties created by Andrew Bynum's second half absence on both sides of the ball. But as Fish noted, "there's still some things we can accomplish out there" even without Drew. More pointedly, the need for intelligent ball becomes magnified even more when robbed of Bynum's weaponry. This was the message from Lamar Odom, as big a proponent of swinging the rock as anybody on the Lakers. And just as guilty of tunnel vision this evening as the rest of his teammates.
"We have to just run our offense and have the movement, especially with Andrew out of the game. We have to move the ball and be quicker. We just can't stand around and watch. With Andrew out of the game, that's not our strength. We have to move the ball to be able to get ourselves in offensive rebounding position, get guys open looks, make plays for others."
Lord knows tonight's loss will be analyzed to death every which will from Sunday, and without question, there will be smaller elements that emerge upon a second or third look. But the bottom line, when the Lakers break from their principles without purpose, the results are often bad. It's a reality the Lakers understand well, but sometimes decide to ignore. This was one of those occasions and the results weren't pleasant.
"It's really no mystery," shrugged Brown about the reasons behind the fall. "We just didn't come out and handle our business. It's as simple as that. No secrets. Nothing you guys didn't see out there."
--Andy Kamenetzky
BIG NUMBERS
16: L.A.'s team turnover total for the evening. Kobe had seven on his own. It was enough to generate 15 points for the Celtics. That the Lakers actually had more points off turnovers, isn't really the point. Against a high quality defensive team, it's simply not wise to give away possessions. Good looks and continuity are hard enough to come by without self-destructive play.
+20: Boston's advantage in the paint (54-34). Another manifestation of Bynum's absence, and a sign of how hard it was for the Lakers to get easy looks, particularly in the second half. And, of course, an inability to defend at the rim. But you knew that part already.
1: Total number of threes from anyone not wearing 24 on his jersey. I'm not an advocate of the Lakers bombing away from beyond the arc, but they need to have more balance here. It can't be six-of-11 from Kobe, one-for-nine from everyone else. (Really, 11 is too many from Kobe, but at least a couple were forced by circumstance, a few more by excellent defense from the C's. But others were of a nice catch-and-shoot variety. Whatever, it wasn't about Kobe, but issues around him along the perimeter around him.) The lack of good ball movement was a major contributing factor. The Lakers get their best three-point looks from inside-out movement allowing the ball to eventually find an open man on the arc. If there's no passing, this doesn't happen. And Artest's free fall as a shooter complicates things as well. Sunday, the Lakers will have to be better.
-- BK
VIDEO
Derek Fisher, on the Game 4 loss
Lamar Odom, on the Game 4 loss
Shannon Brown, on the Game 4 loss
Andrew Bynum, on the loss and his knee injury