In making my Finals prediction back in 2008 I focused too much on momentum and L.A.'s seemingly overwhelming offensive machine, but three games into the series it became clear the Lakers had a problem on their hands. The matchups didn't set up well.
Three games into this year's Finals, I thought the opposite. This time around, the matchups favored the purple and gold, thanks to the presence of Ron Artest and Andrew Bynum, an improved Pau Gasol, and a Celtics squad not quite as potent as it was in 2008. As it was then for the Lakers, Boston was certainly capable of winning, but would have to do it from a position of disadvantage. The Celtics had to work so much harder to generate the same output as the Lakers.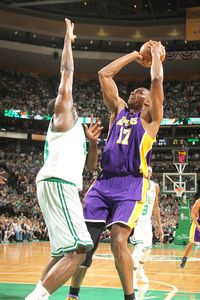 Nathaniel S. Butler/Getty Images
Andrew Bynum was limited to 12 minutes in Game 4 thanks to his injured right knee, and his ability to play effectively the rest of the way is in doubt.
But as it was in 2008, neither team this year is so much better than the other that a shift in circumstances, intense swelling of a certain 7-footer's right knee for example, couldn't turn everything on its head.
Should Bynum's knee limit his presence over the remaining games, the Lakers will certainly feel the pain. It's not necessarily a question of losing his statistical output (though that doesn't help) but just as it was in Game 2, when Lamar Odom may as well have been in street clothes thanks to persistent foul trouble, Bynum's absence has a ripple effect, about as unpleasant for Lakers fans as your average Ashton Kutcher movie exploring similar topics.
When the big guy is out it changes the context of the series in a variety of significant ways:
1. A lot more physical punishment for Pau Gasol. You can see examples of it here, in the video from TrueHoop's Kevin Arnovitz posted this morning focusing on the matchup between Gasol and Rasheed Wallace. But without Bynum, Gasol also gets similar treatment from Kendrick Perkins and Kevin Garnett. Boston can throw more bodies at him without fear of leaving Bynum alone, and generally work to wear him down. Thursday, Gasol did a pretty good job of standing up to the abuse, playing to contact and earning 10 free throws on the night, but there is no question it wears down a guy over 48 minutes, and hurts his rebounding as well.
2. More attention for Kobe Bryant. The Celtics love to overload to a star and try to force tough shots. Removing Bynum from the post takes away a good offensive option and an outlet for Bryant on penetration that must be respected. Unless Odom is getting behind the defense down low, it's easier for the Celtics to watch Bryant and account for Odom than it is to watch Bryant and account for Bynum, who can't always be seen without a defender turning his head. During the second half last night, Bryant still managed to score, but his looks had a decidedly 2008 feel, contested and on the perimeter. Choking off Bryant tends to hurt L.A.'s ball movement, too, hurting everyone else on the floor.
3. Fewer easy buckets. Even when Bynum doesn't pile up points, the ones he gets tend to be easy, and often of the sort that salvages a bad possession; dunks off lobs, layups off good interior passing, and putbacks off the weakside. He draws fouls, sending him to the line where he converts at a very solid rate. Replacing even three or four high-percentage baskets against a good defensive team is trickier than it may seem.
4. One fewer guy on the glass. The winner of the rebounding battle has won all four games in the series thus far, and in 2008 the Celtics hammered L.A. on the glass. Artest is a lot of things, but a dominant rebounder he isn't. Take Bynum out of the lineup, and the Lakers are left with something very similar to the group battered on the glass two years ago.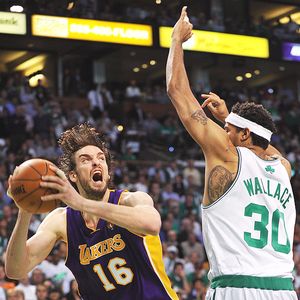 Paul J. Richards/AFP/Getty Images
Less Bynum means a lot more punishment for Pau Gasol.
5. A more open paint. Last night's ineffective performance notwithstanding, Odom is a versatile and underrated defender in space and inside, but he's not Bynum in terms of shot blocking and shot altering. Moreover, when the threesome of Odom, Bynum and Gasol shrinks to a pair, it's tougher for the Lakers to change their look defensively. Boston can more easily manipulate matchups and build a rhythm, threatening to make Odom and Gasol less effective than they would otherwise be.
6. More pressure on Odom and Artest to perform. Odom took 10 shots in Game 4 and was aggressive down the stretch, but had only one rebound in the second half and was so ineffective Phil Jackson said after the game he wondered if Odom was going to "kind of sit this one out." Artest has generally done good work on Pierce -- after a strong start, the pride of Inglewood disappeared for long stretches Thursday -- but hasn't been a factor offensively, particularly from the perimeter. He had four field goals in Game 4, and I don't remember any coming on jumpers. The absence of Bynum would move everyone up on the offensive pecking order. If Artest plays under control, using his size to penetrate and make smart interior passes, he can help.
7. Better matchups for Boston. Like a lot of teams, the Celtics find it tough to effectively guard Bynum and Gasol at the same time. Bynum can occupy Perkins, leaving Pau to work on KG or Wallace, something he's done relatively well. It's easier to control a guy like Glen Davis with matchups. The Lakers would love to see him consistently facing either 7-footer, as happened periodically through the first three games. Garnett is a tough matchup for Odom, and Wallace, as Jackson said last night, throws a lot of length at Gasol. Better matchups also mean less foul trouble for Boston's bigs, allowing them to play more aggressively.
8. More pressure on the bench. The Lakers are not deep, they're versatile and rich in top-end talent. Without Bynum, though, Phil Jackson faces a tough choice: Go deeper into a shaky bench or shorten the rotation and risk fatigue. Neither is particularly attractive.
The Lakers hope Bynum recovers enough over the next two days to make the 900-or-so words above moot. It's certainly possible, because he need not be dominant to be influential. But there is also a chance Bynum's best work in this Finals is in the rearview mirror. If that's the case, the best-of-three between Boston and L.A. for the Larry O'Brien Trophy becomes a bigger struggle for the purple and gold.
If Andrew Bynum can't play (at all or effectively), the Lakers will...online surveys