Game 7.
Just the sound of it sends chills down your spine.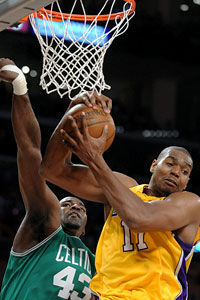 Mark Ralston/AFP/Getty Images
The big boys could be limited or shelved for Game 7.
There will obviously be plenty to analyze in the next two days, but I thought I'd present just the tip of the iceberg. Looking ahead to Thursday's madness, here are seven points to ponder while you await Game 7's tipoff:
1) How will ailing centers affect the outcome?
Andrew Bynum told reporters on Wednesday he is 'definitely' playing, but after once again limping off the floor only two minutes into the third quarter of Game 6, it's reasonable to question how effective he'll be. It's very possible Bynum has, after three rounds of playing on a knee requiring surgery, reached the end of the line. At the very least, he's running on fumes. In the meantime, Kendrick Perkins is out. As reported by ESPN Boston's Chris Forsberg, Perkins told reporters Wednesday he has tears in two ligaments in his right knee.
Drew hobbling around has been problematic for the Lakers, but the loss of Perkins could be a game-changer. Should Bynum somehow manage a quality outing, the Lakers will have a huge advantage in the paint. Even if he can't, life for Pau Gasol will be a whole lot more pleasant working against the likes of Kevin Garnett and Rasheed Wallace without the physical punishment Perkins provides. Plus, the Lakers have had weeks -- not to mention last year's playoffs -- to get accustomed to mixed bag performances from Bynum. Boston will have fewer than 48 hours to adjust to Perkins' absence. It's tough accounting for a key cog on the fly.
2) Who will win the rebounding battle?
This series has featured enough twists and turns to make Alfred Hitchcock scratch his head. Even Nostradamus would have struggled to predict the outcome of these games. But there has been one consistent feature of the NBA Finals so far: In all six games, the team that grabs more rebounds comes out with a win. Period. Point blank. End of story. It's a trend I don't expect to end, and with Perkins and Bynum both question marks heading into Game 6, everyone else on the floor, on both sides, should be thinking about picking up the slack.
For those keeping score at home, Gasol leads all players in this series by a country mile with 63 total rebounds (10.5 per game). By contrast, Kevin Garnett and Rajon Rondo are Boston's top glass-getters, with 36 total each and 6 rpg. Perk is third for Boston with 35 boards, and Bynum fourth for the Lakers with 30. It's also worth keeping an eye on Kobe Bryant, second on the Lakers with 41 total boards (6.8 rpg). I've long maintained that 24 might be the best rebounding guard in the league -- it's without question his most underrated skill -- and in a match in which every board counts, I expect to see him cleaning the glass like a madman.
3) Does Derek Fisher have a big shot in him?
Before the win Tuesday, I noted how a strong overall postseason has drawn attention away from Derek Fisher's serious outside shooting slump during the Finals. And I do mean "serious." He had missed a dozen consecutive 3-pointers heading into Game 6, and he did not take one Tuesday. Without question, poor outside shooting has affected Fish's production and his value to the team. Save his iconic performance late in Game 3, Fisher has yet to hit double figures in the Finals.
Fisher has always been a ridiculously streaky shooter, and we might be in the midst of a swoon, but if there is anybody capable of a perfectly-timed bust out, it's the pride of Little Rock.
And either way, I guarantee the Celtics wouldn't dare leave him open in a game with all the marbles in the balance.
4) Has Ray Allen's shot come back?
Think Fish is suffering a drought? Try the one Ray Allen just snapped. After a Game 2 in which he literally made Finals history by draining a record eight treys en route to 33 points, Allen dried up like a raisin. Zero-for-eight from behind the arc and 0-for-13 from the field in a jaw-dropping Game 3 wipeout. Zero-for-four from downtown in Games 4 and 5. Twenty-six points in Games 3-5 combined. Throw in a Game 1 with just eight points and no buckets from distance, and it's been feast or famine for this legendary sharpshooter.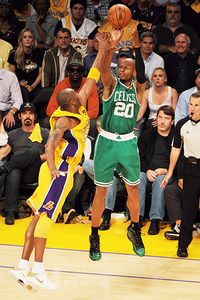 John Soohoo/NBAE via Getty Images
If this dude gets rolling, look out.
Game 6, however, offered a slight wrinkle. Jesus Shuttlesworth led all Celts with 19 points on 7-of-14 shooting and drained a pair of triples. Viewed solely through the prism of Boston's terrible outing, the performance was meaningless. But if it's a sign of a stroke rediscovered, this could mean big things for a road team in need of all the ammo it can get Thursday. When this guy gets hot, he can change a game by his lonesome.
5) Which bench will show up for either team?
In Game 4, Shrek and Donkey come out of nowhere to drop a surprise hammer. In Game 6, the Lakers' second unit outscored Boston's crew 24-0 through three quarters.
Can the Lakers count on X-factor Lamar Odom, the NBA's poster boy for inconsistency? Can the Celtics count on Rasheed Wallace, the NBA's poster boy for volatility? Will at least one of three backup guards (Shannon Brown, Jordan Farmar, Sasha Vujacic) come through with a spark of energy and production for the Lakers? Big Baby has been scoreless the past two contests. And few players are more capable of shooting a team into, or out of, a game than Nate Robinson.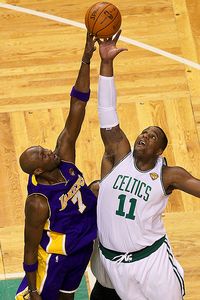 Jim Rogash/Getty Images
Could LO or Baby tilt the scales in his team's favor?
Generally speaking, benches tend to play better at home than on the road, so the edge goes to the Lakers. But that doesn't change the fact that the purple-and-gold reserves are like a box of chocolates; you never know what you're gonna get, and an overdose often results in a serious tummy ache.
6) Whose star will shine brightest?
The adidas ads reminded us it takes five to win a championship. True. The cliche insists defense wins championships. Can't deny it. But in the end, stars are often the difference-makers, and with everything on the line for both teams, will the outcome end up decided by an A-lister? Rondo, the Celtics' most explosive talent? Local product Paul Pierce, who certainly isn't afraid of this moment? Garnett, whose "fountain of youth" resurgence has been nothing short of remarkable. Allen, who can be deadly? Maybe it's Gasol, one ring from finally ending the "soft" talk once and for all? Perhaps Artest, who could justify his place on this team by smothering the daylights out of The Truth.
Then again, who are we kidding? Is there anybody you'd want on your side in a Game 7 more than Kobe Bryant? If so, I'm dying to know why.
7) How do the Lakers handle uncharted territory?
Of any elite team heading into the postseason, the Lakers seemed to have the most experience at their disposal. Save Artest, everybody on the roster knew firsthand exactly what it takes to win a title. And unlike a team such as the Celtics, just two years removed from their own title, the Lakers have Kobe, Fish and Phil Jackson who actually know what defending a title is all about. Everybody I've ever heard describe this process says it's different from pursuing a championship, so that perspective is a valuable ace in the hole.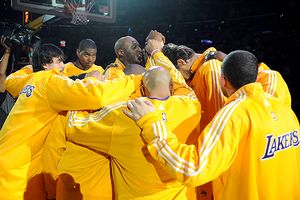 Noah Graham/NBAE via Getty Images
It doesn't get more intense than Game 7 of the NBA
Finals. Will the Lakers be ready?
Thursday, however, presents a brand new ball of wax. Nobody for the Lakers has ever experienced firsthand the feeling that is Game 7 of the NBA Finals. Not Kobe. Not Fish. Not even, believe it or not, Phil Jackson. (New York did take the 1970 title in 7 games -- against the Lakers, ironically -- but PJ was injured for the entire postseason and thus could only relate as an observer.) I realize everyone is well-versed in playoff Game 7's, but no matter what these guys will say, I can't imagine this will feel the same. We're talking Game 7, NBA Finals. Everything at stake. So much recent history between these rosters. So much history, period, between these franchises. Legacies and emotions hanging in the balance.
It's a lot to wrap your head around.
Granted, save Sheed in 2005 (defending the Pistons' title against the Spurs), nobody on Boston's side has ever lived the moment, either. I'm sure that team's minds will be racing, as well. But to some degree, the Celtics are playing with house money, having spent the season with few expecting them to reach this point. Not that the title is meaningless to them, but they're not under nearly the same pressure as the Lakers.
I can't wait to see how it all shakes out.