A couple pieces of news potentially important to the Lakers: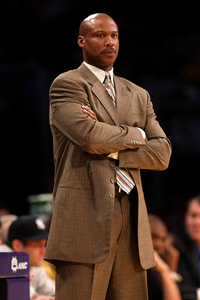 Stephen Dunn/Getty Images
The Cavaliers are very, very interested in Byron Scott and Brian Shaw. Scott says he won't wait on Phil Jackson to make his call, should Cleveland make an offer.
First, Marc Spears of Yahoo! Sports reports on the courting of Byron Scott and Brian Shaw by the Cleveland Cavaliers for their head coaching vacancy. Scott tells Spears he won't wait around on Phil Jackson to decide his future, or for the Lakers to make a choice should Jackson retire, nor is he waiting on LeBron James to pick a destination.
"That ain't me," he says. "I'm not waiting on anybody."
Scott goes on to say he'd take the Cleveland job whether LeBron returns or not. The Cavaliers reportedly would like to have an offer out to either Shaw or Scott by Thursday, meaning it'll likely come before Jackson makes his decision, at least if P.J. sticks to the timetable he laid out last week. That the Cavs would want to stay ahead of Jackson makes sense, since it gives them the best chance of landing their preferred candidate... I'm inclined to think both Shaw and Scott would give themselves 48 hours to kick around the offer, which could be enough to get definitive news on Jackson.
I could certainly be wrong, though, particularly as it pertains to Scott, who has a less tangible fallback position if he misses out with the Cavs and Jackson comes back to L.A.. Scott would either have to take a lesser job somewhere else or wait around some more for Jackson to retire. Shaw, meanwhile, could return to Jackson's staff comfortable in the notion he'd likely take over when P.J. does decide to hang it up.
In other news, ESPNLA's Ramona Shelburne reports Shannon Brown is likely to opt out of the final year of his contract and become a free agent. A firm decision is yet to be made, but Brown's agent, Mark Bartelstein, anticipates it'll happen before open season begins at 9 pm PT Wednesday night. This shouldn't surprise anyone, though it doesn't mean Brown is automatically gone. He has repeatedly expressed a genuine preference to remain in L.A., but should another squad throw a contract of greater length and money than the Lakers are willing to pay, Brown is almost obligated to take it.
He earned $2 million last season.
Exciting as he is, remember Brown is still a guy who only recently established himself as a legitimate NBA player and has holes in his game. I'll be very curious to see what is out there for him. If the cost doesn't become prohibitive, it wouldn't surprise to see the Lakers push to keep Brown, both because they like him and also their cap situation makes him very difficult to replace while simultaneously addressing other needs.
Odds are he'll end up in another city, but don't mothball your Brown jersey quite yet.