Mail call!
Thanks to everyone who has left questions and comments in our mailbag over the course of the season. We've tried to answer as many as we can by e-mail, and now we'll work them into the blog as well. So keep sending in your Q's, and perhaps one day you'll see your name displayed on a mildly respected basketball website!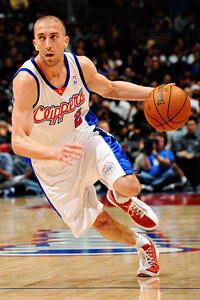 Noah Graham/NBAE/Getty Images
Steve Blake is the new piece who will get the most playing time, and should fit the system like a glove.
Q: Let's ask the same question of the Lakers that many of us are asking the Heat: Can this group, which includes quite a number of new faces, play together? Or will there be chemistry issues? Maybe [Matt] Barnes and [Ron] Artest will get on each other's nerves. Maybe [Derrick] Caracter will display the questionable character that was dogging him during the draft. Also, after losing [Jordan] Farmar, [Josh] Powell, [Adam] Morrison, and[D.J.] Mbenga and getting [Steve] Blake, [Matt] Barnes, [Theo] Ratliff,and presumably the two rookies, the Lakers have still gotten older. Can they keep up with the speedier teams in the league?"
-- Johnny L, New York.
A:Chemistry and continuity won't be a problem, assuming reasonable health. None of the guys they brought in are starters. Blake's game integrates with what the Lakers do extremely well, and Barnes isn't really a huge concern, assuming he can live with potentially spotty minutes. When it comes to personality problems, should they become an issue for Barnes -- I don't think it'll happen -- they can cut him. At $1.7 million, he doesn't make enough to undercut the team's chemistry. As for Caracter, I have zero concern about reverting to his form at Louisville. The guy has taken total ownership of past mistakes, and won't repeat them.
The Lakers aren't bulletproof, as you note. They're not exactly flush with young legs, and as it was last season fast teams will still be a problem, but there wasn't anything they could have done to suddenly athlete up like an OKC. They're set up to win now, and their core is hardly over the hill. The Lakers have a better roster now than they did in June.
Q: Hi Guys. As a retired former broadcaster I must first tell you two that you are very good on the air at 710. My question: Since Sasha must be "getting wind" that the Lakers are trying to move him in order to resign Shannon Brown ... could he if he wanted too restructure his deal and take a pay cut to stay with the Lakers so he and Shannon could both return next season? Thanks.
-- Kenny W, Sherman Oaks
A: Kenny, if your strategy of saying something nice about us was a cynical ploy to get your question answered, congratulations, it worked. As far as Sasha restructuring his deal, that's a no-no. The union in particular is not fond of that move, and the league can't let it happen because of all the ways the salary cap could then be circumvented. Bottom line, if the Lakers are in an either/or situation with Shannon and Sasha, they won't win out unless Brown agrees to take a lot less money or another team agrees to take Vujacic. In a few months, Vujacic's expiring contract (worth about $5 million) will have value, but not yet. It's still too early.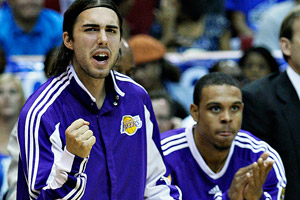 AP Photo/David J. Phillip
It doesn't appear the Lakers can keep Shannon Brown and Sasha Vujacic, unless Brown is willing to leave a lot on the table, or Vujacic is traded.
Q: If Luke Waltonis forced to miss the entire season, or even retire due to a medical situation (his back), what relief, if any could the Lakers get? Who makes these relief decisions and is there a specific timeline when Luke and the Lakers have to make a decision by? Sounds like this may be a scenario that Luke and the Lakers may have to deal with in the near future. Assuming[Devin] Ebanks makes the team, this might provide him or another 3rd string SF an opportunity to get some precious minutes. Thanks for your feedback.
-- Steve, Los Angeles
A: Well, at this point I'd be shocked if Walton retired, but the lost season is still in play, unfortunately. If he has surgery, there's a good chance Walton could miss the year. The league does allow for an "disabled player exception," but is not all that liberal in granting it. If it did, the Lakers would be able to spend 50 percent of his salary (give or take) on a player to replace him. They wouldn't get salary cap relief, but can sign a player they otherwise wouldn't be allowed to sign. They could also trade for a player worth up to the exception, plus 100K. The exception must be used within 45 days of it being granted, but I suspect, though, the Lakers wouldn't use it. They already hedged against the potential loss of Walton by signing Barnes. But it would open up more minutes for Ebanks, no question.
Huge hat tip to salary cap guru Larry Coon and his FAQ page. Lord knows I can't explain this stuff on my own.
Q: The Miami Heat got all the headlines, all the glamour. The Heat put on a WWE entrance style welcome party for their additions to the roster. The casual NBA fans are talking Heat, Heat, Heat. Chris Bosh is dancing and LeBron Jamesis now out of excuses. But did they have the best offseason? That's my question to you guys. I think the Lakers quietly had a better offseason by far. They added defense and scoring to a bench that needed it. Steve Blake and Matt Barnes are both feisty players. The Lakers have a bench that includes Lamar Odom, Blake and Barnes. Pretty formidable. The Lakers added defense and toughness. The Heat added superstars and a generally offensive minded group of supporting players. Doesn't defense win championships?
-- Adam H, Northampton MA
A: Not to get bogged down in semantics, but the answer depends a little on what your definition of "best" is. It's hard to argue the Heat aren't much better than they were last season and didn't instantly make themselves title contenders for this season and the next half-decade. They had about as good an offseason as a team can have. The Lakers, however, have had a great offseason as well, even if Brown decides to sign somewhere else (and even better if he returns to L.A.). Adding Blake is an upgrade over Farmar, providing steadier play behind Derek Fisherand better outside shooting. Plus, Blake comes with the added benefit of actually wanting to play for the team, which couldn't be said for Farmar.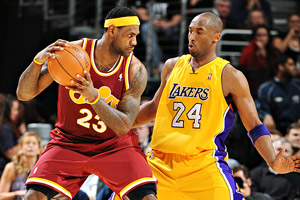 Andrew D. Bernstein/NBAE/Getty Images
You shall not pass!
Barnes provides badly needed depth at small forward, freeing Kobe from the need to serve as the team's backup three. They had a nice draft, apparently finding two potential keepers deep into the second round. Ratliff is an upgrade, however relative, over Mbenga. Does that make for a better offseason? Probably not, but measured against the complete transformation of Miami, that wasn't possible. It doesn't matter if Miami had the better summer if they don't have the better team in June, and right now that's a very open question. There are so many things we don't know yet about the Heat, including how well they'll mesh defensively. Like you say, it's a huge factor.
I have the Lakers slated as my very pre-season title pick for 2011, and unless something changes between now and October, L.A. will be my pick when the season opens.
Q: Do you see Kobe, Blake, and Fish getting any playing time together this season? I could see the three of them closing out games, what with Kobe and Fish's "clutchness" and Blake shooting (mixed maybe with Pau [Gasol] and Lamar [Odom]). Great mix of clutch shooting and defensive tenacity.
-- Alex, Mill Valley CA
A: Certainly could happen, since Blake has played at the two at different points in his career, though the matchups would need to be pretty specific because this is unlikely to be this team's best defensive lineup. Or any team's, actually. Putting Fisher and Blake together in the backcourt would leave the Lakers vulnerable both to penetration and potential mismatches against taller shooting guards. But if Brown doesn't return, I still anticipate Kobe is going to play a little on the wing. That means PT for Vujacic at the two, Blake as well if the timing is right. As a combo, Blake and Fisher wouldn't lead the league in quicks, but could make up for it with heady positioning and an understanding of the team's scheme.
If Brown does re-sign, though, it would obviously limit the deployment of the Fisher/Blake backcourt. The Lakers aren't going to spend to bring Brown back and not give him those minutes.
Send your questions to Brian and Andy Kamenetzky's mailbag on ESPNLosAngeles.com.