Thursday, April 14, 2011
Lakers vs. New Orleans - An early first round preview

---
By Brian Kamenetzky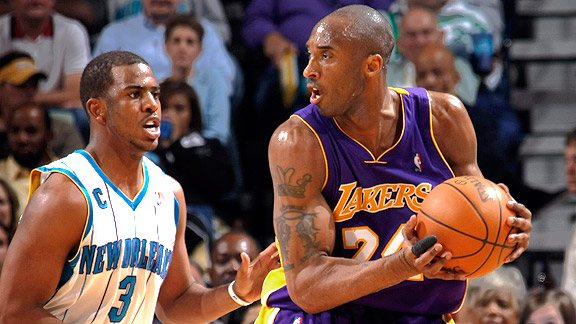 Layne Murdoch/NBAE/Getty Images

The Lakers begin their threepeat quest with a matchup against Chris Paul and the New Orleans Hornets.


As the playoff race in the Western Conference began taking shape, the general consensus among, as Phil Jackson calls us, the "media pundits," pointed to the New Orleans Hornets as the ideal first round matchup for the Lakers.

Time to find out how smart we are.

Despite losing Wednesday night in Dallas, a Grizzlies loss to the Clippers- Memphis did everything they could short of starting B.B. King at the point to avoid victory (at least until late, when it looked like winning might actually help them)- locked the Hornets into the seventh spot on the Western Conference playoff ladder, ensuring a date with the Lakers after L.A. (barely) knocked off the Kings in Sacramento. On its face, the matchup heavily favors the purple and gold. The Lakers swept the season series 4-0, winning by an average of 10.75 points per game. In the most recent meeting, L.A. won by 18.

One big reason- New Orleans may have Chris Paul, still arguably the league's most complete point guard despite what appears to be an MVP season for Chicago's Derrick Rose, but lost All-Star power forward David West to a torn ACL last month. Kudos to the Hornets (and Paul, for staying afloat in his absence, but on paper at least are overmatched up front. At center, Emeka Okafor is undersized defensively and limited offensively. At power forward, Carl Landry always hurts the Lakers- if he could play L.A. 82 times a year, monuments might be erected in his honor- but listed generously at 6'9", he gives up a ton at the other end, where he's not a high end defender against smaller opponents.

Behind those guys, New Orleans has size, but little talent. D.J. Mbenga and Jason Smith are both seven-footers, as is Aaron Gray. Fond memories aside, I'll take my chances against Mbenga. Smith isn't very good, neither is Gray. Willing a player as Landry is (the man has been shot- his gumption is unassailable), New Orleans simply has no adequate substitute for what West, their leading scorer, brought to the table. In fairness, most teams wouldn't. In his absence, New Orleans is forced to rely on guys like Trevor Ariza, Marco Belinelli, and Willie Green, none of whom are models of consistency.

No surprise, then, the Hornets are a .500 team (5-5) without West in the lineup.

Despite Paul's presence, New Orleans is the second slowest team in the NBA in terms of pace, averaging about 88.6 possessions per game. Nor do they score much, finishing the regular season with the league's 27th ranked offense measured by points per game. While the Hornets are a little better when measured by efficiency (points per possession, ranking 18th), by most metrics, they're below average on that side of the ball. They don't grab a lot of offensive boards, nor get to the line.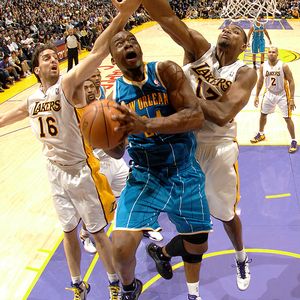 Andrew D. Bernstein/Getty Images
Noted Laker-killer Carl Landry will have his work cut out for him in the first round.

If there's one area the Hornets excel at offensively, it's protecting the ball, sporting a turnover rate in the NBA's top 10, which makes sense, because their real strength is on the defensive side of the floor. The aforementioned plodding pace explains in part how New Orleans ranks fourth in opponent's points allowed, but it's no mirage. Monty Williams' crew is the seventh best defensive team when ranked by efficiency. Add in their ability to avoid mistakes at the other end- fewer giveaways mean fewer cheap points- and New Orleans is a legitimate challenge for any offense.  ( Note: All stats through Tuesday's games)

They'll have to be that good, then crank it up another notch or three, to have a chance against the champs.

Assuming Andrew Bynum is back for the series, as the Lakers expect, New Orleans will also have to figure out how to defend the Lakers down low without relying too much on double teams, because whether you're talking about Bynum, Pau Gasol, Lamar Odom, or Kobe Bryant, all of them are outstanding at finding the open man. The Hornets will almost certainly pack the paint as much as possible, encouraging the Lakers to shoot over them, but as long as L.A. plays with some discipline, they still should get quality shots. Nor will they need to light up the board, since New Orleans is unlikely to score big points.

All of this, though, is predicated on the Lakers playing like the Lakers. As Kobe said Wednesday afternoon on 710 ESPN's Mason and Ireland Show, given the quality of play displayed of late, a seven game series against Minnesota might be a toss up. More than anything, they need to re-discover their collective commitment to offensive principles, working from inside out, moving the ball, and themselves. Avoid turnovers, keep the opponent off the free throw line.

To beat New Orleans, the Lakers don't even need to do these things to their full capacity, just better than they've been. But as we all learned in the Houston series a couple years back, the Lakers are capable of turning any series into a tough one.

It's amazing to think what might have happened to the Lakers had they completely blown their 22 point lead against the Kings Wednesday night. A plum matchup against an undermanned Hornets squad and home court in the second round against the Mavs (should Dallas advance against Portland) would have become a far more difficult draw in the Blazers, with Dallas hosting the second round. But they didn't. As a result, the Lakers, with Bynum and Matt Barnes mending and Steve Blake de-poxing, get the best of available worlds.

Assuming playoff level performance from the Lakers, CP3 is good enough to steal a game for the Hornets. That's about it.

Prediction: Lakers in five.

LAKERS VS. HORNETS -- 2010-11 Game Summaries

-December 29, New Orleans Arena: Lakers 103, Hornets 88
-January 7, Staples Center: Lakers 101, Hornets 97
-February 5, New Orleans Arena: Lakers 101, Hornets 95
-March 27, Staples Center: Lakers 102, Hornets 84


---