Saturday, September 3, 2011
"The L.A. in my Game," with Jordan Hamilton

---
By The Kamenetzky Brothers

As part of a continuing series, NBA players share how growing up in L.A. shaped their games.

For Jordan Hamilton, an NBA lockout stalling his rookie season with the Denver Nuggets is a microcosm of his entire basketball career: A series of starts and stops. Academically ineligible as a Dorsey High school freshman, the Crenshaw district product repeated that grade academically the following year, but was considered a sophomore player on the court. Thus, a season lost in the ether. After transferring to Dominguez his junior year, he led the squad to the state finals, where they were upset by McClymonds. Unfortunately, redemption wasn't in the cards. Despite three appeals, Hamilton's eligibility was ruled expired as a senior. Disappointed but undeterred, Hamilton made the best of the situation by maintaining his high work ethic. That determination led to two seasons at Texas, followed by 26th overall selection by the Denver Nuggets in this year's draft.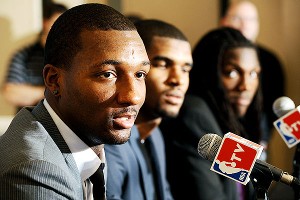 Garrett W. Ellwood/Getty Images
Hamilton's road to the NBA wasn't as smooth as his game.


Kamenetzky brothers: When you first began playing, which were your regular playgrounds and parks?

Jordan Hamilton: We played some basketball at Ladera Park. Baldwin Hills park. I'd go there every once in a while and play. Rancho Cienega [mainly]. A lot of guys came out of there and played as kids. Marcus Williams played there as kids. I think Arron [Afflalo] played there. A lot of pros. I liked the atmosphere. It was like a mini-Rucker indoors, so a lot of people would come out and watch us play.

I never really played my own age. I'd always play up. They didn't know I was only nine or 10 years old. I was around 5'10", pretty tall and pretty big, so they didn't really see me as a nine year-old.

I think that's when [respect] first got started for me, just going around there and building a reputation around L.A. Then I took it to the national scene. Growing up as a kid playing AAU from about 10, 11, 12, that's when I started getting nationally known. But it started [at Rancho].  Just built that confidence to go out and play against guys across the country and get better.

K Bros: What goes into building that reputation?

JH: People talking. It starts off as a buzz, then people come out and see you play. If you perform well and keep it going, I think that's how you build your reputation. And just being known for something. Some guys block shots. Some guys rebound well. But for me, it was scoring. A lot of people see me as a scorer, so if they come out, they expect to see me score the basketball.

K Bros: Were there any local legends you patterned your game after?

JH: Marcus Williams. I really look up to him in a lot of ways. Growing up, he was one of the best players in our area. Just seeing him how much people respected him. He's a really good passer. He can shoot. Most [guards] are known for passing, but he can shoot it. He can get to the basket. He know how to create fouls. He's not one of the quickest or fastest guys but he definitely can get the job done.

K Bros: Your parents were very involved in the community, trying to make it as strong an environment as possible. What effect did that have on you with avoiding negative influences?

JH: I have four brothers and a sister and we're all on the right track, as far as our lives go. Growing up in the Crenshaw area, it was kind of rough. We just hung out with each other. Those are really my close friends. I'd include Marcus and a couple of others. Those are the main focuses. Having us stay tight, having us in a support system, and basketball is what we all chose.

K Bros: Did you have to make a conscious decision of acknowledging those surroundings and trying to distance yourself?

JH: My dad, he works with County Probation with juveniles. He'd take us to the place to see the kids and that was kind of scary for us. That being said, we never wanted to go down that route. We just kept straight heads and did what we had to do to be a positive influence in the community.

K Bros: Your older brother played for the University of Miami and professionally overseas. What did you learn from him?

JH: He was more of a post player, but he's been through it with other guys and saw other wings train. He put me through some drills and then later that day, we would play some pickup basketball every summer. I would play against pros all the time. I think that's also a confidence booster. It was like, "Okay, if I can get my shot off against Ron Artest or Trevor Ariza, I can definitely get my shot off on a wing in college."

K Bros: When did you really focus on taking basketball to the next level?

JH: Probably when I was 12. When I was 11, we went to Nationals in Florida with an AAU team and I had a really good showing. And then when I was 12, that's when I started playing against guys that were older than me. Right after that, I [thought] maybe I can possibly be in the NBA one day.

K Bros: You started out at Dorsey, but you were academically ineligible as a freshman. Was it frustrating or scary to have your high school quickly stall?

JH: Yeah, it was tough. I started high school at 13 years old, failed some classes, so I was academically ineligible and then I tried to fight to get that year back. Technically, I was [still] in ninth grade, but it was my sophomore year on the court and ninth grade in the class room. I played two years at Dorsey, then transferred to Dominguez, which was my junior year, but technically, on the court I was a senior. My fifth year, I couldn't play at all. Not playing kind of hurt me, but I knew I was gonna be okay. My grades were okay, since the NCAA granted me a fifth year. I was gonna be able to go to college and play.

K Bros: Your family takes grades seriously. Was it harder being unable to play or telling them about those grades?

JH: Harder to go home. (Laughs)

K Bros: Transferring to Dominguez with such a strong tradition and alumni like Tayshaun Prince, Tyson Chandler, you're stepping into a big legacy. Was there extra pressure?

JH: Not at all. Right away, I felt comfortable. I think that comes from being confident going into a situation and knowing it's gonna really work just as long as I put in the work. We had a really great year that year. I wish we could have won the state championship, but we didn't. And to not play that fifth year kinda hurt.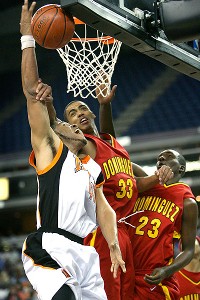 AP Photo/Steve Yeater
Hamilton wasn't able to deliver a state title to Dominguez, but it wasn't for lack of effort.


K Bros: Did those famous NBA graduates come around?

JH: Yeah, Tayshaun Prince, the year after they won the gold medal championship. He brought the medal and talked to our team. Let us know how hard they worked. Nothing was handed to them. He pulled me to the side and told me I had a chance to be really good, just as long as I worked, continue to do the things I need to do, listen to my coaches. That's what I did and now I'm in the NBA.

That was actually my first time meeting him, but I heard about him so much. He's one of "Compton's Finest" or whatever they call it. (Laughs) I'm an L.A. guy and I went to school in Compton. That's why I said that. [Prince's advice] really helped me and it was a confidence booster.

K Bros: Why do you think Dominguez fell short in the state finals game?

JH: We went into the game with some of the guys thinking we just gonna win, because we hadn't lost since December or something like that. The championship was in March. But McClymonds was undefeated that year and played off emotions. The head coach, it was the year he was gonna retire. And on top of it, his wife had died [five years before] in a car accident and his daughter died [the year of the tournament] . I think that team really played off emotions. They ended up winning the state championship. They deserved it, too. They played really hard.

K Bros: How did you play?

JH: I played pretty well. I had about 22 points. 10 rebounds probably. But it wasn't enough to win.

K Bros: Did you sense your teammates too relaxed? Did you try to let them know?

JH: Yeah, I did. But being in high school, it's kind of hard for guys to grasp what's going on. But being a competitor, I wanted to win. I wanted to come out and put our foot on the pedal. but it didn't work out like that.

K Bros: How did Coach Russell Otis shape your game?

JH: At practice, he just wants guys to really work hard. A lot of guys on my team, they were just really hungry, because they wanted scholarships. That pushed me to really play hard, to work hard. I think he just helped me become a better player. He had some drills I wasn't introduced to [before]. Close out drills. Knowing help side on defense. Things like that. Stuff that I [did] in college. And also some NBA sets. I saw some of those sets that I did at Domiguez, when I worked out [with the Nuggets] those five days.

K Bros: What particular skills did Otis help improve?

JH: My on ball defense was always pretty good, [so] probably my off ball. I would get caught looking sometimes. He helped keep my head on a swivel, look both ways, play the passing lanes.

I think he's a legendary coach, especially in the community of Compton. People really look up to Coach Otis, because he coached Tayshaun Prince, Tyson Chandler. Brandon Jennings went there for two years before he went to Oak Hill Academy. He's a really good coach. He teaches you a lot of things not only about basketball, but about life, too.

K Bros: Did those accusations (molestation, improper money received) happen while you were there?

JH: Yeah, it was the year I didn't play.

K Bros: Was it hard watching that situation unfold, considering how much he influenced you?

JH: Absolutely. Every night, our parents would go to the Compton school district board to try to let him back. We fought it all year, just like we was fighting to get my eligibility back that fifth year to play basketball. Everything just felt like it [took] a full turn, once I wasn't able to play and Coach Otis was fired. It hurt a lot of people, a lot of the kids on the team. Some of those guys looked up to Coach Otis like a father figure.

K Bros: What is "the L.A. in your game," the part of your game that most reflects having learned the game here?

JH: I think the scoring. L.A. is known for shooters. So shooting the ball really well. Just being an all around player as well at my size. Being 6'8", I can do lot of different things. Not only just score the basketball, but push it in transition. I can rebound really well for my size. I post up smaller defenders. I can take bigger guys out on the wing, pull up jumpers on them. Just different things like that. I see Trevor Ariza being that type of wing. Dorell Wright. All those type of guys. I think we all have a similar game.

Growing up, I watched Trevor and Dorell. even when I was really younger, Paul Pierce from time to time. Those guys really set the tone for younger guys like me. What I also like is just the little things like The Drew League. I can maybe team up with a guy like Trevor or Dorell Wright. They can kind of coach me through litttle things. We all still talk. I'm [much younger than] Baron Davis and I talk to him every now and them. I was actually at his house on fourth of July. Just the age difference, the big gap right there, but we're both from Los Angeles, so we still show each other love.

K Bros: What does it mean to you to be a player from L.A., being a part of that lineage of this city and basketball.

JH: It means a lot. You definitely don't want to disappoint anyone. That's why I stay in the gym, because I don't want to feel like I let anyone down. Someone might come see me play and it might be their first time. I always want to leave them with a good impression about me. I'm just a competitor. I like to compete. Just coming out of Los Angeles, it can be hard or it could really good. Just as long as you work at what you need to work on.

Previous entries



---