Sunday, October 30, 2011
"The L.A. in my Game," with Arron Afflalo

---
By Andy Kamenetzky

As part of a continuing series, NBA players share how growing up in L.A. shaped their games.

For Arron Afflalo, competition is second nature. It's been on display ever since he was 8 years old, fighting on the court with everyone from opponents to teammates. This spirit was born in Compton. Afflalo moved there from Inglewood to live with his dad at age 11 and the experience shaped him as a player and a person. That he's been more successful at the NBA level than many expected is the result of a hard-nosed attitude developed right here in Los Angeles.

Andy Kamenetzky: Which parks were you a regular at when you first began playing?

Arron Afflalo: I played at Jesse Owens Park when I was about 6 years old. That's when I had my first Little League game. I would [also] play in the Compton area. I would play at Campanella Park. I would have games at Compton High and Centennial High and Dominguez.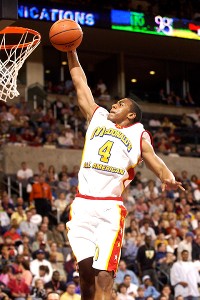 Larry W. Smith/Icon SMI
A fantastic career at Centennial High led to a McDonalds All-American berth for Afflalo.


And Victoria Park in Carson off Avalon. That's where I started playing with Slam N Jam, a familiar AAU program that was really big growing up. That's [also] where my father used to play at night in a men's league. I would go up there and play on the side courts as he played with the older guys. I would have my own little games there on the weekend.

AK: What was the atmosphere like?

Afflalo: I was young, so I was just competitive and energetic for the game of basketball. I didn't know how how much influence the environment itself was having on me or my game. But once I did get to the national AAU atmosphere, I realized playing in my neighborhood gave me a certain edge or way of playing and looking at the game. I started playing in Vegas and other areas in which the kids were just different.

AK: What kind of edge?

Afflalo: Just that competitive edge. I guess kids from that area were shaped different because of their upbringing, rather [than] kids from the Carson area, or the Compton area, or the L.A. area, or Inglewood area. I think the combination of my love for basketball combined with having to put forth that competitive spirit at such a young age shaped who I am and how I continue to progress to this day. I would say 8 years old is when I remember becoming that ultra-competitive and really striving to win.

AK: In Compton, you first lived at Rosecrans Blvd. and Central, and then Richland Farms, which is more, relatively speaking, rural. What were those experiences like?

Affalo: My initial move there was different, because even though I was [from] Inglewood, I was still very young, so I hadn't really been exposed to having to be on the streets or anything some kids deal with. When I moved to Compton, it was a humbling experience, but it kind of heightened my awareness of who I was as a person and how to function. I thought that was good for me going to Centennial, because some kids there don't have a choice but to grow up in the projects or be out on the streets and develop a certain toughness about them to survive.

That wasn't the case for me. Both my parents were around. I just so happened to grow up in that city. In respect to them, I had to adjust my ways of living life. Not being so competitive and fighting everybody I see. Becoming more of a humble person.

AK: I had no idea Richland Farms even existed until reading about your background.

Afflalo: Richland Farms is nothing out of the ordinary. It's just an area where there's more land to the houses. You have your inner-city area in Compton, where the houses are stacked. It's more of a city-type feel. You have your project areas. And you also have certain areas where the homes, maybe back in the 50's and the 60's, had ample land in the back. My dad bought a home over there. You'll see horses and chickens and things that you wouldn't expect. That you hear in rap videos. (laughs)

You literally go one block and you're back in the city. Literally. It's not like it's an isolated area. It's just a function of the land that comes with some of the houses over there. It's a lot of older people that have gardens and horses and things like that in the back yard. But you literally cross the street, you're in an area that's nothing like it. I used to run up and down my street dribbling the ball and a horse would come trotting by. Obviously, people were allowed to have chickens over there, so you'll see chickens just crossing the street. And it's only in that area.

AK: You and your dad were extremely close growing up. How did that relationship shape you as a player?

Afflalo: My dad has always been around. As has my mom, but especially my dad in terms of me enjoying the game of basketball and growing as a man. I don't believe raising me was a job at all. He loved basketball as much as I did, and because of that, it was easy to take me to practice. Watch games with me. He can kind of enjoy basketball and live it through me just as I would learn about life from him. It was just a good partnership.

AK: How good a player was he?

Afflalo: He was good. I mean, he didn't go to any D-I school or anything like that. He had a different type of upbringing. But he was good. He could shoot. He could jump. He was competitive and a lot of things [about my game], I get from him. Definitely my shot. He taught me how to shoot. I used to shoot with my elbow out, cocked it from the side when I was little. I was 11 or 12 when I got old enough to starting shooting above my head. He changed my form, so I feel like I have a pretty nice shooting stroke and touch. That definitely came from him.

AK: You initially expected to attend Dominguez, but then you met Rod Palmer through travel ball and he convinced you to attend Centennial. What was the pitch?

Afflalo: He didn't have to do a whole lot of convincing. Dominguez obviously was a powerhouse school for basketball, but Centennial was my home school. When I was living on Central and Rosecrans, it was literally down the street. Palmer had been at Compton High and coached guys like Tito Maddux and Ellis Miles. I knew that Rod was just a great guy and a great coach and he would take care of me. It turned out to be a great decision.

AK: During your sophomore year, Centennial went all the way to the state finals before eventually losing to Riordan. What fell short in that game?

Afflalo: That team, my sophomore year, was led by a different group of guys. That group, it was myself, Gabe Pruitt, who played with USC and shortly with the Celtics, and we had a few other guys from the neighborhood. I think we just got beat by a better basketball team that year. I was the point guard on that team, so I had a different mentality.

AK: What led to switching from point guard to playing off the ball?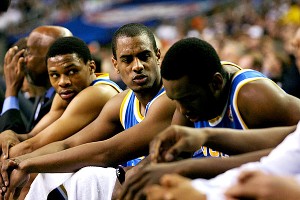 Icon SMI
Afflalo helped bring UCLA back to prominence, despite some heartbreak.


Afflalo: I played point guard my whole life until my junior year of high school. I was around 6'4" and pretty big and strong. I was just bigger than most kids in high school at that point. They needed me off the ball to score. I went from being a point guard to being a shooting guard averaging 27 points or something like that. From that point forward, that's when my recruiting started.

AK: Centennial won the Division III state title during your senior year against Oakland Bishop O'Dowd. They were held to 11 points at the half, 28 through three quarters. How did you guys put together such a great showing?

Afflalo: We had a veteran team from a standpoint of high school basketball. We had a lot of seniors and guys with a lot of experience. I didn't really even have to dominate as much as I did my junior year. We were more of a team effort. That was the case for that entire season.

I believe I had about 20 [points], something like that. I didn't go crazy, but it was a lot of fun. I was more interested in winning. I already had my college commitments and everything behind me. I just wanted to win.

AK: In the meantime, as Centennial won its title, Dominguez won the Division II championship and Compton College had just won a state championship. What was the feeling like in Compton with so much dominant basketball?

Afflalo: I just thought it was a way of life at the time. It wasn't something I overly thought about at the time. Maybe if I was a little older, I would have had more appreciation of the success that kids from Compton were achieving. Because it is something to be proud about. At the time, I was a part of it, so you know how it is. But I definitely had an appreciation of what was being done, knowing my school was getting their first state championship in school history. They retired my jersey. All that stuff was really important for me.

AK: Growing up, you worshiped Byron Scott.

Afflalo: Yeah. I used to love watching him when I was young with my little Laker video. My mom would put that on and I would watch it everyday. I just thought he was smooth. He had a smooth shot. He was athletic. I loved Magic and the Lakers in the 80's. That was my introduction to basketball. But I don't know, I just took a liking to [Scott].

AK: What drew you to UCLA?

Afflalo: I just wanted to stay home. At the time, UCLA was going through a transition period from [Steve] Lavin to Coach [Ben] Howland. They were kind of in some rough times, so just the idea of coming back in and restoring some of that rich tradition that UCLA had. Being one of the main reasons UCLA got back to prominence after being down a few years, it was really fun for me. To do it right here in my backyard was really cool.

AK: How did Ben Howland shape you as a player?

Afflalo: Preparation. He prepares. I definitely had a competitive spirit already. I'd kind of honed in defensively at UCLA a little bit more. But to see his preparation level to detail is something I picked up from him. If a coach can prepare for a game you play twice a week, it's something I can do as well. His whole preparation and attention to detail is why UCLA tends to be successful under him.

AK: How tough was the 2006 title game loss against Florida? Beyond the loss itself, the grind and emotional investment leading to that moment?

Afflalo: It was tough. And honestly, going into that game, I really thought we were going to win. The way that whole tournament had played out. The Gonzaga game and the Alabama game. We seemed to jelling so well, with Cedric Bozeman, Ryan Hollins, myself, Jordan Farmar, and Luc [Mbah a Moute]. Having Darren [Collison] on the bench. So it was something of a shocking thing to our heart to lose that game.

AK: You reached the Final Four the following year and a rematch with Florida. Same result. Was there any commonality between the two losses, looking back on them?

Afflalo: Florida played with a lot of energy. Obviously, they had a lot of talent. A lot of continuity, because they had been together for so long. But our style of play vs. Florida was so methodical offensively that we had to be more basketball players at that point in time to beat them. I had to be more creative. Darren had to be more creative. And obviously, Russell [Westbrook] hadn't come along just yet to the player that he is.

For me, personally, as a leader, I had to be a better player and I don't think I was at that level to carry us all the way to a championship. It was needed for me to do more, creatively and play-making. That wasn't my style of play at the time. It's something I've definitely learned from and now I'm starting to transition in the NBA to become more of a play-maker. To be more versatile and more of a threat.

AK: What's "the L.A. in your game," the part of your game that most reflects having grown up here?

Afflalo: The shooting. I know East Coast guys tend to be great ball handlers and down south, guys tend to be great finishers. And West Coast guys tend to be a little smoother with their game. I feel like I have that component to my game.

AK: A lot of guys mentioned that L.A. swag, the flash. You've always seemed the exact opposite.

Afflalo: It's in me, I can tell you that for sure. But my upbringing and transferring to Centennial and playing under Howland kind of suppressed it in a sense. You may see a little more of that as I go on in my professional career. But in high school and in college, I kind of went away from that type of play to being more of a business-like approach on both ends of the court. Being more of beast on defense and as efficient as possible on offense.

AK: What does it mean to you being a part of the lineage of L.A. basketball players?

Afflalo: I just want to keep moving forward. I want to get as far up the line as I can. It's good to be from cities where you're the man and the face of that city, but to have a lineage of great players that come from the L.A. area, it's good.

Previous entries



---