Nick Friedell:
Rose is ready to lead the Bulls to a championship. He's learned from his mistakes against the Miami Heat in the Eastern Conference finals last season, and he badly wants to lead his hometown team to its seventh title. He spent a lot of time watching tape of what happened against Miami, and turned all the disappointment and frustration from that loss into fuel to work even harder in the summer.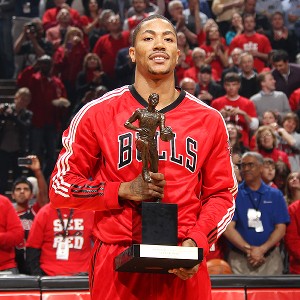 Nathaniel S. Butler/NBAE via Getty Images
Even with an MVP trophy to his name, Rose is ready to discover another level.
As far as the contract goes, I don't think it will affect him much at all. I don't completely believe him when he says he feels zero pressure because of the new deal, but I understand what he's saying in this sense -- nobody puts more pressure on himself to win than Rose. Nobody wants to win more than he does in Chicago. His pressure comes from within. I think he embraces the status that comes with being a "marked man" in the league.
AK: What does Richard Hamilton bring for this team, and how well do you see him fitting? How big an acquisition could he potentially be?
NF: It could be huge. Hamilton gives the Bulls a championship-caliber shooting guard, something they didn't have last season. After all, Keith Bogans started and played 15 to 20 minutes per game for the Bulls in 2010-11. Hamilton seems to have fit in with his new teammates quickly and undoubtedly will take some pressure off Rose. The issue, as it is for everybody, is whether at 33 (going on 34 in February) he can stay healthy and produce all season. If he can, and he plays solid defense, he could be the missing piece.


AK: Where are the Bulls most vulnerable as team, particularly against the Lakers? And "nowhere," by the way, is an acceptable answer.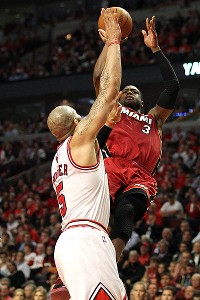 Jonathan Daniel/Getty Images
A betting man would wager money on "Flash" getting the better end of this sequence.
NF:
It would be easy, especially without
Andrew Bynum
on the floor Sunday, to say nowhere. But the Bulls still have Boozer on the floor, and Boozer is still a bad defender. Thibodeau always says the Bulls play a team defense, and that's true to a certain extent, but Boozer is the weak link. The Lakers should look to exploit him at that end any way they can.
AK: Which matchup are you most curious to see Sunday?
NF:
I want to see how Noah performs without Bynum down low. Will the Bulls try to feed him the ball even more because of that absence? How much time will Gasol get on him? What about
Troy Murphy
? Either way, that should give Boozer more freedom to operate as well. Noah needs to show some improvement in his offensive game, and this would be the perfect opportunity for him to do it.
AK: Who wins and why?
NF:
The Bulls. Rose and Noah have been looking forward to this game all summer. They want to win this game on a national stage and show everyone they weren't a fluke last season. Plus, without Bynum, it's going to be tough for the Lakers to score.
And now, the Lakers-centric section ...