Thursday, May 27, 2010
Four for Game 5: Big questions ahead of Thursday night's game

---
By Brian Kamenetzky



Oh, for the carefree feeling of five days gone by, when the Lakers were storming through Phoenix and headed for the Finals like Godzilla tearing through the streets of Tokyo. Life for fans was easy. It was good. It was free of stomach acid and ulcers.

Now, not so much. After consecutive losses to the Suns in the desert, the Western Conference finals are tied at two with Game 5 coming tonight at Staples. By now, many of your more prominent storylines are well known -- Amare Stoudemire's resurgence, L.A.'s issues with the zone (and the 60 threes they shot against it in Games 3 and 4), and the breakdowns for the Lakers defensively.

But there are still more questions to be asked as we all gear up for tonight's game. Here are four:

1. The Lakers won twice in convincing fashion, but then were skunked in Phoenix. Is this just another example of a team lacking killer instinct?

Not really. Most pundits looked at this series and figured it would be long and hard fought, myself included (I predicted the Lakers in a tight six). Some picked the Suns to win. So it seems we -- and by that I mean a healthy majority of media and fans alike -- changed our collective minds and decided after Games 1 and 2 the Suns were cooked.

We tend to overreact to the natural ebbs and flows of the postseason, I said to Phil Jackson Wednesday afternoon.

"Yes," he smiled, "you do."

Instead, the Suns had a lot of life. They found comfort in their home fans and floor, and put the series back on the path most people expected it to follow. For the Lakers to continue rolling through the Suns as they did, Utah would have been the exception not the rule. This is what playoff basketball is supposed to be. "There's absolutely no doubt that we love this. This is what champions are made of. We had this situation with Oklahoma, we had it with Denver last year in the [Western Conference] finals," Jackson said Wednesday afternoon. "This is what it should be if you have the best teams in the west going up against each other. It should come down to a challenge like this if teams have the grit and the ability that they're here."

No question L.A. was often put on its heels in Games 3 and 4, too often failing to match a desperate Suns squad's grit and intensity. It's something they'll need to remedy in Game 5, but this Lakers team isn't so good that any loss can be blamed on some form of apathy. Margins are very thin at this time of year. Give Phoenix due credit. If last year's Houston series remains the gold standard for postseason complacency, Games 3 and 4 in Phoenix aren't in the same ZIP code. Their problems were more about execution than attitude.

2. Does Andrew Bynum have enough mobility to play effective defense against the Suns?

Physically, he's not going to be the same guy night-to-night, but the Game 4 edition didn't. Despite a stronger offensive effort (12 points), likely the most significant number in Bynum's stat line was -16. In only 25 minutes of burn, the Lakers were 16 points worse with him on the floor. Obviously it's not entirely his fault -- too many factors go into team defense and plus/minus to use it as the gospel in such a small sample size -- but there is no question Bynum wasn't good on that end. Too often he found himself caught in no-man's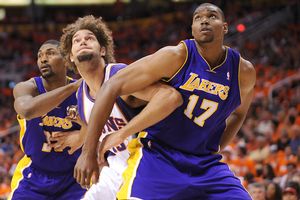 Noah Graham/Getty Images

Will Andrew Bynum's knee problem leave him with the mobility needed to play effective defense tonight?
land against the high screen, and several times he was left (literally) reaching instead of sliding into position as a help defender.
Against a team like Phoenix -- explosive offensively, devoted to the pick and roll, able to get out fast in transition -- proper rotations and timely help are even more important. The lack thereof was one reason Phoenix shot 41 more free throws than the Lakers did in Games 3 and 4, compared to a plus-2 margin in the first pair of games. When players have to scramble, they tend to foul.
I'm not trying to pick on Bynum. He wasn't the only guilty party in the team's defensive breakdowns. He's doing what he can on a knee requiring surgery. But about 80 percent of the time, in a series tied 2-2 the winner of Game 5 advances. The Lakers can't afford to give Bynum too much leash if he struggles again defensively Thursday night.
3. Which bench will win the battle in Game 5?
It's important to compare apples to apples, and points produced isn't necessarily the best way to do it. Phil Jackson is essentially playing eight guys, while Alvin Gentry uses 10. But by any measure, Phoenix's bench mauled the Lakers Tuesday night. Channing Frye, a much better shooter at U.S. Airways Center than anywhere else, finally got off the schneid. Goran Dragic, incredible in Game 4, also had effective moments in Game 1. Jared Dudley, Leandro Barbosa, and Lou Amundson were a combined 13-of-18 shooting. Bottom line, the Lakers are competing against a deep team.
I don't expect them to outscore the Suns, but at home the Lakers bench must at least do no harm. If their contributions can help neutralize Phoenix's reserves, L.A. comes out ahead because their starters (and Lamar Odom) have generally outplayed Phoenix's starters. Wednesday afternoon, Jackson said he'll consider expanding the rotation to include more of Sasha Vujacic or Luke Walton, both of whom have played very sparingly thus far in the series. Assuming Phoenix stays in their zone -- I believe coming back to Staples they'll mix in more man-to-man sets to try and keep the Lakers guessing -- the prospect of bigger minutes for Sasha makes me a little nervous. I realize he's a shooter (in theory), but do the Lakers need another guy whose first instinct will be to hoist over the top of the D?
Walton isn't as reliable a shooter, but will move the ball inside the seams better. His first instincts are to ball fake, penetrate, pass, and move without the ball. In his two minutes Tuesday night, Walton managed to pick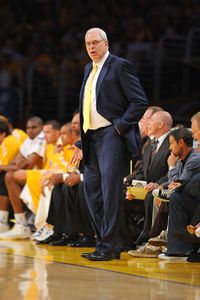 Noah Graham/Getty Images

History says this man is in good shape to guide his team to a win in Thursday's Game 5.
up a pair of assists and broke down the Suns with (seriously) the dribble. Assuming Walton can be given a matchup at the other end he can handle (Frye, perhaps), a few more minutes could be beneficial.
4. The peripheral numbers favor the Lakers in a huge way. They're 7-0 at home this postseason, 19-0 in Game 5's at home when the series is tied 2-2 including wins against Oklahoma City this year and Houston and Denver a year ago, and Phil Jackson has never lost a playoff series in which his team won the first two games. How much does this actually matter?
Not at all, and a lot. Asked about their history of success in these types of situations after Game 4, Kobe Bryant was adament. "You can't rely on that. This is not last year. Just can't rely on that," he said. "We have to play with a sense of urgency and understand this team can beat us. And we've got to be ready to play." Pau Gasol was equally adamant the Lakers not get caught "even wasting a second on relying on your past success. That's how you are focused on what you need to do in these types of games."
On the other hand, it seems unlikely the Lakers are going to be overwhelmed in the moment. They're not going to freak out, allowing the magnitude of what's at stake (legacy, titles, possibly Jackson's future, and so on) to get in their collective heads like some sort of parasite. History and the confidence it creates doesn't play the game for them, but that the Lakers go into tonight's game knowing they've been here before and been successful, and that breeds calm, and calm is good.
The verdict:
I'm going to stick with history tonight. History, and a white hot Kobe Bryant. He's averaging 33.8 points on 55.7 percent from the floor, 9.8 assists, and 6.5 rebounds in the first four games, against a team he lit up with 54.4 percent shooting during the regular season. The sample size is large enough at this point to say he fairly owns the Suns. And at home, I don't expect Kobe's shots to be as tough as the ones he took (and made) Tuesday night.
Don't expect a blowout, but do expect L.A. to head back to Phoenix with a 3-2 series lead.
---