Sunday, June 6, 2010
Celtics 103, Lakers 94: Five awful minutes

---
By Brian Kamenetzky

"They" say a series doesn't start until one team wins on the other team's floor. I tend to think it starts at the beginning of Game 1, but either way "They" would now say this series has started.

Much, much more postgame analysis and video below...


ONE MOMENT
My wife, who doesn't like scary movies, chooses to leave the room when we're watching at home and she gets the sense something frightening is about to pop around the corner.

If Sunday's Game 2 had been our newest Netflix arrival, she'd have left 5:21 before the credits rolled.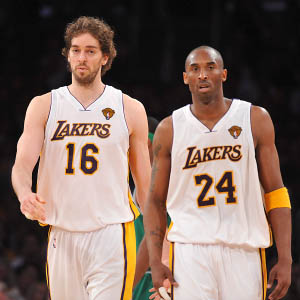 Jesse D. Garrabrandt/NBAE/Getty Images
L.A.'s dynamic duo had their moments in Game 2, but unfortunately for Lakers fans few came in the game's critical closing minutes.


The Lakers spent much of the game dodging bullets. Kobe Bryant picked up his third foul with 3:20 to play in the first half and the Lakers down 10, Boston pushing it to 13 after Ray Allen's seventh- seventh!- three pointer of the first half. It looked like things could get away from the Lakers early, but five quick points from Pau Gasol and a buzzer beating triple from Bryant off a great last-second steal left the Lakers behind only six at the break, a deficit they erased in the first two minutes of the third.

In the fourth, Kobe picked up his fifth foul only 45 seconds in, and still the Lakers managed to hang around. After Bryant shook Allen with a subtle shoulder shimmy, spinning to the left baseline to launch and bury a 16 footer, the Lakers were up by three . . . with 5:21 to play.

The Lakers would get only one more field goal the rest of the way, following that bucket with six straight empty possessions over the next 4:28, falling behind by eight until a Kobe triple with 52 seconds remaining broke the drought.

In between, they couldn't get the ball inside, turned it over twice, and lost a trip on a great backside block from Rajon Rondo on Derek Fisher, a sequence eventually ending in a critical Rondo jumper from about 20 feet. It was the kind of wide open shot he has been dared to take over the course of his career, the type he has worked hard to be able to hit consistently.

Sunday, he did hit it, at a critical moment, putting Boston up by five with just under two minutes to play. "He made the big shot. He made the elbow shot," Doc Rivers said. "He took a million of those shots this summer, and he didn't hesitate."

The Lakers, meanwhile, seemed to do nothing but hesitate, losing their patience and the ball movement usually accompanying it, as their margin for error closed. They never got any closer, adding a few more missed shots and another turnover just to be safe.

"We had a little lead right at the end, and we didn't do our job," Phil Jackson said. "They did."

Not doing their job means the Lakers officially gave away home court advantage, squandering in the process excellent games from Gasol (a team-high 25 points on seven-of-10 from the floor and 11-of-13 from the line, plus eight boards and six blocks) and Andrew Bynum, who finished with 21 points and had as many free throws (nine) and blocks (seven) tonight as he did in six games of the Western Conference Finals.

The Lakers faced far more adversity tonight than they did in Game 1, where everything seemed to come up purple and gold. But so did Boston. They go home with a split in L.A., knowing Kevin Garnett has been awful and Paul Pierce hardly dominant.

Throughout the playoffs, the Lakers have almost always come out on the right end of these make-or-break sequences late in games, whether due to Kobe's brilliance (not so present Sunday) or strong team play. In Game 2, Boston, led by Rondo, was easily the better group. The Lakers have been on their heels at times this postseason -- I'm thinking after Game 4 against both Oklahoma City and Phoenix -- but never while entering another team's arena.

"Well, we've just got to go into Boston and win," Kobe said after.

It's that simple, but is it that simple?





LAMAR ODOM: WHISTLE MAGNET


There are certain things we can count on like clockwork. Death. Taxes. And, apparently, Lamar Odom spending the first half of each NBA Finals game as more of a spectator than a participant.

After a disastrous first half of Game 1 with three fouls accumulated in under six minutes, LO dramatically upped the ante Sunday. Three fouls in just 2:38 worth of run, the opening pair of whistles coming in consecutive possessions. They were an omen for a third foul just around the bend, and Phil Jackson put the blame on himself for not recognizing the signs and heading off disaster at the pass:

"[Odom] got, bang-bang, two fouls and I turned to my crew and said, 'Do you think he can play through this?'  And as I was talking to them, he got his third foul. So obviously he couldn't play through the sequence."

Lamar managed to stay on the floor for 12 second half minutes, but picked up another two fouls in the process and never found a flow. He ended the night with just three points, five rebounds, one assist and one turnover.

"That's two games in a row," lamented Odom. "It kind of took me out of the game. I only played 14 minutes tonight. I couldn't really contribute much. Just in spirit. That's the way ball bounces."

Talking with the media, Odom didn't seem nearly as concerned about the quality of his play as he was with the quantity. From where he's sitting (literally and figuratively), the issue is considerably more a matter of opportunity prevented than it is of opportunity offered and frittered away.

"If I'm out there, I'm gonna produce. I'd rather be out there and play bad than not have a shot."

Asked if he was frustrated with the referees, LO took the high road. (Or simply didn't want to add insult to injury with a hit to the wallet.)

"No. Why would I be frustrated?"

As you'll see watching the video below, there's a solid chance Odom wasn't entirely forthcoming with that statement.

I asked Derek Fisher about how the Lakers are affected by nights like these for LO.

"It puts a lot of strain on Pau and Andrew in terms of minutes played and terms of their ability to be aggressive out there. If Lamar is out with fouls, and then Pau or Andrew have one foul, they're reluctant to pick up a second foul too quickly. It impacts their ability to be aggressive and bang and battle and do some things.

"Lamar is extremely important to what we do. His ability to rebound the basketball and make plays for himself and other people out of that, those are key. Even with the fouls, we as a team still need to do a better job of making sure we're executing in  way that when guys are out there on the floor, Lamar included, they have some opportunities to be involved in the game. Tonight we didn't execute in a way that allowed him to have an impact on the game, even when he was out there."

Upon examining a few key factors in the loss, it becomes even more clear where LO was missed.

That would be on the boards, where the Lakers were beaten 44-39. And as a playmaker, accentuated during ball-stopped stretches throughout the second quarter and late in the fourth, both times where he's typically in the mix. And defensively, where I thought Odom managed to make the most of his limited minutes. I was particularly impressed by a third quarter sequence where LO (along with Gasol) cut off the baseline to force the ball out of Rajon Rondo's hands, then spun around to face up against Pierce and alter his shot at the rim.

There's a reason Lamar is considered the Lakers' x-factor. In Game 1, the Lakers managed to overcome his absence. But generally speaking, when Odom's presence is lacking for one reason or another, the Lakers' life becomes markedly more difficult.

Phil Jackson expressed confidence Odom will "have a chance later in the series to redeem himself."

One assumes, but judging by the established tone, it's hardly a given.

--Andy Kamenetzky




BIG NUMBERS


1: The number of field goals for Ron Artest, though it certainly wasn't for lack of trying. He hoisted 10 shots in total, including six from beyond the arc. More importantly, though, Artest seemed incredibly confused at points during the game, and generally his response was to dribble until he figured something out. In one sequence Jackson called "one of the more unusual sequences I've ever witnessed," with a minute to play Artest burned over ten seconds of clock pounding the ball into the floor before launching a horrible shot at the end of the clock. It was a night of stepback fadeaways in the paint, dribble drives reminding me of the escalator to nowhere, and three turnovers.

To his credit, Artest did a number on Pierce, helping hold him to 10 points on two-of-11 from the floor . . . but it undoes a lot of his good work when Artest obliterates the offense.

+5: Boston's rebounding margin. In Game 1, the Lakers dominated the glass, helping create a 16-0 advantage in second chance points. Gasol had as many rebounds as Garnett, Kendrick Perkins, Glen Davis, and Rasheed Wallace combined. Sunday, not so much. The Celtics out-rebounded L.A. 44-39, and grabbed 13 on the offensive side. Going into the series, one key was to limit Rondo's rebounding, since he can do so much damage igniting Boston's break if allowed to start a possession with the ball. Boston's PG posted the highest rebounding total for either team in Game 2, which hardly qualifies as limiting him.

8: Ray Allen's record-setting total for three-pointers in a Finals game, with seven coming before halftime. Seems worth a mention.

58: The number of personal fouls called by the officiating crew of Monty McCutchen, Mike Callahan, and Ken Mauer. Before fans of either side freak out, they were split evenly, 29 apiece. For the Lakers, Kobe, Odom and Artest were saddled with foul trouble, while Boston saw Garnett, Davis, Wallace, and Perkins flirt with disaster. I'm not one to bash referees -- there is not a sport more difficult to officiate than the NBA -- but this isn't working for either side, or for fans. Certain things have to be called or the game deteriorates, but is there a chance they could lay off the more incidental contact 35 feet away from the bucket?

It's a fine line, no question, but through two games I think the refs have been on the wrong side of it. The players can't get a feel for how they're supposed to play.

--BK


BIG QUOTES
Gasol, on problems with transition defense: "Yeah, obviously the fast-break points and Rondo pushing the ball and [Ray Allen] getting going on transition is a big key for them. We've got to do a better job of springing back defensively and we've got to make sure we support our guards and we control their point guard penetrating the lane. It's something we've got to make a conscious effort every single game."

Jackson, asked about potential adjustments on Allen and Rondo: "Well, you know, when they take away any bumps, when Fish is trying to make him divert his path and they don't allow him to do that, they call fouls on Fish and that really gives [Allen] an opportunity to take whatever route he wants to make of the [screeners]. That really makes it very difficult. We just have to adjust to the ballgame to whatever the referees are going to call. Are they going to allow us to take direct line cuts away from him so he has to divert his route, [or] get a foul called on Fisher? That makes for a totally different type of ballgame. Then Fish has to give the routes that [Allen] wants to run in and then he's got to play from behind all the time."

Jackson, on Boston's defense against Kobe: "They got on him and made him go left all the time. They were not letting him come back to his right hand, shoving him to the left and then going to help when he started to push the ball. That changed things up for him. He still figured it out pretty well towards the end, but couldn't complete it."

Allen, on his matchup with Fisher, Boston's offense: "Well, we got so many guys that can offensively carry this team. Really, it's about us individually not trying to do too much. I'm not trying to do too much. Getting Fisher, run him off screens and forcing their bigs to help. That's when we get our bigs involved in the game because [we're] rewarding them, when they're setting a great screen they end up being open... But it's like me making a hard cut from one side of the basket to the other, and [Pierce] gets a shot or [Garnett] gets a layup. That's all of our mentalities, and if we can do that then the ball will move and we'll score the way we want to score."

Bryant, on tonight's loss: "It's a series. You're trying to stay even keel. You don't get too high, don't get too low after a win or a loss. You just go into the next one and take care of business."

Bryant, on the importance of Game 3: "It's the most important game. Game 1 was the most important, Game 2 was the most important, now it's Game 3. It's just the next game, simple as that."

VIDEO
Andrew Bynum, on the loss:

Lamar Odom, on the loss and his foul trouble:



'

Derek Fisher, on the loss:

More from Fish on the loss:

Shannon Brown, on the loss:




---