June, 3, 2010
6/03/10
3:26
PM PT

By Andy Kamenetzky
ESPNLosAngeles.com
Archive
Four guys who'd probably make a lousy law firm -- generally speaking, at least one guy needs a degree -- but hopefully a solid round table panel to talk Laker-Celtics. With the NBA Finals just hours from starting, we tapped
ESPNBoston.com's Chris Forsberg
and TrueHoop's
CelticsHub.com
Senior Writer
Zach Lowe
to bounce around some questions and answers.
Lot of ground covered, so let's jump right into the discussion:
Andy Kamenetzky:
Zach, during the regular season and early playoffs, the Celtics looked more "vulnerable" than "NBA Finals" ready. Clearly, something changed. From your perspective, was it physical, mental, strategical? All the above? Something else?
Zach Lowe:
It's nothing completely off the wall, really. The team is trying harder and it's healthier than it's been since the start of the season (or at least until
Rajon Rondo
hit the floor hard against Orlando in Game 6 and
Rasheed Wallace's
back tightened up). The length of the regular season gave KG time to get his base under him and
Paul Pierce
time to recover from minor injuries suffered along the way.
The effort has also been demonstrably better. You can see it in the defensive rebounding numbers, where the Celtics transformed from league-average into an elite glass-cleaning bunch on that end. You can see it in the way they're forcing turnovers at a rate higher than any team in the regular season, a product of precise defensive rotations and focused anticipation.
Some of it might also be intangible stuff built up over the course of a season. Rondo, for instance, might not have been prepared to be the team's best player in May had he not grown into that role over the year.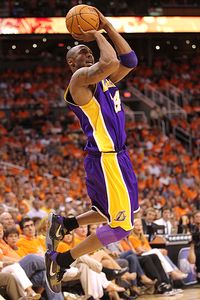 Ronald Martinez/Getty Images
Chances are, Kobe buried this jumper
against the Suns. Doing it in the Celts'
faces is a tougher proposition.
Whatever the reason, this Boston team is playing defense about as well as it did during the '08 title run. That brings me to my question for Brian: The Lakers' offense has been off the charts since the middle of that Oklahoma City series. I haven't seen any dramatic new wrinkle, other than Kobe migrating from the post a bit against the Suns. Am I missing something or are the Lakers just scoring more efficiently because of the opposition's weaknesses?
Brian Kamenetzky:
I wrote a lot
this season about how the offense wasn't championship calibe
r. Since Game 5 of the first round, the Lakers have been killing it. The trademark ball movement is back, and it looks like an offense again.
In the regular season, the Lakers averaged 105.9 points per 100 possessions (using
Hoopdata's
numbers). Starting with Game 4 vs. OKC, L.A. has exceeded that average in every game save one (Game 6 against the Thunder, on their floor). That's 10 straight above their regular season benchmark.
But it's often difficult to separate great play and the matchups creating it. No question, it helps seeing Utah and Phoenix in consecutive series. The undersized Jazz had no counter to L.A.'s size up front, and nobody to guard Kobe. Other than that, they were perfectly suited to the challenge. The Suns obviously don't have much size, and in Games 1 and 2 we learned they don't rotate well in man-to-man D. And while the zone helped neutralize L.A.'s advantage in the paint to some extent and cut down on layups, they hit a bunch of wide open shots.
Oh, and Phoenix didn't have anyone to guard Kobe, either.
May, 21, 2010
5/21/10
3:52
PM PT

By Andy Kamenetzky
ESPNLosAngeles.com
Archive
As the Eastern and Western Conference Finals sit at 2-0 leads for the Celtics and Lakers respectively, there is already a buzz building in L.A. about a clash between old rivals. Staples Center patrons were chanting "We want Boston!" in the closing minutes of
a 124-112 Game 2 win over the Phoenix Suns
(reflecting the
desires expressed in a poll conducted a few days earlier
). ESPNLA.com's Arash Markazi noted how
the Lakers won't come right out and say it, but their wishes jibe with their fan base's
. (For that matter, high fives would by slapped by
David Stern
, the advertising folks and everyone with a stake of any kind in the Finals. Lakers-Celtics pretty much does nobody wrong.)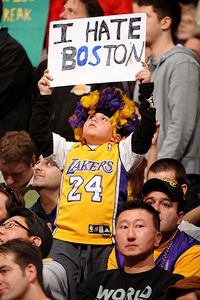 Andrew D. Bernstein/NBAE via Getty Images
You may think you do, little man.
But you actually don't.
Why the fierce local desire for Lakers-Celtics?
You could cite the obvious, a rich history of hatred going back to 1959, the first in a painfully cruel series of Finals losses at the hands of Boston. Should the current path carry forth without a hiccup, bet the house on a non-stop barrage of retrospectives reminding us how far back these skirmishes go. But here's the thing. While the history certainly matters, there's also an early-30's-and-younger generation of Lakers fans that, hand on the bible, would admit they don't really
know
what this rivalry's about.
Memories create rivalries, and for these fans, there's little to draw on with the Showtime battles, much less the stinging defeats to Red's army. Their hatred of Boston is more institutionalized than sincere. It's like being seventh generation Hatfield. You hate that damn McCoy family, but more from the mind than the heart.
As a St. Louis transplant who moved to L.A. in 1990 and began feverishly rooting for the Lakers a few years later, I have an unfortunate firsthand knowledge of this reality. As much as I wanted to get geeked for a showdown with the Celtics, the process felt labored and inorganic. The Celtics I knew spent two decades as a largely mediocre and irrelevant team before acquiring
Ray Allen
and
Kevin Garnett
. By comparison, the Cardinals bolted to Arizona in 1985, but to this day, even as an NFL orphan, I still hate the Philadelphia Eagles, New York Giants and Washington Redskins, rival teams from the old NFC East division. Even without a dog in the fight, I just do. What you really know stays with you forever, and enthusiasm for what you don't know is difficult to manufacture.