Los Angeles Lakers:

2008 NBA Finals
June, 2, 2010
6/02/10
10:32
PM PT

By Brian Kamenetzky
ESPNLosAngeles.com
Archive
June, 2, 2010
6/02/10
1:45
PM PT

By Brian Kamenetzky
ESPNLosAngeles.com
Archive
Tough.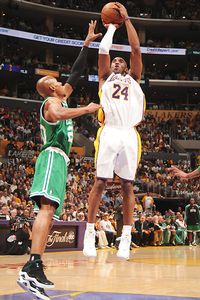 Andrew D. Bernstein/NBAE/Getty Images
We know Kobe Bryant is tough. Will the rest of the Lakers be tough enough to get some revenge on the Celtics?
There may not be an adjective you'll hear more this series. Are the Lakers tough enough? Do they lack toughness? Can they stand up to Boston's
KG/Kendrick Perkins
scowl-laden brand of tough? (Note: Other acceptable synonyms include, but are not limited to, brawny, fibrous, flinty, resilient, robust, rugged, unyielding, tenacious, hard-boiled, hard-nosed, leathery, and resolute.) A shortage of toughness is widely seen as a -- if not
the --
big reason the Lakers lost to Boston in 2008: They were a finesse squad unable to stand up to punishment.
Like many narratives there's an element of truth, but it was also overstated. The blowout in Game 6 colors the perception of a series more competitive than people tend to remember. Besides, the notion L.A. is still at its core a soft team lacking toughness is ludicrous. They've become one of the league's best defenses, and qualified for three straight Finals -- winning one with a chance to win a second. A team lacking toughness simply can't do these things. From a personnel standpoint, they have a second big body available in
Andrew Bynum
, and swapped out
Vlad Radmanovic
at small forward in '08 for
Ron Artest
. The Lakers will be required to play hard, physical ball to beat Boston and earn consecutive titles.
They'll have to be tough, but their own brand.
Monday at practice, I asked Phil Jackson to define the concept as it relates to the Lakers:
"We don't have a smackdown mentality. You might have seen that with Garnett on Howard in Game number six there in Boston, where he's smacking Howard's arm and was finally called for an offensive foul. That's not our kind of team. We don't go out there to smack people around. I call it more resiliency. We're a more resilient ball club. We try to stay strong and play hard. But we're going to have to withstand some of that. We're going to have to play through it."