Los Angeles Lakers:

2012 NBA playoffs
August, 22, 2012
8/22/12
8:02
AM PT

By Brian Kamenetzky
ESPNLosAngeles.com
Archive
It has been an outstanding summer for Lakers head coach Mike Brown, and not only because he was able to take his first real family vacation since taking the gig last year. With the lockout in the rearview mirror, Brown now can prepare for the season as a detail-oriented man like himself prefers, dotting i's, crossing t's and creating a season's blueprint for his roster.
And a fine roster it is, having added Dwight Howard, Steve Nash, Antawn Jamison and Jodie Meeks, with Jordan Hill re-signed.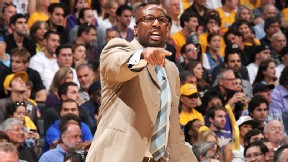 Andrew D. Bernstein/Getty Images
Despite additional pressure, Mike Brown is excited to start the 2012-13 season.
"You've got to give [vice president of player personnel] Dr. Buss, Jim Buss, and [general manager] Mitch Kupchak credit," Brown said in a phone conversation last week. "They always will, as you've seen in the past and as we see currently, they always will try to put a product on the floor that they think can compete for an NBA championship. The guys that they brought in, they're all professionals, they're all very good players, and they give us a chance."
Even pain has been wrapped in joy this offseason, evidenced by his reaction when Kupchak told him the Lakers had acquired Howard while keeping Pau Gasol.
"I got a little excited. I tried to jump up and down, but my mind was telling me to do something that my body wouldn't allow me to do. I almost pulled my hamstring sitting down. I don't know if that's ever happened to anybody, but I was so excited that my leg tensed up. I almost tore my hamstring. So I got up slowly and gave him and Jim Buss a hug," Brown said.
"That might be the first hug they've gotten from their coach, ever, when it comes to a trade happening."
Given the incredibly rapid and odds-bucking reversal of fortune for the Lakers this offseason, I'm sure Lakers fans would react the same way to seeing either Kupchak or Buss. Many of those fans will hold their hug for Brown until the end of the year. Brown understands the pressure facing him this year, one of the many things we covered in our phone interview. Below is a transcript of highlights from our conversation.
LO'L: In London [for the Olympics], Kobe Bryant spoke about the team installing the Princeton offense this year. Is that more or less the plan?
MB:
"I like some of the things that we did last year, and we're going to keep some of those things in place. But in the same breath, I've always been infatuated with what Eddie [Jordan] did when he was in Washington. I think if you take away the individual players and how talented they are -- obviously if you have certain players it doesn't matter what you run as long as you run something to their strengths, you're going to have success offensively.
"So if you take away the individual players and their strengths and all that and just look at the purity of different offenses and how to defend them on a night in, night out basis, I always felt that the stuff [Jordan] did in Washington was difficult to defend. It was difficult to come up with a game plan because of the spacing and ball movement and stuff like that. It's a stress-free offense because of the counters that are built in and so on and so forth. So I started looking into that at the beginning of the summer a little bit and talked with a couple of guys that have done it on the collegiate level and on the professional level, and then I brought Eddie in for a while.
"I spent about a week or so with him, talking about it. So there's a good chance we're going to go down that road to incorporate some of that, or a lot of that, into what we did last year."
Note: Multiple outlets have reported Jordan's expected addition to the staff, something confirmed to me as well by a source familiar with the situation.
LO'L: Is the installation at least in part because you have guys who have been system players? Kobe, Pau et al? You know system basketball is something they're comfortable with?
MB:
"Yes, that is part of it. This team is built that way, and because they're built that way, because they're used to it, I think it will help them out at the end of the day."
LO'L: How does the Princeton work with having someone like Nash? As is my understanding, it's not as much a heavy pick-and-roll offense, but more motion and ball movement.
MB
: "The way that we'll put it together, Steve's going to have an opportunity -- he's going to quarterback the team -- and so he's going to have an opportunity to come down the floor every possession and in early offense play pick-and-roll if he wants to. It's up to him, based on where he decides to take the ball or a call that he makes or an action that he does, it's up to him to get us into some of the looks of the Princeton offense.
"So again, with him quarterbacking, or making that decision, he'll still have a chance to get the ball back after he moves or after bodies move. I don't want to completely give away what we're trying to do, but in a nutshell, he will have an opportunity to play pick-and-roll at the beginning of almost every play set coming down the floor in early offense. And if not, he can also choose to get to some of the looks out of the Princeton by making a pass or doing an action or doing a call or whatever."