Los Angeles Lakers:

3-pointers
February, 10, 2014
Feb 10
4:46
PM PT

By Dave McMenamin
ESPNLosAngeles.com
Archive
EL SEGUNDO, Calif. --
Kendall Marshall
has turned the one supposed weakness in his game into a strength that is on par with any other player in the league.
[+] Enlarge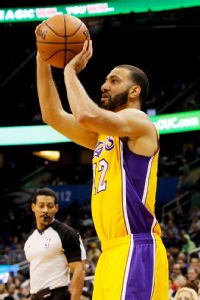 Kim Klement/USA TODAY SportsKendall Marshall leads the league in 3-point percentage and appears to be relishing in his reserve role. "It's unbelievable, isn't it?" Lakers coach Mike D'Antoni said.
Marshall leads the NBA in 3-point percentage, hitting at a 49.4 percent clip, edging ahead of New Orleans'
Anthony Morrow
into first place Sunday by making all three of his attempts from downtown against the
Chicago Bulls
.
Marshall has hit 44-for-89 3s in 23 games with the
Los Angeles Lakers
since being called up from the D-League earlier this season. He has been particularly hot as of late, shooting 9-for-12 in his past four games since assuming a reserve role after
Steve Nash
,
Steve Blake
and
Jordan Farmar
returned to the lineup.
"It's unbelievable, isn't it?" Lakers coach Mike D'Antoni said after practice, marveling at Marshall's accuracy. "Kendall is shooting the ball extremely well. He's playing well."
Marshall said that having a reputation as a sharpshooter actually is a return to his roots. Before he was known as a pass-first point guard, he was an outside gunner in high school.
"I went from 6-3, 150 [pounds] to 6-4, 180, so I just became a really big point guard at that point to where I was basically bullying guys and not shooting as many jump shots," Marshall said.
As good as his shot has been, he knows it has its limitations -- particularly his slow release. That's why you'll sometimes see Marshall let it fly when he's a foot or two behind the 3-point line.
"I need time to get it off," Marshall said. "So, if a defender has to close out farther, it's to my advantage. Again, with the way I shoot, I don't have a lot of motion so I feel like I'm strong enough to shoot from there."
Marshall's shot is far from conventional, but it works.
"Every coach I've had has told me that I have a good form, it's just a matter of shooting with confidence," said Marshall, who added that he has worked to add "more air" under the ball when he shoots.
His shooting has even gotten Nash's stamp of approval, no small feat considering Nash is one of a handful of guys in the conversation for best shooter in NBA history.
"I think he's proven it thus far," Nash said. "He's shot the ball well, especially for him, when he gets his feet set; he's got great range and knocks down the 3. I think that's been huge for him to kind of prove that he can shoot the outside shot, especially the 3s. It's part of his evolving game that I think we've all seen has been great and is really coming along."
Marshall, who averaged 11.9 points and 11.5 assists in 15 starts while Nash, Blake and Farmar were all injured, kept himself a part of the rotation with his shooting when they returned. Instead of just playing fourth-string point guard, he can also play shooting guard. D'Antoni even experimented with a three-guard lineup of Marshall, Nash and Blake against Chicago.
"The more we space the floor, the better it is, whether it's a big guy or small guy," D'Antoni said. "Can you get away with it defensively? We got away with it a little bit [against Chicago]. I don't know if that's always going to be the case. But, again, you're putting three good shooters, three good point guards on the floor. In certain areas, it's going to be great. Can you get by in other areas? It will be a game-to-game thing."
Nash thinks the benefits of the lineup outweigh the challenges.
"I think it gives us a different look," Nash said. "You have three playmakers, ball handlers and shooters, and it can be difficult under the right circumstances for a team to match up with."
Marshall would like to try the lineup again, too, saying the Lakers can use it to "funk teams out" here and there.
"It was interesting," Marshall said. "What I thought would be a problem wasn't a problem at all defensively. I thought we did a great job, us three. I thought we did a great job of cracking back and help rebounding. And offensively, when you got three guys that anybody can be in pick and roll and anybody can shoot the ball, it's hard to defend. So, I think we did a good job with it for the time we were out there."
While Marshall has proven he can pass and is proving he can shoot, now he has to make a name for himself on the other end of the court.
"His improvement now has to be on the defensive end, where he's a little bit more active and all that," D'Antoni said. "But, he's playing well."
May, 5, 2012
5/05/12
3:44
PM PT

By Dave McMenamin
ESPNLosAngeles.com
Archive
DENVER -- The Lakers didn't exactly light teams up from the outside during the regular season -- ranking 25th in the league by shooting 32.6 percent as a team on 3-pointers -- but Friday in Denver they especially couldn't deliver from deep.
L.A. shot 6-for-25 on 3-pointers (24.0 percent), with
Kobe Bryant
(3-for-10),
Ramon Sessions
(0-for-4),
Matt Barnes
(1-for-5) and
Steve Blake
(1-for-4) being the main culprits.
While the Lakers settled for shooting blanks from outside, it also negated their efforts on the inside as they were outscored 52-32 in the paint by the Nuggets.
Still, the team claimed they'll keep shooting 3s in the future. They just have to make more.
"If they double, I'm going to kick it out,"
Andrew Bynum
said. "That's the right thing to do."
Bryant didn't have a problem with the amount of attempts, so much as how they occurred.
"A lot of them came in desperation situations with low clock, because (Bynum is) getting double teamed he's throwing it out on the perimeter and guys are catching the ball with 3-4 seconds left on the (shot) clock and they have to chuck some s--- up," Bryant said. "We got to penetrate and pitch and do other things that create other opportunities for some of our other guys like Matt and Steve and some of these other guys where they're not just sitting on the 3-point line all game long."
Both Bynum and Lakers coach
Mike Brown
said that Lakers players could take a step or two in after catching the ball on the 3-point line to take a closer shot, but Brown stressed the importance of staying patient with the 3 to ultimately open things up inside.
"We did shoot a lot of 3s (in Game 3), but in the same breath too, that's a shot that we're going to have to hit," Brown said. "We're going to have to hit that shot, especially when the ball goes into the post in an inside-out situation, in order to keep them honest."
Bryant offered two solutions: starting the offense earlier in the shot clock so if the ball does get kicked outside from Bynum after he's doubled, there is enough time to make another pass or two and also, diversifying the opportunities for players like Barnes and Blake by having them cut more instead of staying stationary on the perimeter.
"We got to start our offense a little earlier and also do things to get guys moving," Bryant said. "The other guys -- not myself,
Pau (Gasol)
and Andrew -- but the other guys where they feel like they have more of a rhythm. If you're just standing there on the 3-point line all game long, it's tough to shoot those shots and make those shots."
The Lakers shot 6-for-17 (35.3 percent) in Game 1 from downtown but just 2-for-15 in Game 2 (13.3 percent).
Dave McMenamin covers the Lakers for ESPNLosAngeles.com. Follow him on Twitter.