By all rights, this 2004 Western Conference Semi-Finals game should have ended in the San Antonio Spurs' favor and given them a 3-2 series advantage. Having chipped away at a 16-point Laker lead, the Spurs were down by a point with 11 seconds remaining and a big Kobe Bryant bucket still etched in their memories. Cue the improbable, as Tim Duncan received an inbound pass from Manu Ginobli at the elbow, with Shaquille O'Neal all over him and time ticking away. Forward motion blocked, Duncan drifted left across the lane, then flung an off-balance fadeaway just as Karl Malone closed in to double him.
Nothing but net, as Duncan fell to the hardwood in a heap.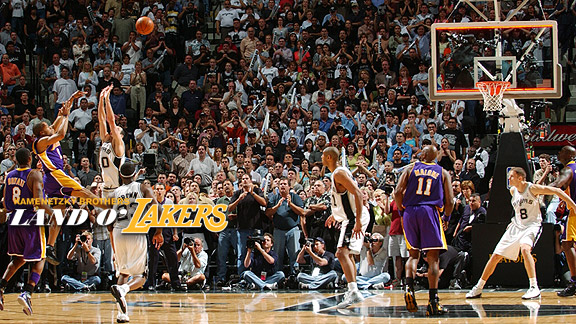 Andrew D. Bernstein/NBAE via Getty Images
".4" is all you need to say, and everyone knows what you mean.
This "lucky shot," as Shaq labeled it, allowed the Lakers just .4 seconds to pull a rabbit out of a hat. The scenario's near impossibility was further driven home after Gary Payton burned the Lakers' final timeout after the original plan --simultaneous screens to free up Kobe for a jumper or Shaq for a lob at the rim -- was sniffed out by San Antonio. Down to their last hope, Derek Fisher was tabbed an option and as Kobe drew two defenders in the direction of the arc, Payton zipped his backup a clean pass as he broke towards the sideline. Fisher then twisted and fired a one-touch shot over Ginobli's outstretched arms.
Money.
The stunned Spurs and their fans watched as Fisher, one finger raised, sprinted to the locker room with his jubilant teammates in tow. The officials gave the sequence a careful replay review, then a seal of approval, capping off one of the most improbable sequences in recent roundball memory. Even better, the moment couldn't have belonged to a more consummate pro. The acquisition of Payton had meant Fisher (who was in a contract year) had been forced to take on a reserve role, despite often outplaying The Glove. Fisher had prioritized the team's needs above his own, which is why Phil Jackson described the game-winning shot as fitting in his controversial book The Last Season:
A game was born, a hero born, a season saved. I could not have been more pleased, for our team and for Fish, who has made as big a sacrifice as any Laker this season. In the last year of his contract, he's lost valuable playing time and perhaps a chance to earn more money on the open market. On occasion he forced the action and once snapped at me for taking him out of a game in Oakland. I don't mind when a player gripes at being removed. He is showing pride, competitiveness. Fish has always kept the ultimate goal in mind, a championship. He made some key shots down the stretch this season and missed others, but I often told my coaches, "Derek really believes in himself. He wants to hit a last-second shot."
ESPNLA.com and Land O' Lakers are counting down the ten greatest playoff moments in Laker history. Upon completion, fans will be asked to vote on the single greatest moment of all. Previous moments include:
-Shaquille O'Neal's near quadruple-double in the 2001 NBA Finals, Game 2
-Elgin goes for 61 in '62
-Worthy's Game 7 Trip-Dub in 1988
-Kareem's sky hook marks the end of Boston's dominance over L.A.