Los Angeles Lakers:

Al Harrington
August, 9, 2012
8/09/12
2:39
PM PT
Just when you thought it was safe to get back in the water, along comes the shark fin and ominous music, packaged in the form of a rumor involving
Dwight Howard
. Here's a excerpt from
the ESPN news link
:
"The Denver Nuggets and Philadelphia 76ers have been pulled into talks between the Orlando Magic and the Los Angeles Lakers that could ultimately put Dwight Howard in a Laker uniform, Yahoo! Sports is reporting.

Talks have taken place this week and have "grown serious," Yahoo! said, citing league sources, although a trade is not considered imminent. The moving parts of the four-team discussion, according to Yahoo!, would involve both Andrew Bynum and Pau Gasol being dealt by the Lakers. According to the web site's sources, Howard and Nuggets forward Al Harrington would go to the Lakers, 76ers guard Andre Iguodala would be moved to Denver, Bynum would be dealt to Philadelphia, and Gasol and Nuggets guard Arron Afflalo would go to Orlando.

The proposed scenario also includes the Magic receiving draft picks and salary-cap relief, the sources told Yahoo."
Two noteworthy points right off the bat: The more teams involved, the generally less feasible a trade becomes. It's difficult to concoct a scenario making two franchises happy, so doubling the parties in need of satisfaction only further lowers the odds. It's also important to remember those unnamed folks proposed as cap relief can change the picture, positively and negatively. But looking at the principles mentioned by name, here's my immediate reaction:
This deal makes little sense for the Lakers, and ain't a slam dunk for hardly anybody involved.
May, 4, 2012
5/04/12
10:38
PM PT
Put away the brooms, Lakers fans! Visions of a sweep are officially dead.
The Nuggets got out to an early lead Friday night in Denver, and
parlayed that hot start into a 99-84 win
. As has been the case in all three games, Denver crushed on the offensive glass, and rebounding was probably the single biggest reason the hosts controlled the game from nearly start to finish. That, and defense. The Nuggets played some, while the Lakers only periodically bothered, especially in the first quarter, and especially when it came to protecting the rim. Thus,
Ty Lawson
did his thing, and
JaVale McGee
suddenly became a factor.
On tonight's show, we detail the ginormous hole the Lakers put themselves in thanks to a lackluster start, as well as...
A tale of two halves for Andrew Bynum. Scoreless in the first, dominant in the third, worn out by the end.
Tough sledding for Kobe Bryant, who continues to struggle offensively at the Pepsi Center. Was his 7-of-23 a blip in the series, or the start of a trend?
Limited help from the supporting cast. There were no "wild cards," as George Karl put it before Game 1.
Questions about the limited burn for Devin Ebanks. Would it have hurt to have him on the floor more than 16 minutes?
That, plus some funky, funky timpani!
May, 1, 2012
5/01/12
10:52
PM PT
The Lakers remain undefeated in the Mike Brown postseason era, despite the Nuggets' pesky refusal to wave the white flag. The showing in Game 2 on Tuesday wasn't nearly as dominant as in Game 1, and I imagine Brown will point out more mistakes in Wednesday's film session. But the bottom line is the Lakers are up 2-0, and you can't ask for anything better. Here are four takeaways from the game.

1) When Kobe gets rolling, it's just ridiculous.
Heading into this series, Kobe Bryant hadn't shot the ball well against Denver this season. Thus, after his slow first half in Game 1, 14 fourth-quarter points and a steadily increasing efficiency felt like a nice omen of his having figured out Denver's scheme against him. Then again, Tuesday night didn't necessarily present a big mystery to unravel. George Karl opted largely to guard Kobe in single coverage with either Arron Afflalo or Corey Brewer, the first among the better wing defenders in the NBA, and the second certainly credible. And in both cases, they were rendered pretty helpless. Bryant's first basket was a rather emphatic dunk off a cross-court baseline feed from Matt Barnes, quite the announcement of his intentions to own this game. From there, the reins were never relinquished en route to 38 points on 15-for-29 shooting.

Shots were drained from inside, outside and all points in between. Whether attacking the rim, working in isolation, spinning baseline, fading away, jab-stepping, head-faking, pulling up or using his super status to get away with the mother of all push-offs, Bryant emptied his proverbial bag. And as we've learned over the years, it holds an awful lot of tricks. The second half probably featured a little too much one-on-one for the good of the overall offense. But at the same time, his night was pretty efficient and often spellbinding.

The timeliness of his makes also was key. With just more than four minutes in the game and Denver starting to gain momentum, Kobe found himself faced up against Afflalo yet again. This was a possession on which the Lakers really needed a basket, a moment their leader always knows. A few jab steps later, a 3-ball dropped, and the Lakers were back up by eight. He also drained a pair of free throws with 9.4 seconds on the clock, keeping the lead at five and essentially ending Denver's quest to push overtime.

Although really, Bryant's best plays of the night might have come on the defensive end. In the second half, after Steve Blake missed a 3-pointer, Denver was off to the races yet again, with Al Harrington on the receiving end of a home run pass from Andre Miller. Kobe, 33 years old and hopped up on German medicine, chased down Big Al from behind and blocked what should have been a flush. Then, with 2:21 left to play, Kenneth Faried couldn't hang on to a home run pass from Ty Lawson, and a scrum ensued for the loose ball. Kobe came up with the rock, sped down court, absorbed contact from one defender, and wrapped a pass around Danilo Gallinari to Andrew Bynum for a dunk and a six-point lead.

In a game in which Denver continued to claw for survival, Kobe made sure to cut off the oxygen supply whenever possible.


May, 1, 2012
5/01/12
7:30
AM PT
The Lakers' postseason got off to as incredible a start as even those with wildly active imaginations could envision. Suffocating defense, spearheaded by
Andrew Bynum in a performance that literally made NBA history
. Balanced offense with
six players in double figures
and
Steve Blake
just behind them at nine. And as I wrote yesterday,
the collective focus was off the charts
. In the meantime, Denver made a few pushes, but largely found itself increasingly overwhelmed.
A sign of things to come for the entire series, or just one game in which both teams played at the opposite ends of the spectrum? To get to the bottom of matters, we had an IM conversation with
Roundball Mining Company's
Jeremy Wagner.
Below is a transcript of the exchange.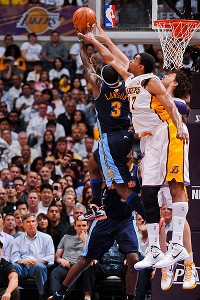 Andrew D. Bernstein/Getty Images
Goliath won.
Brian Kamenetzky
: We focused so much on how L.A.'s size would help on the offensive side of ball, but it was really the defensive end -- led by Bynum but supplemented by
Pau Gasol
and
Jordan Hill
-- that changed the game. How much did that surprise Denver, and how do they address it?
Jeremy Wagner
: It was obvious the Nuggets were not prepared for shot-blocking Bynum. They never adjusted and kept throwing up weak attempts. One key is Denver will to have to move much more on offense. I think it was six of Bynum's blocks came on an iso set when four Nuggets stood and watched. Denver also must look to pass when it doesn't have a shot at the rim. The corner was open on nearly all of Bynum's blocks and Denver must take advantage of that.
Do you think Bynum will be content to play
Dikembe Mutombo,
or will he demand more shots? We know he likes shots.
Andy Kamenetzky:
I'd like to think this mindset will be maintained. It's important to note, Drew actually got the ball, but constant multiple defenders forced him to pass out. Even more important, Drew was aware of this, which makes me think pouting isn't imminent. However, I'm not necessarily confident he'll be as successful passing out from double/triple teams. Sunday's one turnover is the exception, not the rule, and that could give Denver more chances to run, which creates problems for the Lakers' D. Not to mention frustration for Bynum.
BK:
You'll hear "tempo" come up about 700 times in a day's worth of interviews with Lakers players and coaches. Jeremy, what are you expecting from Denver in terms of changes to either the game plan or approach?
JW:
I do not honestly know what to expect, because I do not think
George Karl
even has a solid plan of attack. Denver must respond better to the Lakers' length by showing better interior passing and look for more drive-and-kick options. The lack of movement on offense caused them to constantly attack a defense set and ready to respond to any penetration. You can tell by Karl's rotations he does not know what combination of players to put on the court, another major issue. Denver has lived playing small, especially in crunch time, but with the Lakers' length, that is suicidal. On the other hand, players like
JaVale McGee
did nothing to show they belong on the court. Denver is in a very tough place and I am not sure there is a clear solution.
April, 13, 2012
4/13/12
9:03
AM PT
To be certain,
Wednesday's win over the Spurs
carries the potential of galvanizing the Lakers 59 games into a maddeningly inconsistent and often lethargic season. Taking down the Spurs at full strength in their house without the services of
Kobe Bryant
is both meaningful and a reminder of what this team is capable of when putting their minds to a task. Of course, there's also a flip side to this coin. On several occasions, whether against the Clippers, Celtics, Mavericks or Heat, a win initially labeled "signature" quickly faded into the ether upon failure to build any momentum. More often than not, the Lakers land themselves back at square one.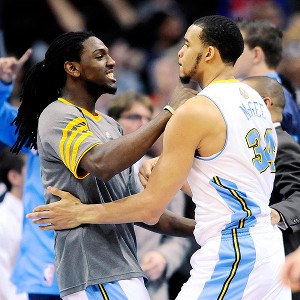 Ron Chenoy/US Presswire
The future up front for Denver?
But with a fresh start, even one frustratingly self-induced, comes fresh opportunity to grow as a team. Perhaps this contest against Denver, a high end opponent, will emerge a chance capitalized upon. For more perspective on the Nuggets, we called upon
Jeremy Wagner
from the True Hoop network's
Roundball Mining Company
blog.
Land O' Lakers: How has JaVale McGee's arrival and the departure of Nene impacted the Nuggets?
Jeremy Wagner:
The
Nene
for McGee trade was certainly made with an eye towards the future at the cost of the present. The Nuggets miss Nene's interior passing and his post game although he has continued to miss games since arriving in Washington. McGee has certainly provided some highlight moments and shown some growth in his pick-and-roll defense although he lost his starting spot as quickly as he earned it.
The true benefit of the trade was that it unleashed "The Manimal." Rookie
Kenneth Faried
is now a starter and producing incredibly well for Denver. The Nuggets pride themselves on player development and with McGee and Faried they have a potentially dominant frontcourt for years to come.
February, 3, 2012
2/03/12
10:46
PM PT
The Lakers came up big in the Mile High City Friday night,
knocking off a quality Nuggets team and registering their best road win of the year
. Not that there are too many to choose from, but best is best, right?
Among the topics of conversation on tonight's edition of Lakers Late Night:
A big night for Andrew Bynum. Maybe he was worried people thought someone else should start at center for the Western Conference in this year's All-Star Game?
Balance. Kobe Bryant didn't shoot well, but was excellent as a distributor. Pau Gasol had 17 rebounds. Derek Fisher chipped in with 10 points. Metta World Peace was big defensively. Just about everyone did something positive to help the team.
Andrew Goudelock continues to provide punch off the bench, scoring 13 points Friday.
The significance of starting the trip with a win.
A cheap plug for our new podcast, with Oscar nominee Gary Oldman.
February, 3, 2012
2/03/12
8:30
AM PT
The "Grammy Road Trip" is always a test for the Lakers, and with the team struggling outside of Staples, this year is no exception. Whether for the purpose of molding themselves into a more legitimate force heading into the playoffs or simply forging a record good enough to qualify, this six-game roadie carries stakes. An opener against the Nuggets, possibly the best team on the docket, will set the tone.
For insight into Denver's squad, we called upon
Jeremy Wagner
of the True Hoop Network's
Roundball Mining Company
. Below are his responses to four questions about the Nuggets, and here is a link to
the Laker-centric tidbits I provided him
.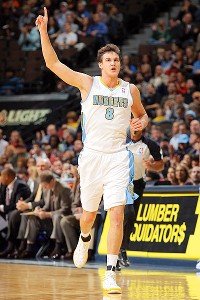 Doug Pensinger/Getty Images
Gallo and the gang have high hopes for the season.
1) Land O' Lakers: People have been in wait-and-see mode after the strong play upon Carmelo Anthony's exit. 20+ games into this season, how good do you think this team truly is?
Jeremy Wagner:
I believe it is important to make a differentiation between last season's team and this season's team. Last season's team played with an aggression and purpose fueled by the fresh wound of the
Carmelo Anthony
trade. Nearly every player had a reason to prove himself. This team does not possess that chip on their shoulder.
What this team does have is a year of growth and playoff experience for young studs like
Danilo Gallinari
and
Ty Lawson
as well as some assurances in the form of long term contracts. The players on this roster know they are the foundation of the franchise and that is a different form of motivation.
The 2011-12 Denver Nuggets are a very good team. Good enough to beat anyone. The bajillion dollar question is, are they good enough to beat anyone in a best of seven series?
The good news for Nuggets fans is the team is not built just for this season. They will improve internally and could have some cap space to play with next season depending on what happens with
Wilson Chandle
r when he returns from China.
November, 11, 2010
11/11/10
12:45
PM PT

By Brian Kamenetzky
ESPNLosAngeles.com
Archive
Sunday's game against the Blazers was billed as the first major test for the Lakers. Then they blew the doors off Portland by halftime, at which point the flaws in the whole test theory -- missing big men for the visitors, a less-than-100 percent
Brandon Roy
, the Blazers on the wrong end of a back-to-back- came more into focus.
Tonight's game against the Nuggets
, then, becomes Big Test 2.0. On the other hand, the Nuggets are short some size, with
Kenyon Martin
and the
Giant Neck Tat Connected to Chris Andersen's Body
in street clothes. And they've lost two straight, leaving the Nuggets at 4-4.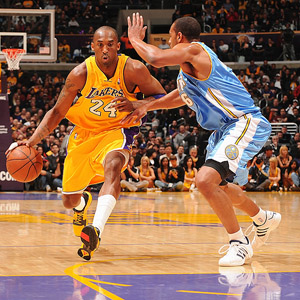 Evan Gole/NBAE/Getty Images
Arron Afflalo gives Kobe as tough a run as anyone in the league.
Any game at the Pepsi Center, with its Lakers-hating fans and high-above-sea-level location, is tough, but do Denver's problems knock this game down from serious test to open book quiz? We'll find out.
Here's what to watch...
Arron Afflalo:
He's a hard kid not to root for, even for Lakers fans. Not blessed with with overwhelming athleticism, Afflalo has carved out a space for himself in the NBA through hard work and a commitment to defense, something he displayed nightly during his UCLA days. These days, though, his game has grown beyond scrappy defensive stopper status. Tuesday at practice, Kobe Bryant praised the former Bruin's total floor game, saying if given the chance, Afflalo could do more offensively for the Nuggets. Kobe may want to double check Afflalo's numbers through Denver's first eight games, because he's already on his way: 13.6 points on 57.4 shooting, both career highs.
Phil Jackson
was free with his praise for Afflalo Tuesday afternoon, as well. "He's got good length. He likes to get up in a passing situation that makes it tough for Kobe to catch and not have easy access for the ball. He contests well on shots, he's got good help from the backside from the type of defense they play," Jackson said. "Offensively, he stays active and busy and keeps Kobe occupied defensively, too, so on both ends of the court he has been effective."
Last season, in three games against Denver, Kobe averaged 22 points on 37.5 percent from the floor. Is that all Afflalo? Of course not, but he's about as effective on Bryant as anyone around, and more importantly, isn't scared of him. On national TV against the two-time defending champs, guarding arguably the planet's best scorer, is no easy task, but it'll be fun for the rest of us to watch.