Los Angeles Lakers:

Al Horford
March, 13, 2013
3/13/13
7:39
PM PT

By Dave McMenamin
ESPNLosAngeles.com
Archive
ATLANTA -- I walked to Phillips Arena from my hotel on Wednesday afternoon with a fan who said he never got the chance to see
Michael Jordan
play live, so he wanted to make sure he got to see the next-best thing in
Kobe Bryant
.
The fan figured there was no way Bryant would have two clunkers in a row after going just 4-for-14 in the Los Angeles Lakers' win over the
Orlando Magic
on Tuesday.
For a while it looked as though the fan would end up disappointed, as Bryant started the game 0-for-6 in the first quarter and had just three points on 1-for-8 shooting by halftime as the Lakers trailed big.
Then the third quarter happened.
Vintage "Vino."
Bryant scored 20 points in the quarter on 8-for-16 shooting (along with three rebounds and a steal), nearly matching the Hawks' 21 points as L.A. was down just two heading into the fourth.
Bryant's magic seemed to wear off in the fourth as he started the quarter shooting just 1-for-7 before hitting a deep 3-pointer to pull L.A. to within one in the final minute.
He missed his final attempt, however, a pull-up jumper from the baseline with 2.6 seconds left that could have tied the score. He went down on the floor clutching his left leg after the play, adding injury to insult.
That Lakers fan can try to trick his memory to focus on just Bryant's third quarter when he tells his grandkids about seeing him play one day, but that won't do this current Lakers squad any good.
How it happened:
The Hawks had control of this game for most of the night, leading by as many as 14 in the first half. They pulled it out thanks to balanced scoring (six Atlanta players in double digits) a timely late layup by
Ivan Johnson
and a couple of late free throws from
Kyle Korver
after he missed one to open up the door for Bryant's potential overtime-forcing jumper that missed.
What it means:
It means that on the second night of a back-to-back, a weary Lakers team had no legs. It means that winning on the road for this Lakers team that started off 5-15 away from Staples Center and had since gone 7-5 before Wednesday's loss remains a challenge. It means the Lakers can't afford
Dwight Howard
missing any playing time because of foul trouble. It means that when Lakers coach Mike D'Antoni said "We're still in the middle of a dogfight" before the game, he meant it.
Hits:
Howard had 16 rebounds, continuing his streak of 12 straight games of 12 rebounds or more.
Misses:
With Atlanta missing three of its best players in
Josh Smith
,
Jeff Teague
and Lou Williams because of injury, and the Hawks entering the game losers of six out of seven games, this was clearly a missed opportunity for the Lakers.
Earl Clark
suffered a sprained right ankle, leaving the game in the third quarter after putting up just four points and three rebounds in 12 minutes and did not return. His ankle was examined, but X-rays were negative.
Stat of the game:
Bryant shot just 11-for-33, taking 24 more shot attempts than Howard's nine.
What's next:
The Lakers finish out their three-game trip against the Pacers on Friday in Indianapolis, where they'll have to watch out for most improved player candidate
Paul George
and former assistant coach Brian Shaw's schemes. Indy had the second-best record in the East while winning seven of its past 10 games coming into Wednesday's action.
February, 22, 2011
2/22/11
11:50
AM PT
Like I mentioned in our
Week in Preview, this game against the Hawks is important
. Beyond providing reassurances to fans and even to themselves of an improved path, the window to get in gear is slowly shutting. Even as someone who remains a believer in the ability to keep the O'Brien in L.A., there's no denying the urgency at hand. The proverbial "play time" ended a while ago. Now it's a matter of proving this team isn't living on borrowed time.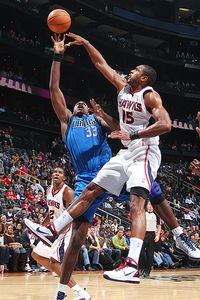 Scott Cunningham/NBAE/Getty Images
Al Horford does his best to help on D, but the backcourt doesn't hold up its end of the bargain.
To get a better idea of how the Hawks operate, we reached to
Bret LaGree
of the True Hoop Network
Hoopinion blog
. Here are a few items to keep an eye on once the ball is jumped:
Q: The Hawks were playing .500 ball in the last 10 games heading into the break. How would you assess their current state as they head into the home stretch? What are the strengths and weaknesses?
Bret LaGree:
The Hawks are coming to terms with how difficult it is to send the same team out on the court and get different results. Given a possibly impossible task (improve on 53 wins without an improved roster),
Larry Drew
hasn't really settled on a rotation and tinkers with the starting lineup depending on the opponent.
The crux of the problem is
Mike Bibby
and
Jamal Crawford
are poor defenders and
Joe Johnson
, when pressed into duty against opposing point guards, isn't much better.
Josh Smith
and
Al Horford
do tremendous work on the defensive end to keep the Hawks an average defensive team but when either big man is out of the game, the Hawks are pretty porous defensively.
February, 21, 2011
2/21/11
11:58
AM PT
The break, she has ended. And for the players repping the two-time defending champs at the All-Star Game, it ended in positive fashion.
Kobe Bryant
ruled the roost during Sunday's main event,
nabbing MVP honors clearly coveted in a local venue
.
Pau Gasol
also
did his city proud
with 17 points, seven boards, two dimes and two swats. Mamba and El Spaniard were so good, they managed to make Lakers fans forget about the Cleveland loss and the struggles heading into the festivities.
OK, that's a lie, but who wants to be the buzz kill after a fun weekend?
It's back to business for the Lakers, and as you can see from the slate of contests on this week's docket, business will be challenging.
Game of the week
Tuesday vs. Hawks, 7:30 p.m.

Under normal circumstances, this game would qualify as one to keep an eye on.
Al Horford
is an All-Star with a mid-range game and long arms enabling him to average double-digit rebounds, attributes making him quite the cover for
Andrew Bynum
. The consensus opinion has
Joe Johnson
overpaid, but he's still a five-time All-Star -- including last weekend -- and among the more versatile two-way players in the league. As for
Josh Smith,
his February numbers would have qualified him for the All-Star game: 20.3 points on 57.3 percent shooting. Nine rebounds. A shade over three dimes. A block for good measure. The freakish athlete can be a blast to watch (unless you're
Gasol or
Lamar Odom
, who'll be charged with checking him.)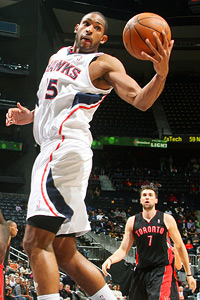 Scott Cunningham/NBAE/Getty Images
Al Horford is among the best big men in the league.
Throw in Sixth Man of the year candidate/scoring machine
Jamal Crawford
,
Mike Bibby's
scorching 44.7 percentage from deep, and a solid contributor in
Marvin Williams
, and the Hawks present a formidable "second half" kick off.
But ultimately, Atlanta gets top honors because it's the first game immediately following the All-Star Break and a three-game skid low-lighted by an unthinkable loss to the Cavaliers. Lakers fans, not to mention the Lakers themselves, will be looking for quick signs the ship has been righted. No better time than the first opportunity to begin easing minds. The longer the wait, the worse it gets for all involved. The time for identity rediscovery is long past "nigh."
On a more enjoyable note,
Josh Powell
will complete the cycle of ex-Lakers receiving bling. (
Adam Morrison
, out of the league, was mailed his.) He's playing more in Atlanta, but as a Laker, JP busted his butt in practice for very little PT. Brian and I --
not to mention Kobe -- grew to admire Powell's work ethic
, so it'll be nice to see him receive some appreciation.
March, 31, 2010
3/31/10
8:15
PM PT
With 5:27 remaining in the third quarter, Pau Gasol, who'd been running pick and roll along the sideline with Lamar Odom, got doubled. The response was an over-the-shoulder pass to Odom, now underneath the bucket and quickly fouled by Marvin Williams just before he could get a shot up. Still, the Lakers had 14 seconds on the shot clock, a chance to set up a score.

Unfortunately, it was a score for Atlanta, as Kobe Bryant either faked a backdoor cut to the basket or was held up by Joe Johnson. Either way, LO lobbed an alley-oop pass like somebody was en route to receive it. The ball bounced off the backboard into Al Horford's hands and was transferred into Johnson's. A high screen from Horford freed up space between Kobe and the downtown stripe for All-Star swingman. Swish. Johnson hit a triple, the Hawks went up 14 and the Lakers' losing battle just grew more uphill.

The sequence felt like a microcosm of their night in general. The Lakers are just completely out of sorts right now, a reality surfacing on both sides of the ball.

March, 31, 2010
3/31/10
11:54
AM PT
It's not often we land a guest good enough to keep around for 40-ish minutes. Or, more accurately, a guest that good and actually
willing
to tolerate Brian and me for such an interminable period of time. Thus, we jumped all over such generosity from
Lang Whitake
r, executive editor of Slam and SlamOnline.com. He also happens to be a die-hard Hawks fan, which made him even more ideal for a chat leading into tonight's contest.
PODCAST
Andy and Brian welcome Lang Whitaker, executive editor of Slam and SlamOnline.com, to the show, talking Western Conference supremacy and Wednesday's game in Atlanta. Plus, we talk about how and why athletes seem slow to recognize today's media culture, and how it can burn them.


Podcast

-(2:00): Whitaker picked the Lakers to win it all before the season began and sees no reason to jump off the "Repeat" bandwagon, despite what many consider recent slippage and a generally inconsistent season for the purple and gold.
-(4:45): Brian recently posted
thoughts about the impact of more time without Andrew Bynum
.
Whitaker shares his thoughts, noting how the Lakers' second string center happens to
Pau Gasol,
hardly a chopped liver fallback. Thus, he'd be fine if Drew took as much time as needed to heal up and reminds fans how lucky they are to be in this unique position.
"As a Hawks fan, I wish we had that luxury," laments Whitaker.