Los Angeles Lakers:

Allen Iverson
February, 2, 2012
2/02/12
10:57
PM PT

By Dave McMenamin
ESPNLosAngeles.com
Archive
It was one thing for Lakers second-round draft pick Andrew Goudelock to draw comparisons to Nick Van Exel, a high-scoring yet low-to-the-ground guard (Van Exel is 6-1, Goudelock is listed generously at 6-3) second-round steal the Lakers acquired with the No. 37 pick back in 1993.

It was another thing entirely for Kobe Bryant, a once-in-a-generation talent, to compare Goudelock to himself.

"He's not afraid to shoot," Bryant said Tuesday after Goudelock chipped in 12 points in the Lakers' rout of the Bobcats. "He's got a little nickname now. We call him, 'Mini Mamba.'"

It's no coincidence that Goudelock, the No. 46 pick out of the College of Charleston, has averaged 11.5 points on 50 percent shooting from the field and 57.1 percent shooting on 3-pointers (8-for-14) in 20.8 minutes in the last four games and the Lakers have gone 3-1.

After disappearing from the lineup for about a month when he opened up the season as Bryant's primary backup at shooting guard and re-emerged in Lakers coach Mike Brown's rotation as Derek Fisher's primary backup at point guard because Steve Blake went out with a rib injury, Goudelock has punched some life into the Lakers' stagnant offense.

"To have a guy that can just go play pick-and-roll and go create a shot for yourself or your teammate, that's pretty neat to have," said Brown after Goudelock and the second unit's 48 points against Charlotte helped the Lakers top the 100-point mark in consecutive games for the first time all season. "You see other teams have them and we don't have a ton of those guys."

While Brown sees other teams and counts their playmakers in relation to his roster, Goudelock simply sees red. After finishing fourth in the NCAA scoring race as a senior, averaging 23.7 points per game, Goudelock waited and waited on draft night as nearly two teams passed on him for every point he averaged last year.

"You try not to think about those types of things but that means 45 teams passed up on me," Goudelock said.


January, 28, 2012
1/28/12
6:45
PM PT

By Dave McMenamin
ESPNLosAngeles.com
Archive
MILWAUKEE -- Metta World Peace has started more than 90 percent of the games he has played in his 13-year NBA career (721-of-782 including into Saturday's game in Milwaukee) but zero percent this season since coach Mike Brown took over the Lakers.

Brown's plan coming into the season was to bring World Peace off the bench to provide scoring and anchor the second unit, but after he turned in his best performance of the season against the Clippers -- three points, five rebounds, seven assists, two steals and a block in 38 minutes -- the coach is reconsidering how he'll use his mercurial small forward in the future.

"I like him on the second unit. I want to give him a chance to be with that second unit. But, at the end of the day, there is a chance I would throw him in the [starting] lineup if I thought it would help our team," Brown said. "I'm not opposed to that."

During training camp Brown said he expected World Peace to average double digits this season while being featured in the post on offense with the Lakers' reserves, but that hasn't happened so far. World Peace is averaging a career-low 5.3 points on 33.9 percent shooting.

"From our second unit from last year's team, we lost a lot of scoring when you talk about Lamar [Odom] and Shannon [Brown], so we got to figure out how we can get some of that back," Brown said.

World Peace might not be the guy to do that. He says he has different priorities when he's out there.

"Give other guys a chance," World Peace said before the game. "I could have been out there easily taking more shots, but [Andrew] Goudelock is out there playing well. By the time that Kobe [Bryant] and [Andrew] Bynum and Pau [Gasol] come back in, all I got to do is maintain. So, it's not about points."


November, 25, 2011
11/25/11
9:20
AM PT
USC and UCLA take the field Saturday in a football game close to my heart. After four years spent at USC, it's ingrained in my head to dislike UCLA. I've actively rooted against them since 1990. For six years bartending at Westwood Brewing Company, a decidedly Bruin-partisan establishment, I annoyed many customers with Trojan smack talk.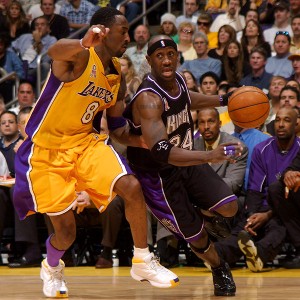 Noah Graham/Getty Images
Bobby Jackson was too much fun to root against, even while battling the Lakers.
I've come to appreciate many Bruins athletes upon leaving --
Arron Afflalo, Trevor Ariza, Maurice Jones-Drew, Jonathan Ogden
, among others -- but while student body members, I've wished them nothing but failure. As a rule of thumb, that's how I treat anybody on a team I can't stand. I may respect and admire your game, but I ain't about to like you. With one notable exception:
Bobby Jackson
, a core member of those Sacramento Kings teams that feuded heavily with the Lakers.
Ironically, at the height of this rivalry -- the classic 2002 Western Conference Finals -- I made the shift from "closet Bobby Jackson fan" to "I love this dude and if my fellow Laker fans don't like it ... oh well."
I'd long found Jackson an extremely fun player to watch. He was a high tempo, unpredictable, whirling dervish. Seriously streaky, but when he got rolling, points were often accumulated in a blink. On defense, he could create steals, and his undersized stature (a perhaps exaggerated 6'1") was offset by considerable strength, so bigger opponents didn't bully him.
But mostly what I loved was about Jackson was his fearlessness, never on better display than during that classic playoff series. Despite pushing L.A. to seven grueling games, it felt like many key Kings tensed up as the pressure mounted. I vividly recall how in the biggest moments, guys like
Chris Webber
,
Vlade Divac
,
Hedo Turkoglu
,
Doug Christie
and
Peja Stojakovic
never seemed to
want
the ball. At times, it felt like they were playing "hot potato." This came to an ugly head in Game 7, as the first four players cited shot a crippling eight-for-19 at the stripe, while Peja missed nine of his 12 field goal attempts.
Jackson, however, boasted grapefruits for days. This reaction was no surprise in a vacuum, but with his teammates often resembling deers in the headlights, Jackson's heart stood out even more. That a role player, albeit among the best in the league, was calmer under those bright lights made the performance even more inspiring. From then on, my Jackson fandom was solidified. I hated the team he played for and cursed those possessions where Jackson carved up the Lakers, but he was among my NBA favorites, Sacto jersey and all.
(To put this in perspective,
Mike Bibby
was also an absolute assassin during that series, probably the best King on the court. This prowess wasn't lost on me and objectively speaking, I could appreciate the excellence. But I still HATED Bibby. He was annoying, demonstrative, whiny, and had this bizarre habit of clipping his nails while on the bench, which my mom used to call "bad courtside hygiene." Bibby was the only other King who never looked intimidated, and my respect for him grew immensely during that series... along with my dislike for him.)
I've developed a personal affinity for many players who've battled the Lakers for serious stakes.
Tim Duncan
.
Malik Rose
.
Brian Grant
.
Arvydas Sabonis
.
Steve Nash
.
Shawn Marion
.
Ben Wallace
.
Allen Iverson
.
Kevin Garnett
(before he became a classless, bullying parody of himself). But for whatever reason, I never developed a huge distaste for any of their teams. I even found the Portland "Jail Blazers," a team so unlikable they turned off a fan base among the most loyal and fanatical in sports, too comically dysfunctional to truly hate. They were enemies I wanted defeated, but not necessarily destroyed.
The Kings provided no such ambiguity. Those cats rubbed me the wrong way and I relished their failure. But even while actively rooting for their demise, their was still a soft spot in my basketball-loving heart for Jackson.
As Laker fans, have you ever experienced similar affection towards a player on a rival squad? For whatever reason, you became a fan of this guy despite his stomach-churning jersey? Or do those affiliations simply eliminate that scenario, end of story?
January, 30, 2010
1/30/10
11:53
AM PT
The Lakers'
long and winding road
featured a stop Friday night in Philadelphia,
former stomping ground
of none other than
Kobe Bean Bryant
. Typically he receives no hero's welcome (
though the boos weren't as hearty this time around
), but give The Mamba credit: He doesn't hold grudges. Rather than react to a career of catcalls by phoning it in, Bryant pulled out some serious stops. Even better,
the Lakers' 99-91 win
actually allowed Philly and L.A. fans alike a trip down "Better Memory Lane" to a time when the Sixers were among the league's deadliest squads. After
a foul-ridden first half and a brief-but-frightening scare
, it was not just "
The Kobe Show
," but the "
Remember When Mamba and AI Used to Battle Back in the Day? Power Hour
."
Matt Slocum/AP Photos
Kobe and AI made Lakers-Sixers fun again.
You couldn't help but hum a few bars from
a certain movie theme
, because the brief reenactment of the 2001 Finals from Kobe Bryant and
Allen Iverson
tickled everybody's fancy.
For starters, The Press-Enterprise's Jeff Eisenberg:
Anyone who left the arena early missed a surprisingly entertaining second half as Kobe Bryant and Allen Iverson waged a duel the caliber of some of the clashes when the 76ers all-star was in his heyday.

The Lakers won 99-91 to build momentum entering Sunday's renewal of the storied rivalry with Boston, Iverson's 21 second-half points upstaged by Bryant's 22 in the final two quarters of his return to his hometown.

"It was like 2001 all over again," Bryant said. "He's a scorer. He and I both. That's what we do. He's been scoring since he was 7 years old ... It's like riding a bike."

What made Bryant's second-half surge more memorable was that it looked as if he were destined to watch the final 20 minutes from the locker room. When Elton Brand dived for a loose ball and landed hard on the outside of Bryant's left ankle early in the third quarter, Kobe immediately grabbed for his ankle and gestured to the bench. But he walked off the injury during a timeout and returned without missing any action.
January, 29, 2010
1/29/10
7:55
PM PT

By Andy Kamenetzky
ESPNLosAngeles.com
Archive
Matt Slocum/AP Photo
Life for Lakers fans would have tasted as bad as a jersey if Kobe were hurt.
You may have felt a strong wind rushing through the Southland earlier this evening. It was actually a collective sigh, an entire city's worth of Lakers fans exhaling in relief after a brief scare.
Why?
Because
Kobe Bryant
was hobbling around stiff-legged upon getting his foot caught underneath
Elton Brand
, diving to recover his own turnover.
The sequence itself would have been otherwise cause for smiles.
Ron Artest
had stripped Brand in space, then missed a point-blank layup all by his lonesome before leisurely putting back the brick. Artest grinned sheepishly afterward, but Kobe, along with the Laker Nation, was grimacing as
Gary Vitti
approached him.
The team and Bryant have dealt with enough injuries as it is and another would have not only been problematic, but totally ironic, as Bryant recently spoke about
the progress his back and fractured index finger
have made. The Mamba at square "negative one" represents a true bummer.
Well, worry ye not.