June, 10, 2014
6/10/14
6:40
PM PT

By Dave McMenamin
ESPNLosAngeles.com
Archive
It was surely a jarring scene for the
Los Angeles Lakers
' fans who turned their televisions to any of a number of sports stations Tuesday morning. There were their former coach and former starting point guard standing in front of a jumbo-sized
New York Knicks
logo, embarking on a joint mission to bring the same championship success they last shared in L.A. in 2010 to NYC.
The Lakers' faithful have had close to three months to digest the news that Phil Jackson won't be coming back through their door for a third stint coaching the team, but seeing
Derek Fisher
become the 26th head coach in Knicks history -- rather than the 25th head coach in Lakers history -- surely had to open up old wounds.
[+] Enlarge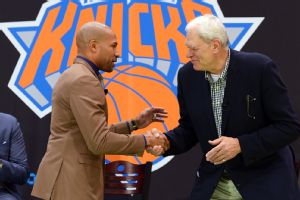 Jennifer Pottheiser/Getty ImagesDerek Fisher, left, and Phil Jackson shake hands Tuesday at a news conference to announce Fisher as the Knicks' new head coach.
The Lakers got out in front of the story over the weekend, with the Los Angeles Times reporting that the team had decided it wasn't interested in Fisher (or any other candidate without previous head coaching experience) and had moved on from the notion of bringing back the five-time champion.
Fisher said otherwise. According to the freshly retired, 18-year veteran, the Lakers indeed expressed interest in him, but he told them he was already so far down the road with Jackson and the Knicks that they shouldn't bother with exploratory talks unless they were ready to talk serious business.
"I was surprised, as some of you were, that they made the announcement they made that they wouldn't pursue me," Fisher said during his introductory news conference. "I don't think they ever intended to. That's fine. I respect it. I never thought of that or tried to compare the two opportunities. This was an opportunity that spoke to me right away. I was excited about that from the beginning."
Whether the Lakers really believe they are better off with a more experienced coach or they were merely saving face to avoid it looking like their former player spurned them for the same guy they had spurned in November 2012 (in Jackson) can be debated.
It is certainly better for the Lakers to make a blanket statement and say they aren't interested in current college coaches or candidates with no head coaching experience in the league than to have the narrative be that a bunch of the guys they had initially targeted -- Fisher, Connecticut's Kevin Ollie, Kentucky's John Calipari, Southern Methodist's Larry Brown, former
Atlanta Hawks
assistant coach Quin Snyder -- all chose to be somewhere other than with the Lakers moving forward.
Ollie and Calipari both inked lucrative deals to stay with their schools -- five years, $14 million for Ollie and seven years, $52 million for Calipari. This after Calipari turned down a Godfather-type deal from Cleveland that would have netted him close to $80 million over 10 years, according to ESPN.com's Marc Stein. Brown told USA Today Sports that he wasn't interested in L.A. because his goal is to capture another NCAA national championship to pair with the one he won with Kansas in 1988. And Snyder, who was previously a Lakers assistant under Mike Brown, was hired to coach the
Utah Jazz
last week.