Los Angeles Lakers:

Amare Stoudamire
May, 11, 2010
5/11/10
12:23
PM PT

By Brian Kamenetzky
ESPNLosAngeles.com
Archive
Perhaps the toughest thing for players, fans, and media alike during the playoffs is to avoid becoming a prisoner of the moment. Teams can fluctuate wildly, strengths and weaknesses often masked by matchups and the sort of performance blips able to alter the course of a series. They can look incredibly vulnerable one moment, then hoist a Larry O'Brien the next (see Celtics, Boston 2007-08), or look totally dominant but then fall short (see Lakers, Los Angeles 2007-08). All the while, infinite definitive and declarative statements are made crowning or burying a squad.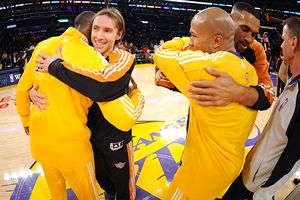 Noah Graham/NBAE via Getty Images
With a week to go before the games actually start, there's plenty of time for hugging.
It's particularly true of a team like the Lakers, for whom "the now" is parsed and dissected like no other team in basketball. Forget game-to-game- the Lakers are often tagged as champions, fakers, pretenders, world-beaters, too-thin, too-deep, complacent and focused within any 48 minute stretch. Sometimes within the same quarter.
They were undoubtedly on shaky ground heading into the playoffs, and I warned it would be a tough slog for the Lakers en route to what I still believed was a Finals appearance. I figured they would get better as they went along, but there would be some extremely rocky points along the way in a brutal Western Conference. Any missteps could cost them a third straight trip to the Finals. Then things, as they often will, started happening: Denver fell apart, Portland effectively lost Brandon Roy, and the Jazz were left without
Mehmet Okur
and a rusty
Andrei Kirilenko
.
Suddenly a pothole-laden road got a fresh paving.