Los Angeles Lakers:

Andre Iguodala
November, 30, 2012
11/30/12
9:20
AM PT
If the Lakers have been the most underwhelming team relative to expectations so far this season, the Denver Nuggets may run a close second. After pushing L.A. to the limits in a tough, seven-game first round series during the 2012 playoffs, the ingredients appeared in place to build on that momentum. Andre Iguodala was brought into the fold. JaVale McGee and Andre Miller were retained. And with (Coloradan fingers crossed) improved team-wide health, roster continuity would allow George Karl to guide his deep team to the next level. Instead, the Nuggets stumbled out of the gate, and have spent November hovering around the .500 mark. Like the Lakers, the search for fluidity and consistency remains a frustrating exercise in trial and error for the Nuggets.
For more knowledge about tonight's guests, I sent five questions to Joel Rush, who covers the Nuggets for the True Hoop network's
Roundball Mining Company
. Below are his responses,
and here is a link to my thoughts on five Lakers questions from Joel
.
Andy Kamenetzky
: The Nuggets haven't gotten off to the start that many (certainly myself) expected. Why have they struggled and what, if anything, has improved?
Joel Rush:
Nuggets fans have also been surprised and disappointed by the sluggish start, and there's been a lot of head-scratching as to why. In reality, it was a combination of factors. It has taken Iguodala longer than many expected to mesh with his new team. Danilo Gallinari started off the season in a horrible slump stemming in part from a bad ankle. Wilson Chandler has effectively sat out the season due to his hip injury. After signing a four-year, $48 million extension, Ty Lawson came out of the gate stumbling with subpar effort and a lack of the aggression that's so critical in driving Denver's offense. JaVale McGee's potential was showcased in Games 3 and 5 of last season's L.A.-Denver playoff series, so Lakers Nation will understand why Nuggets fans were cautiously optimistic he was poised to make positive strides. But that hasn't yet happened.
The Nuggets have struggled in finding consistent, lasting solutions. Steps back repeatedly follow steps forward. Until they can find some answers that stick, the Nuggets may at times have winning stretches, but they'll have their share of setbacks as well.
August, 19, 2012
8/19/12
11:35
AM PT
This series examines how the presumably now-elite Lakers stack up against their fellow brethren, and the Nuggets would largely be considered one tier lower. Thus, their inclusion here could feel strange. It shouldn't. As last season's first round, seven-game series demonstrated, Denver features a roster stuffed with rising talent tailor-made for a quick pace that tests the Lakers. And in
Andre Iguodala
, they've acquired an All-Star and Olympian who's both a great fit and addresses the team's biggest weakness (defense). The Nuggets would never be favored in a series against the Lakers, but still could provide one of the trickiest rounds possible.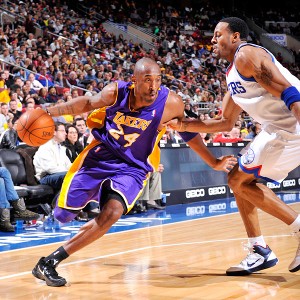 David Dow/NBAE via Getty Images
Iggy should help Denver on both sides of the ball.

For some local knowledge on the Nuggets, we spoke with
Jeremy Wagner
from the True Hoop network's
Roundball Mining Company
.
Andy Kamenetzky:
What was the general reaction in the Roundball Mining community when word hit the street about
Dwight Howard
joining the Lakers?
Jeremy Wagner:
The real story revolving around the Howard trade for Denver was obviously the acquisition of Iguodala. There was a angry subdivision of fans who were very upset that the Nuggets took part in ushering Howard to the Lakers. After the loss in the playoffs to LA and the addition of
Steve Nash
, most fans viewed the Lakers superior to Denver anyway. The addition of Howard only increased the gulf. Any hope of catching them this season is gone.
AK:
Well, even if they can't catch the Lakers, how capable is Denver of pushing them with Iggy on board?
JW:
The addition of Igoudala is a tremendous one for Denver.
Arron Afflalo's
defense had really fallen off from where it was a couple of seasons ago and Igoudala will certainly help in that area. Plus, Igoudala is a much better passer, fits better into Denver's drive-and-kick offense, and should flourish in the open floor. I believe a healthy Nuggets team will be the third best team in the West, barely ahead of the Clippers.
Is there any concern that with such a small window, based on the ages of Kobe and Nash, this team cannot afford taking a year to jell?
Brian Kamenetzky:
No question. There are definitely moving parts to integrate. In theory, Howard doesn't demand a massive adjustment -- it's not like the Lakers aren't accustomed to a high end center -- but in a lot of ways he's a very different player than
Andrew Bynum
. More mobile, more effective in the pick-and-roll. Plus, he's been "the guy" since entering the league. With the Lakers, he will, at least to some degree, have to give a little. And Nash is a huge change, a point guard capable of putting a game on a string, the type of player
Kobe Bryant
has never teamed with. Defensively, I think they'll be okay, since Howard makes things easier for everyone else. But this is at best a two-year experiment thanks to age and finances, and if it doesn't yield at least one title, people will be upset.
August, 9, 2012
8/09/12
2:39
PM PT
Just when you thought it was safe to get back in the water, along comes the shark fin and ominous music, packaged in the form of a rumor involving
Dwight Howard
. Here's a excerpt from
the ESPN news link
:
"The Denver Nuggets and Philadelphia 76ers have been pulled into talks between the Orlando Magic and the Los Angeles Lakers that could ultimately put Dwight Howard in a Laker uniform, Yahoo! Sports is reporting.

Talks have taken place this week and have "grown serious," Yahoo! said, citing league sources, although a trade is not considered imminent. The moving parts of the four-team discussion, according to Yahoo!, would involve both Andrew Bynum and Pau Gasol being dealt by the Lakers. According to the web site's sources, Howard and Nuggets forward Al Harrington would go to the Lakers, 76ers guard Andre Iguodala would be moved to Denver, Bynum would be dealt to Philadelphia, and Gasol and Nuggets guard Arron Afflalo would go to Orlando.

The proposed scenario also includes the Magic receiving draft picks and salary-cap relief, the sources told Yahoo."
Two noteworthy points right off the bat: The more teams involved, the generally less feasible a trade becomes. It's difficult to concoct a scenario making two franchises happy, so doubling the parties in need of satisfaction only further lowers the odds. It's also important to remember those unnamed folks proposed as cap relief can change the picture, positively and negatively. But looking at the principles mentioned by name, here's my immediate reaction:
This deal makes little sense for the Lakers, and ain't a slam dunk for hardly anybody involved.
February, 6, 2012
2/06/12
9:55
AM PT

By Brian Kamenetzky
ESPNLosAngeles.com
Archive
Since starting the season 1-2, the Philadelphia 76ers have ripped off 16 wins in 21 games and vaulted to the top of the Atlantic Division with the third-best record in the Eastern Conference. The results are no fluke. Last season, the Sixers started 5-14, and at one point were slogging along at 15-23. From there, they went 25-13 before a late swoon left them at .500 heading into the playoffs.
Signs certainly pointed to Philly as a potential team on the rise, and this year they've definitely made a major leap. While the Sixers lack a definitive go-to scorer, coach
Doug Collins
has plenty of effective offensive weapons at his disposal. Not that it matters all that much, since Philadelphia is the league's best defensive team through the first third (give or take) of the year.
And, as
Kobe Bryant
pointed out after the loss in Utah on Saturday, the Sixers are young and fast, representing a major challenge for the "old, slow" Lakers. To gain a little more insight into the surging Sixers,
we hit up Carey Smith of Philadunkia
, part of ESPN.com's TrueHoop network, with some questions:
Land O'Lakers: By nearly every metric, the Sixers are the league's stingiest defense. What accounts for their success?
Smith:
First and foremost, it's the 76ers' commitment to playing defense that is the key.
Doug Collins
has gotten these guys to buy in to the idea that you have to play solid team defense to win in the league, and given the results when compared to the brief-but-disastrous
Eddie Jordan
era, Collins is 100 percent correct. The other factor is that the Sixers have some phenomenal perimeter defenders in
Andre Iguodala
,
Jrue Holiday
and
Evan Turner
. Add in
Thad Young
(another solid defender), and you have a nice collection of players who can make it really difficult for the opposing team's guards and wings to score the ball.
Land O'Lakers: The team's leading scorer is Lou Williams, who comes off the bench, but nine players average more than nine points a game. Is this a reflection more of a great team-first ethic or the lack of a true go-to scorer?
Smith:
Great question. Honestly my answer is it is a chicken-or-the-egg situation. Collins preaches team, team, team, and then still more team, and the Sixers have played that way very successfully over the last two seasons. They do a great job with the little things that make balanced scoring work -- making the extra pass or setting screens for each other or rotating the ball quickly or finding the hot hand. But if Collins had a superstar like he did, say, in Chicago with that guy named
Jordan
, I wonder if the offense would flow the same way.
December, 17, 2010
12/17/10
12:05
PM PT
The Lakers have looked awfully good in two games since
Andrew Bynum
returned to the lineup after offseason knee surgery, as
Pau Gasol
seems to have had new life breathed into him. Good thing, too, because the Lakers have some stiff challenges coming in the weeks and months ahead.
Still, there's work to be done in the here and now, starting tonight in Philadelphia, known first as the hometown of
ESPNLA's own Dave McMenamin
, but also cheese steaks, the Liberty Bell, and
Kobe Bryant
.
Oh, and the Sixers, too. Philly carries an underwhelming 10-15 record into tonight's game, but like many of these road tussles through the Eastern Conference, the apparent badness of the opponent is at least somewhat misleading. The Sixers have been wretched on the road (2-10), but are
8-5 at home including wins in seven of their last eight at Wells Fargo Center*
, the only blemish being a last second, one point loss to the highly credible Boston Celtics. All seven of the wins were by nine points or more.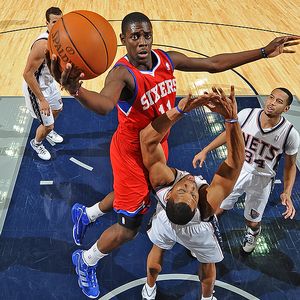 David Dow/NBAE/Getty Images
Local lad Jrue Holiday has elevated his game for the Sixers this season, a point I emphasize symbolically with this photo.
The Sixers have a lot of talent, from
Jrue Holiday
to
Andre Iguodala
to the newly revitalized
Elton Brand
and
Thaddeus Young
. Philly is 5-2 since adding sharpshooter
Jodie Meeks
to the starting lineup, in no small part because Meeks has hit half of the triples he's attempted over that time.
The moral of the story: Don't screw around with these guys. To get a little more insight into how tonight's game might play out, I hit up
Carey Smith over at Philadunkia
to answer a few questions about his hometown squad:
1) Jrue Holiday is obviously a player of interest around these parts, and seems to have made some strides this season. Do the numbers tell the story? Where has he improved, and where does he still need work?
The numbers tell part of the story as his stats have certainly improved, but the big thing in my opinion for Holiday is that adapting to the system
Doug Collins
has installed has made him a better player. There was no system under
Eddie Jordan
and when he finally got in the lineup last year, Holiday just went out and played every night. Some times with spectacular results, other nights not so great. It took about 10 games or so and at times it's still a work in progress, but Holiday is so much better this year because he has some direction from a good coach and he has bought in to what Collins wants done offensively.
While he has taken great strides forward across the board in 2010-11, the one thing I would say that Holiday needs to improve on is his decision making on the fast break. On the break he still has a tendency make mistakes -- getting caught in between moves or driving the ball too deep or simply throwing the ball away. Most nights the Sixers want to get out and run on opponents, so these issues can be costly. Once he gets this ironed out, he's going to be scary good.