Oh, Canada! this is not a good basketball team. The Raptors were a barely mediocre-in-the-Eastern Conference squad last year, and that was with Chris Bosh. Without him, they're awful, among our northern neighbor's most depressing exports since Leonard Cohen.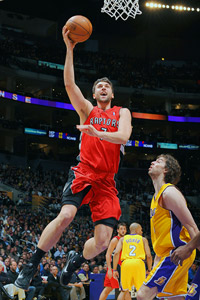 Noah Graham/NBAE/Getty Images
Beware the points Andrea Bargnani can score. Relish the points Andrea Bargnani can allow.
If there's a knock on the Lakers and their 5-0 start, it's that they haven't really played anyone of quality. Yes, Houston is well respected, but are off to a terrible start. Phoenix is adjusting to life without Amare Stoudemire, Memphis was missing Zach Randolph, while Golden State and Sacramento are lottery teams. Tonight's date with the Raptors will do nothing to counter that charge. If this was college football and the BCS, the Lakers would likely fall in the rankings just for playing them.
But they can only play the teams on the schedule, and Friday provides another opportunity to earn short minutes for the headliners ahead of Sunday's game with Portland. Here's what to watch...
1. Reggie Evans- If you look through the early season rebounding metrics, the Raptors aren't exactly terrible in many categories, and are actually pretty good in a few. For this, they can thank Evans. While he's still more widely known for grabbing... other stuff, Evans has also put his hands on a ton of rebounds. Toronto has played four games, and Evans has 55, a 13.8 per night average. The next most proficient rebounder on the Raptors is Andrea Bargnani, at 4.5 a game. By comparison, the Lakers have four players averaging 6.8 boards and above, including two (Lamar Odom and Pau Gasol) are at 11 or higher.
Evans is particularly ferocious on the offensive glass, grabbing a league-leading 5.3 a night. I noted before Wednesday's game, while the Lakers have been very strong generating second chances off their misses, they've also been pretty weak preventing them. Sacramento had nine by halftime, accounting for the extra points needed to keep the game competitive. Obviously Evans, then, becomes a factor, someone needing to be accounted for.
The good news? Evans is pretty bad at everything else. He rarely shoots (a 28.6 percent mark from the floor could explain why), doesn't pass all that well, can't put the ball on the floor, and so on. Plus, he fouls a lot. While Evans is undoubtedly good at rebounding and works his tail off, his limitations as an offensive player help explain the gaudy numbers since his lack of other discernible skills makes it easy for whoever guards him to leave and help on another player. To help cut down on cheap points, the Lakers will need to resist the temptation. If they control Evans, they likely control the glass as a whole.
2. Andrea Bargnani- The first overall pick in the 2006 draft, he's developed into a very good scorer. Bargnani enters the game averaging 24 points a night, on 47 percent from the floor and a whopping 58 percent from beyond the arc. He's also a great free throw shooter (85 percent) and gets there almost seven times a game. Don't be surprised if Bargnani goes off for at least his season average, if not more. Don't be surprised either, though, if he gives up at least that many on the other end. Writes "Arsenalist" at TrueHoop's Raptors Republic:
"...Bargnani has two major weakness on defense. First, he is too preoccupied with his own man and loses sight of his other responsibilities. This would be forgivable if he managed to shut his man down better and do his share on the glass, but since he doesn't do that it makes it that much worse. Secondly, his defensive positioning makes his already poor peripheral vision even worse. He commits the cardinal sin of turning your back on the ball too often and all it takes is a split second for the entire situation to blow up in your face..."
Doesn't sound at all like deficiencies the Lakers can exploit, right?
3. More Inside Advantage- Bargnani's help defense is non-existent, Evans is undersized at the four, and behind him Amir Johnson is a bad defender. Linas Kleiza is not the most mobile of small forwards, while DeMar DeRozen is young and athletic, but still evolving on that side of the ball and can't stick with Kobe anywhere, let alone in the post, where young guards are typically very uncomfortable. Off the bench, Jose Calderon and Leandro Barbosa provide nothing on that end, either. All told, the blueprint the Lakers have used through five games should hold tonight. Get the ball inside to Gasol, Odom, or Kobe, who can either score from there or distribute for clean looks on the perimeter or to initiate dribble penetration.
4. The First Quarter-Like most games between the Lakers and genuinely bad teams (I'm talking full-fledged awful, as opposed to the bad-but-talent-is-there groups like Sacramento), tonight's affair is much more about what the Lakers do or don't do rather than anything the Raps might bring. But as it is with bad teams, they gain confidence when allowed to hang around and, if nothing else, require more energy down the stretch to finish off. Opening night aside, the Lakers have done a good job getting themselves established early, and controlling the flow of a game.
Playing from ahead has enormous advantages for a team like the Lakers, trying as much as possible to measure minutes for key players early in the season. Not only can leads give starters extra rest, they often mean the minutes they do play are less taxing. No reason they can't make it happen tonight.