Los Angeles Lakers:

Andrei Kirilenko
July, 22, 2011
7/22/11
10:28
AM PT
If there was a benefit to last year's bottom-of-the-barrel production at the point, it's that it provided a nice distraction from the relative wasteland at small forward.
Purple and gold 3's ranked 23rd in efficiency differential
, 25th in field goal percentage, and 19th in 3-point percentage. This despite that
Kobe Bryant
guy soaking up some minutes there. The main combination of
Ron Artest
and
Matt Barnes
wasn't up to snuff. Some of it was circumstance:
Barnes was playing well
, providing more or less exactly what the Lakers expected (offensive rebounding, off-ball movement, energy, defensive effort) until hurting his knee in January, and never fully bounced back. At least he had an excuse. Artest, healthy enough all season,
fell off at both ends of the floor relative to his first year in L.A..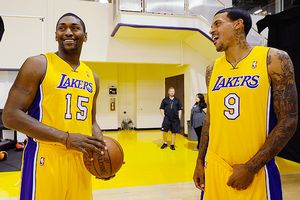 Kevork Djansezian/Getty Images
The combination of Ron Artest and Matt Barnes didn't exactly set the world on fire last season.
It's reasonable both to expect a healthy Barnes to once again look more or less like the perfectly useful player he was starting last season and to wonder if Artest's slide will continue. A new system could benefit Ron Ron, but then again, it isn't the system making it tough to slide a deck of cards under his feet when he jumps. The decline in his explosiveness is worrisome. How the Lakers might juggle things if they're willing and able to add another small forward is an outstanding question, but fair to say from a productivity standpoint, even if Barnes bounces back there's room for improvement.
As it was with the shooting guards
-- some of whom could also slide to the 3- the free agent rolls provide a few
pinkie-to-the-mouth
options.
Here's how it breaks down:
THE YOUNG, INTRIGUING, AND TOTALLY UNREALISTIC
Thaddeus Young (Restricted Free Agent, Philadelphia)
Wilson Chandler (RFA, Denver)
After showing promise in his rookie and sophomore seasons, Young seemed to backslide in his third year. Fair to say he ended that trend in his fourth. As a guy who drafted Young in the late rounds of his fantasy draft, I can attest firsthand how well he played last season. Career highs in field goal percentage (54.1) and points per 40 minutes (19.6) and an improved rebound rate. Only 23, Young is a great athlete who should continue improving. Some might say he's more accurately listed as a power forward. For our purposes here, I say the distinction is irrelevant, because the Lakers can't afford him. Philly has made a $4 million qualifying offer, and would easily match whatever L.A. can present. Chandler, young, athletic, and smooth to the bucket (with an improved outside shot) is also not a viable option, financially.
IF YOU SQUINT HARD ENOUGH, IT'S SORT OF POSSIBLE TO SEE THE POSSIBILITIES
Caron Butler (Unrestricted Free Agent, Dallas)
He's coming off a major knee injury, right? Teams will be scared off, right? And Butler, with good skill offensively and tenacity at the other end, was tight with Bryant during his one year in L.A., right? He'd be a nice fit playing a supporting role for a good team, like he did in Dallas last season, right?
April, 1, 2011
4/01/11
10:52
AM PT

By Andy Kamenetzky
ESPNLosAngeles.com
Archive
A game against a potential second-round opponent with playoff seed implications is a tough act to follow, much less a game against a potential second-round opponent with playoff seed implications and six ejections (
five players
and a half-naked weirdo), fights in the stands,
Mark Cuban eating crow about Ron Artest's decision-making skills
and a 28-point margin of victory.
Thursday's win over the Dallas Mavericks was certainly one for the books, making the second game of a back-to-back in Utah feel even more inevitably anticlimactic. After all, the Jazz have been in a free fall since
Jerry Sloan
resigned and
Deron Williams
was dealt. The Jazz are 2-8 in their past 10 games and losers of six straight heading into Friday,
paced for just their second losing season since 1983
(despite being
14 games above .500 as recently as Jan. 14
). They also are down several players due to injury and just
signed fringe NBA player/D-League mainstay Kyle Weaver out of necessity
.
In other words, it's a game with odds just lopsided enough to make Lakers fans feel simultaneously cocky and nervous.
For more perspective on the Jazz, we spoke with
Spencer Ryan Hall
from
Salt City Hoops
(TrueHoop network). Here are a few items to be mindful of once the ball is jumped.
K Bros: Is there anything notably different about the Jazz in the
Ty Corbin
era (beyond the tailspin)? Has the style of play or rotation changed significantly? Are players still working hard for him?
Spencer Ryan Hall
:
Besides the obviously terrible play, the most surprising has been the way comments from players now include a lot of excuses. One of my favorite things about a Jerry Sloan press conference was listening to him bristle and respond to questions that included possible explanations for mistakes or losses. This season has provided some legitimate excuses for poor play, but I miss the fighting spirit from the players and coaches.
From a rotation standpoint, Corbin seems prepared to play out the string with the rookie trio of Derrick Favors, Gordon Hayward and Jeremy Evans getting a lot of minutes. I don't think any players have quit, but with injuries and confusion and inexperience, the product on the floor hasn't been close to what Jazz fans expected at the start of the year.


May, 10, 2010
5/10/10
8:10
AM PT
The Lakers will say all the right things -- it's a best of seven, not a best of five, nothing is done until they get that fourth win and officially advance to the Western Conference Finals. They can't say it, so I will (likely on your behalf as well):
L.A. may be taking the floor tonight for Game 4,
but the Western Conference seminfinals are over.
Including
Phoenix's series-clinching win Sunday night over the Spurs in San Antonio
, teams building a 3-0 advantage in the NBA playoffs are a robust 91-0. I suppose you can argue "0" is due, but it's pretty clear the Jazz won't be the team to bust through the wall of history. It'll be Lakers vs. Suns in the WCF-- the question is when, and how much rest will the Lakers get going in.
As
Kobe Bryant
pointed out Sunday afternoon after practice,
extra games are a bad thing in the playoffs
. Weird things can happen. Ankles get turned, knees get wrenched, fingers get broken. The only foolproof way to guarantee guys won't get hurt in a game is to make sure they don't have to play it. So that is as good a reason as any to wrap this puppy up Monday night in Game 4. Will it happen? Here are five things to watch:
May, 6, 2010
5/06/10
10:46
PM PT
NOTE: Here's the link to today's video. Open two windows, watch the video in one, read this in the other. Do it while holding a Kindle, and it's a full multi-media experience!
"We definitely got some work done today,"
Derek Fisher
said with a smile Thursday afternoon in El Segundo following a lengthy practice and film session for the Lakers. "Any complacency, or guys thinking that they were going to come into practice today and just kind of go through the motions,
Phil [Jackson]
and our coaches were sure to shake that out of us pretty quickly."
PODCAST
Andy and Brian discuss Lakers-Jazz, Kobe's refreshed legs, and why some still want to trade Andrew Bynum. Plus, penalties for obscure laws and the danger of combining hats and headbandsPodcast

We'll have to take his word for it, since the media horde was let in the gym following the conclusion of the squad's film study. Therefore, we didn't witness the end of practice, but given their upcoming trip to Salt Lake City for Games 3 and 4 it's hard to imagine how any of the Lakers would have been complacent in the first place.
Asked why the Jazz are so good at home, Fish gave a professional and respectful answer. "Because they're good," he said. "It doesn't matter what kind of arena that you have, how loud the fans are, what bells and whistles they use. If the team's not good, it doesn't matter. Fact is, the Jazz have had good teams, so that's why they've been so good at home over the years."
Fair point, but the fans there make a difference. Those people are nasty, nasty, nasty.
They say nasty things
. Ford Center was loud and uninviting, but not like what you get in Utah. The OKC fans were excited to be there, and had a healthy respect for the Lakers. As evidenced by the minutes-long ovation they gave the Thunder after Game 6, they were there more to cheer for their guys than tear down the opposition. I respect that.
EnergySolutions Arena, on the other hand, is truly brutal on visiting teams. Mike Tyson-eat-your-children brutal. "A vastly hostile place," Jackson called it. Still, the Lakers have won there before, and believe (as I do) they can win again there this year.
May, 1, 2010
5/01/10
11:03
PM PT
So the guy responsible for processing our show into the fancy ESPN player doesn't work weekends, and meanwhile the blogging software we use is remarkably hostile to uploading mp3 files.
That leaves today's workaround, the results of which can be seen below.
We talk about the end of the series vs. Oklahoma City, and how those six games could benefit the Lakers moving forward, assuming they didn't make too many withdrawals from their home financial institution, the Bank of Already Tenuous Physical Condition. (We actually recorded
before the news broke about Andrew Bynum's small meniscus tear
.) From there, it's a preview of their next series,
starting Sunday at home against Utah
(12:30 pm PT, ABC).
The Jazz are playing well, but despite their savvy and veteran experience, we both believe they're a far more favorable matchup for the Lakers than the Thunder were. And with
Deron Williams
a gametime decision and Andrei Kirilenko out until perhaps Game 3
,
Jerry Sloan's
crew has injury issues of their own.
All that, plus a considered debate regarding a pivotal moment in The Fugitive, about which your input is welcome.
Kamenetzky Brothers PodKast: Previewing LA vs. Utah
from
Brian Kamenetzky
on
Vimeo
.