February, 7, 2014
Feb 7
9:35
PM PT

By Dave McMenamin
ESPNLosAngeles.com
Archive
PHILADELPHIA -- Back in the summer of 2012, both the
Los Angeles Lakers
and
Philadelphia 76ers
felt like winners before they even won a game because of the deals they had been able to pull off.
For the Lakers, they thought they had acquired perhaps the greatest pick-and-roll tandem of all time in
Steve Nash
and
Dwight Howard
and would pair them with
Kobe Bryant
and
Pau Gasol
to get the team back on a championship trajectory.
[+] Enlarge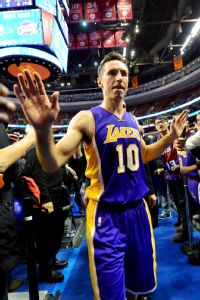 Jesse D. Garrabrant/NBAE/Getty ImagesSteve Nash scored 19 points on his 40th birthday to lead the Lakers to a win, admitting he wasn't sure he could get on top of his health issues.
For the Sixers, they thought they had found the missing link in their lineage of monsters in the middle, with
Andrew Bynum
set to pick up where
Wilt Chamberlain
,
Moses Malone
and
Dikembe Mutombo
had left off in dominating the Eastern Conference.
Both plans went woefully awry, of course.
After Bynum said, "I'm really looking forward to making this my home," at his block party-like introductory news conference, he ended up not playing a single game during the season he spent in the City of Brotherly Love.
He has since found homes in Cleveland and Indiana, and whispers of Bynum's failed marriage with Philadelphia still echoed throughout the Wells Fargo Center on Friday, with one league source sharing how Bynum would often park one of his luxury cars in the reserved space for Ed Snider, chairman of Comcast Spectacor -- the company that owns the arena where the Sixers play -- on purpose on game days. The source also passed on the story about the day Bynum showed up at the Sixers' practice facility with a police car following him into the parking lot because he had sped off from a gas station with the pump nozzle still inside of his car and the officer noticed the severed hose flapping alongside the road as Bynum merrily drove along.
Nash's Lakers legacy could have gone the way of Bynum's in Philly. After all, the team mortgaged its future by giving away four future draft picks to acquire the aging point guard, then hired Mike D'Antoni instead of Phil Jackson to maximize his talents, only to see injuries break down his body and contribute to Howard's skipping town to play with a younger backcourt in Houston.
Nash could have succumbed to the circumstances, too. He could have focused on the missed opportunity to finally capture that first championship in an 18-year career. He could have wallowed in the pain that a broken leg in only his second game as a Laker caused him over the next 16 months, as severe nerve root irritation in his back and hamstrings set in and made it hard for him to live without discomfort, let alone play basketball against athletes half his age.