The Lakers officially began their title defense on October 27 with a ring ceremony and a game against the Los Angeles Clippers. Oodles of pomp, circumstance and promise! Tonight, the campaign is book-ended against those same Clippers, but the vibe couldn't be any different. Literally and figuratively, the Lakers are limping into the playoffs. Win or lose, there will be a vibe more "lamb" than "lion" as the curtain drops on the regular season.
Then again, it's the appropriate way to put a bow on their 82 contests, considering how oddly anticlimactic this entire year has felt. From start to finish, and on several levels. Mind you, there's still chance to go out on one hell of a bang by reacquainting themselves with Lawrence O'Brien. But with one final chapter still in formative stages, we take a look at the other plot points failing to meet the hype.
THE HYPE: 72 Wins
Besides a repeat, what would be the best way to top a championship season? By tying or beating the 72-win platinum standard established by the 1996 Chicago Bulls, a squad also coached by none other than Phil Jackson. The media tossed around "72" as a possibility and the young, filter-free Andrew Bynum lobbied to make it a team goal.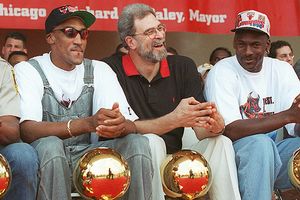 Beth Kaiser/AP
Face it. Pippen's overalls aside, the 1996 Bulls are bulletproof.
THE ANTI-CLIMATIC RESULT
Need further proof of just how monumental 72-10 is? The Lakers' first 27 games, mostly at home, wrapped up at a scorching 23-4 clip... which put them off the pace. "72" is just a brutal height to set, much less scale. But honestly, the real roadblock wasn't the task's Herculean nature. It was the Lakers simply not being good enough. Heck, they even failed to maintain their own smaller piece of history: The "Pau Era" streak is dead! Long live the "Pau Era" streak.
(If it's any consolation, 'Sheed shot off his mouth about Boston winning 72, and they came up even shorter. Couldn't have happened to a nicer team, right?)
HYPE: LAMAR ODOM AND KHLOE KARDASHIAN'S WEDDING
Odom's out of left field marriage to the reality TV starlet sent the rumor mill in overdrive. The marriage is a publicity stunt! There's another show with Ryan Seacrest in the works! There will be E! cameras at every game filming scenes for "Keeping up with the Kardashians." LO will "go Hollywood" and lose his basketball focus!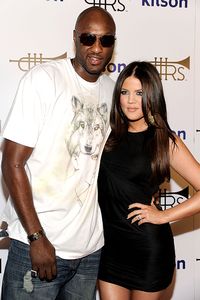 Frazer Harrison/Getty Images
"Khlomar" hasn't provided much gossip
for the Lakers.
THE ANTICLIMACTIC REALITY
There was some offseason brouhaha about getting prenuptial ducks -and by "ducks," I mean "agreements"- in a row before making the union official and the duo occasionally graces the cover of OK! and the like. But their relationship has mostly been an afterthought.
Khloe's Laker presence consists more of in-game Tweets than Staples Center mayhem. (Like every female celeb in attendance, she'll do a few obligatory "see and be seen" laps around the court, but from my vantage point, she's been pretty low key.)
As for LO, the high profile marriage has made him a more viable pitchman ("Get out of my way, Saturn!"), but on the court, not a ton has really changed. He's rebounding at a high rate, playing fairly good defense, and providing enigmatic scoring. In other words, status quo. Lamar likely remains inconsistent in the eyes of the average fan, but at least marriage hasn't changed him, right? In a roundabout way, it's oddly comforting.
Speaking of high profile couplings, are Sasha Vujacic and Maria Sharapova still dating? That's not a joke. I'm really asking, because I have no idea. I assume a breakup would have made headlines by now, but either way, that relationship hasn't exactly set the tabloids on fire, either.
THE HYPE: RON ARTEST WOULD IMPLODE THE LAKERS.
The mercurial, controversial and quirky Artest was pegged by many as a bad fit for the bright lights of L.A. Even those believing darker issues were behind him, Artest was still seen as a limelight seeker with tendency for stream of consciousness comments and music industry desires. To say nothing of a career often spent dribbling the crap out of a ball as an offensive focal point and technical foul magnet. This was a train wreck waiting to happen.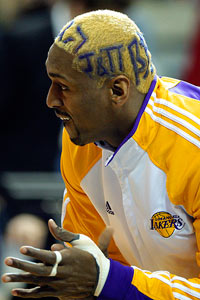 John Raoux/AP
Bad as he wanna be? Only to his
follicles.
THE ANTICLIMACTIC REALITY
Like his longtime buddy Odom, Artest got most of the antics out of his system early, whether you're talking offseason video clips about free agency negotiations or December's Hennessy-Gate. Beyond that, there's been the occasional stairs tumble here. A zany haircut there. Complete obliviousness about Laker winning streaks or an opponent's personnel.
But really, the most shocking thing about Artest's behavior has actually been how quiet he often is. Dude is legitimately odd, but nonetheless downright subdued at times.
As for the hardwood, Artest's transition hasn't been seamless, his learning curve compounded by a hurt thumb and a two-inch vertical leap. The awful shots fretted occasionally do surface.
Having said that, he's generally been more deferential than "dribble-dribble" and his defense hasn't just been devastating over stretches, it's been an infectious source of team-wide energy. Nobody has played harder on a possession by possession basis than Artest this season.
Bottom line, if he's been a distraction, the Lakers are doing a killer job keeping it under wraps, because I haven't heard a peep.
HYPE: ANDREW BYNUM FINALLY MAKES THE ALL-STAR TEAM AND FORMALLY ANNOUNCES HIMSELF AS THE LEAGUE'S BEST YOUNG CENTER
After brilliant-but-injury-ravaged flashes of 2008 and 2009, Bynum's stated goal was getting named to the All-Star team. A seemingly realistic notion, with Shaq out of the West and Yao out for the year. Plus, Pau Gasol missed the opening 11 games, allowing Drew to get off to a terrific start. Better make a reservation for a February flight to Dallas, right?
THE ANTICLIMACTIC REALITY
Wrong.
Gasol's return coincided with a marked drop in production for Bynum, a jarring reminder of how relatively little time the two have played together. As Drew's touches decreased, so did his rebounding and energy, sparking criticism over the youngster's attitude and talk of the Laker twin towers unable to coexist (more on that later). Throw in a largely lethargic late-January/early-February, and despite a rash of Western Conference injuries, Drew found himself on the outside looking in.
Then again, as we await his return from a left Achilles strain, every "crisis" is a relative matter.
In the meantime, Pau actually made the All-Star cut despite missing seventeen games. From there, however, El Spaniard's second half was uncharacteristically erratic (this recent roll notwithstanding). Certainly a letdown after overcoming what could be considered reasonable odds of a nod to begin with.
HYPE: BYNUM AND GASOL WILL FINALLY JOIN FORCES TO BECOME THE LEAGUE'S BEST FRONTCOURT SINCE DUNCAN-ROBINSON.
Bynum may have never gotten his legs fully under him during the title run, but after a summer to heal, there was optimism he'd start the year healthy. With any luck, he'd remain so, allowing this season to lay the foundation of him and Gasol as an utterly devastating 4-5 combo for years to come.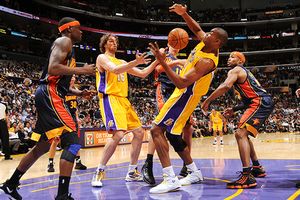 Andrew D. Bernstein/NBA Via Getty Images
Pau and Andrew have hardly been "bad"
together, but they've yet to consistently
dominate as a duo.
ANTICLIMACTIC REALITY
Unfortunately, Gasol's hamstring injury set the tone for yet another campaign robbing the two of a chance to steadily build chemistry. At times, they've looked fantastic together, and in fairness, both guys averaging 20/10 on a team where Kobe "eats first" and LO shares glass cleaning duties isn't entirely realistic. Failure is sometimes the result of improbable expectations.
Still, there have been many other times when they legitimately appear uncertain while sharing the paint. In particular, the adjustment has seemed difficult for Bynum, so much so fans and media spent the media debating the pros and cons of moving him for Chris Bosh.
Unless Drew kills it during this postseason, my guess is there will be more talk about a sign-and-trade for the Raptor big, broken face and all.
Oh, and speaking of loud swap smack that never materialized, Kirk Hinrich is still a Bull, while Jordan Farmar, Adam Morrison, Sasha Vujacic and the entire roster at the trade deadline are still Lakers. For that matter, Generalíssimo Francisco Franco is still dead.
HYPE: SHANNON BROWN WILL WIN THE DUNK CONTEST AS THE HIGH POINT OF AN UNDISPUTED TRUE BREAK OUT SEASON
The high fly act was last season's best surprise and with a place in this year's rotation firmly entrenched, LetShannonDunk.com successfully placed the human springboard in the Dunk Contest. With his star already on the rise, Brown was considered by many the competition favorite.
THE ANTICLIMACTIC REALITY
Gravity reared its ugly head. The often-ferocious dunker seemed nervous or unprepared (or both) for the spotlight, failing to even make good use of Kobe "instant applause, just add presence" Bryant in his teammate-assisted dunk. Brown exited the festivities in the first round, and has often struggled since. Whether the effects of a right thumb injury or simply the growing pains of an expanded role, his accuracy and efficiency has been way down since the All-Star Weekend.
There have been bright spots (particularly while starting in place of an injured Kobe), but all in all, his performances have gotten spotty. The potential is still evident, but patience remains mandatory as ever.
Other fizzled plots included:
Josh Powell's brief reign as a three-point threat
A hint of momentum from Adam Morrison's Summer Pro League stint
Jordan Farmar's (perhaps final) shot at entrenching himself as the Lakers' starting point guard of the future
Anything else I'm forgetting?