August, 19, 2012
8/19/12
11:35
AM PT

By Andy Kamenetzky
ESPNLosAngeles.com
Archive
This series examines how the presumably now-elite Lakers stack up against their fellow brethren, and the Nuggets would largely be considered one tier lower. Thus, their inclusion here could feel strange. It shouldn't. As last season's first round, seven-game series demonstrated, Denver features a roster stuffed with rising talent tailor-made for a quick pace that tests the Lakers. And in
Andre Iguodala
, they've acquired an All-Star and Olympian who's both a great fit and addresses the team's biggest weakness (defense). The Nuggets would never be favored in a series against the Lakers, but still could provide one of the trickiest rounds possible.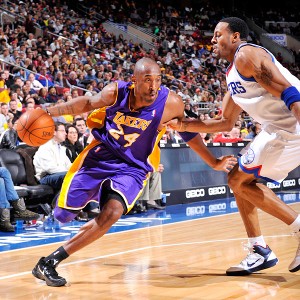 David Dow/NBAE via Getty Images
Iggy should help Denver on both sides of the ball.

For some local knowledge on the Nuggets, we spoke with
Jeremy Wagner
from the True Hoop network's
Roundball Mining Company
.
Andy Kamenetzky:
What was the general reaction in the Roundball Mining community when word hit the street about
Dwight Howard
joining the Lakers?
Jeremy Wagner:
The real story revolving around the Howard trade for Denver was obviously the acquisition of Iguodala. There was a angry subdivision of fans who were very upset that the Nuggets took part in ushering Howard to the Lakers. After the loss in the playoffs to LA and the addition of
Steve Nash
, most fans viewed the Lakers superior to Denver anyway. The addition of Howard only increased the gulf. Any hope of catching them this season is gone.
AK:
Well, even if they can't catch the Lakers, how capable is Denver of pushing them with Iggy on board?
JW:
The addition of Igoudala is a tremendous one for Denver.
Arron Afflalo's
defense had really fallen off from where it was a couple of seasons ago and Igoudala will certainly help in that area. Plus, Igoudala is a much better passer, fits better into Denver's drive-and-kick offense, and should flourish in the open floor. I believe a healthy Nuggets team will be the third best team in the West, barely ahead of the Clippers.
Is there any concern that with such a small window, based on the ages of Kobe and Nash, this team cannot afford taking a year to jell?
Brian Kamenetzky:
No question. There are definitely moving parts to integrate. In theory, Howard doesn't demand a massive adjustment -- it's not like the Lakers aren't accustomed to a high end center -- but in a lot of ways he's a very different player than
Andrew Bynum
. More mobile, more effective in the pick-and-roll. Plus, he's been "the guy" since entering the league. With the Lakers, he will, at least to some degree, have to give a little. And Nash is a huge change, a point guard capable of putting a game on a string, the type of player
Kobe Bryant
has never teamed with. Defensively, I think they'll be okay, since Howard makes things easier for everyone else. But this is at best a two-year experiment thanks to age and finances, and if it doesn't yield at least one title, people will be upset.