Los Angeles Lakers:

baseball
July, 13, 2012
7/13/12
8:03
AM PT
Billy Bob Thornton's
Hollywood breakthrough came in 1996 with
"Sling Blade"
(which he also wrote and directed), where he played a mentally challenged man with a dark past trying to re-acclimate himself into small town society after being released from a psychiatric hospital. The film, beyond showcasing Thornton's skills as a multi-talented artist, reflected his sensibilities as someone with a love for storytelling. This instinct also comes through in the music he writes, and now as an author as well.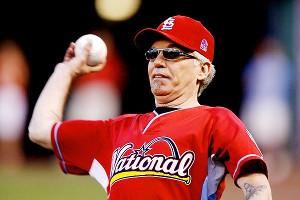 Dilip Vishwanat/Getty Images
Thornton's slider comes with Bob Gibson's seal of approval.
Thornton's new book (co-written with
Kinky Friedman
)
"The Billy Bob Tapes: A Cave Full of Ghosts"
tells the story of his life, marked by an endless stream of odd characters and a path taking him from small town Arkansas to L.A. For our local readers, he'll be
signing copies at the Egyptian Theater tonight at 6:15 pm PT
, followed by a screening of
"The Man Who Wasn't There"
and
"A Simple Plan"
(my personal favorite of his movies).
The show can be heard by clicking on the module and a list of talking points can be found below:





- (1:45):
An Arkansas native, Thornton grew up a huge St. Louis Cardinals fans -- they have an in-state minor league affiliate -- and became an excellent high school pitcher. He even got a tryout in the Kansas City Royals system, but it was short-lived as he suffered a freak injury 30 minutes into the day. Thankfully, life has turned out pretty well for without baseball, and he can still throw as hard as
Jamie Moyer
!
- (7:20):
Besides, who needs the Major Leagues when you can play elaborate "games" of baseball alone on a tennis court?
- (9:03):
Not only has Thornton gotten the chance to meet his idol, the legendary
Bob Gibson
, but he even threw out the first pitch at Busch Stadium with the Hall of Famer playing catcher. Lotta pressure, but Thornton managed to groove a slider for a strike.
- (11:01):
"The Billy Bob Tapes" reads like a collection of casually shared stories. As a result, the prose sometimes rambles in unusual directions before circling back to a conclusion. Thornton explains why he chose this style, along with the connection between storytelling and Southern roots.
- (16:00):
Speaking of stories, Thornton is not particularly impressed with those Hollywood studios tend to crank out these days. Too many "products" are being made, and not enough movies of actual substance. Compounding the problem, audiences aren't demanding better and in Thornton's eyes, technology and social media has created a vapid, self-obsessed culture.
- (25:00):
Bear in mind, Thornton doesn't think everything needs to be high art. The goal is simply to create smart entertainment, rather than cater to the lowest common denominator or the easiest marketing campaign.
- (28:00):
In "The Billy Bob Tapes," Thornton describes "Sling Blade" as the only movie where the finished product was exactly what he envisioned. But despite everything stated above, he remains confident complete artistic satisfaction will be experienced again down the road.
- (30:21):
At almost age 57, is Thornton too old to make his Major League debut as a middle reliever on the worst team in the league? (Or a plan I deemed "Title X?")
February, 8, 2012
2/08/12
10:26
AM PT
A stunning 1986 performance as
Sid Vicious
announced a largely unknown
Gary Oldman
as an actor to watch. He made good on that promise with indelible, often volcanic work in movies like "Prick up your Ears," "State of Grace," "JFK," "Dracula," "True Romance," "The Professional," "Immortal Beloved" and "The Contender." In recent years, he became part of the "Harry Potter" and "Batman" series, reintroducing himself to audiences in sympathetic, likable parts.
In 2011, Oldman solidified his status of one of Hollywood's premiere chameleons with his portrayal of George Smiley in "Tinker Tailor Soldier Spy." Reprising a role made famous by
Sir Alec Guinness
in a 1979 BBC production of the spy novel, Oldman remains understated and quiet, but powerful nonetheless. The performance earned him a well-deserved Academy Award nomination.
We were thrilled to get Oldman in studio for nearly an hour to talk about "TTSS," his career and even a little sports.
THE ENTIRE SHOW CAN BE HEARD HERE
, and a breakdown is below with links to specific sections:
-
(4:27): Oldman explains his initial terror at following in Guinness' footsteps for "TTSS."
A week before shooting began, he debated backing out, but ultimately geared himself up to meet the challenge.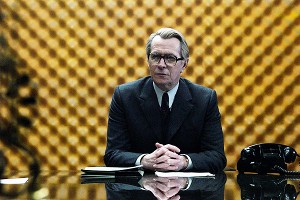 Win McNamee/Getty Images
Oldman's "Tinker Tailor Soldier Spy" performance is a remarkable achievement.
"I viewed it as a classical role that had been played before," Oldman said. "I imagined what it would be like to play Lear or Hamlet and then be measured against all those wonderful actors that had played the role before and that the comparisons would be inevitable... I sort of played a trick on my head.
It's all in my head
. Yes, Guinness gave this incredible performance. But the dragon, like all dragons, they're in your head and you have to slay them. So I kind of played a trick on myself to get me to walk through the fire."
- (5:30):
Oldman explains the differences between playing a iconic character and a real-life icon like
Sid Vicious
,
Beethoven
or
Joe Orton
.
- (14:28):
Oldman's "TTSS" role is
the polar opposite of what he's spent the majority of a career playing. And that's not by accident. Over the last several years, Oldman's moved away from the eccentric, over-the-top parts that once defined him. In part, because he was concerned about increasingly limited options as a typecast actor. But also because he grew to find these characters dissatisfying on an artistic level, which killed his passion for the craft.
"I was bored," Oldman says. "I was just going through the motions and it just didn't interest me and I lost my love for it. I sort of lost my way a little. I lost my love for acting and did not look forward to it and that was the rut I was in. You deal with sports. There are great players and they're just pitching well or they're not hitting well. ... I found it quite debilitating and boring. I started to sort of hate the job. And I've never really felt [that]. I feel very privileged and very lucky that I do what I do, and it's never, ever really felt like I go into work. Let's face it. And so I went through a patch there."
July, 24, 2011
7/24/11
9:54
AM PT
As part of a continuing series, NBA players share the various ways growing up in L.A. shaped their games.
There are natural athletes. There are natural athletes who take an unusual path to the NBA. And then there is Golden State Warriors forward and South Los Angeles product
Dorell Wright
. To put Wright's athleticism in perspective, he didn't take basketball seriously until the 11th grade. Before that, he was passionate about making the big leagues, and even transferred from Washington High School to Leuzinger for its baseball program. A casual invite to meet the basketball coach eventually resulted in a change of athletic priorities. After graduating from Leuzinger, Wright did another senior year at South Kent School, a Connecticut prep school. But rather than better prepare him as planned for the transition to college, South Kent was Wright's last stop before jumping straight to the NBA.
Andy Kamenetzky:
Where did you grow up playing?
Dorell Wright
:
St. Andrew's Park
. It was a crazy scene. They were real big on their basketball program down there. We had a lot of guys that went to college. We had a few guys that went to the NBA come out of there.
Hassan Adams
.
Rayshawn Reed
. We was probably the three biggest names that came out of there around our age.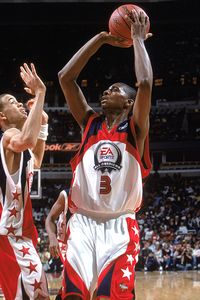 Gary Dineen/Getty Images
Dorell Wright became a high school phenom despite not getting serious about basketball until his junior year.
It was definitely tough. Inner-city kids. It's very physical, very competitive. Everybody wants to win. Every year, it was different players coming from different places, because they knew how good the league was and the competition they'd get. We'd go to the different playoffs [between parks] and we're always in the finals or the final four every year.
AK:
Do you remember the first eye-opening experience of how physical the play was?
DW:
The first game I ever played there, I got fouled hard as heck and hit the ground hard. I knew it was gonna be tough and you had to bring your game every single day. And this is with me being 8 or 9. That first game, I already knew.
AK:
You've talked in the past about friends who got caught up in the gangs and violence. How challenging was it to stay on the right track?
DW:
It's very tough. I was blessed to have great parents around and to keep me focused and active with baseball, basketball and football. It seemed like I was never staying still. I had a few hours with my friends, but the majority of time I was either working on my game or practicing or at a game.
I'll say one thing about L.A. streets: The streets, they're calling. You see your friends and peers out there, hanging out, things like that. Sometimes it's peer pressure to hang out and be cool just like them. But my mom and dad did a great job just keeping me focused and on the right path. Trying to see bigger things than just being here in L.A. and staying here my whole life in South Central and the inner city.
AK:
You were initially much more into baseball than basketball. At what point did basketball become your focus?
DW:
Basketball really became serious once I got to Leuzinger High School. I didn't play ninth and 10th grade at Washington just because of my grades and stuff. I was never eligible for basketball. For some reason, I was always eligible for baseball. I knew how much my dad wanted me to play baseball, so I was a little more serious. (Laughs.)
Eleventh grade, I had a subpar year. Averaged like 18 points my first time ever playing on varsity. In 12th grade, we got a new coach,
Reggie Morris
. He took me to different gyms to work out, so I was spending more time on my game. I averaged 24 points that year, so I felt myself getting better. I was getting a lot of attention from different colleges. Once that happened, I was like, "I might want to do this basketball." I was thinking I could go to some college. This is when Fresno State, Long Beach State, Northern Iowa, all these mid-majors were recruiting me. Not really heavy schools until I got to prep school. It was still not really clicking to me that I could go to the NBA.
AK:
Ironically, you transferred to Leuzinger for the baseball program.
DW:
Yeah, this is a funny story. We were so bad at Washington. We won one game in two years. My dad was like, "Oh, no. We're out of here!" I was gonna go to Serra in Gardena, but I didn't get a high enough score on the test. So the baseball coach from Serra introduced me to [
Joel Romero
] the baseball coach from Leuzinger. I decided to go to Leuzinger. Well,
my dad
decided I was gonna go Leuzinger. (Laughs.)
The first day of school, Coach Romero, we were walking to class and he was like, "The basketball coach is right there. You wanna meet him?" I was like, "Nah," because the previous two years, I wasn't able to play at Washington. "I'm just here to focus on baseball and that's it." He was like, "I'm just gonna let you meet him." So I was like, "All right. Whatever. I'll meet him."
His name was Coach Showalter. He was like, "We're gonna have open gym at the end of the week." I went and just completely killed the whole open gym. I was clearly the best player in there and I was, "You know what? I think I
will
play."