Los Angeles Lakers:

Ben Harper
October, 28, 2012
10/28/12
10:49
PM PT

By Andrew Kamenetzky
ESPNLosAngeles.com
Archive
With the season just around the corner, I texted two-time Grammy winner and lifelong Lakers fanatic Ben Harper to see if our buddy could drop by the studio to record a show.
His response? "Gotta be done!"
Oh, yes. Yes, it does.
With the Lakers on the verge of playing real games with one of their most star-studded rosters, we wanted to get Harper's take on what may lie ahead for the purple and gold. As always, we also talked some music, including
"Get up!," his upcoming collaboration with blues legend Charlie Musselwhite.
(Harper was kind enough to give us advanced copies of the CD, and it's fantastic. Chock-full of slide guitar, harmonica, gorgeous vocals and other assorted goodies; if you enjoy blues, mark your calendars for Jan. 29.)
The show can be heard by clicking on the module, and a breakdown of talking points is below:



- (1:15):
Less than two minutes into the podKast, a Christmas present for Ben emerges: A Lakers jersey with "Kamenetzky" on the back. Seriously. He wants one. How can someone with such strong taste in music have such poor taste in Lakers gear?
- (4:02):
Harper recounts his delighted reaction to
Steve Nash
and
Dwight Howard
entering the fold. It was yet another strong summer for Mitch Kupchak, which raises a poignant question. Why don't more people rock a "Kupchak" jersey in gratitude for everything he's done over the last five years? Or a "Kupchak" neck tat, if that's your preferred way of giving thanks?
- (6:36):
Harper may be a rock star whose life is filled with fame, connections and oodles of perks. But that doesn't mean he can't relate to Joe Q. Laker Fan shut out while Time Warner Cable negotiates deals with various providers. As
US Weekly
would say, "Stars: They're just like us!"
- (11:00):
Ben shares his expectations for the season, neatly summarized in one word: Championship.
- (12:30):
From
Cream
to
Audioslave
, rock has seen its share of "super groups." They often produce fantastic music, but the shelf life is typically short, given the egos involved. Harper, who's collaborated with enough legends to understand the dynamic involved, explains how the "super group" issues mirror those that faced by the Lakers with their video game starting five.
"You have to be as ready to learn and listen as you do contribute. And you contribute by learning and listening. Taking a step back. Knowing when to step back. Knowing when to leave the room. Knowing when to be present. A lot goes into the personal dynamics of making a super group or a collaboration work. But when they work, they work. It's chemistry."
- (21:45):
Ben didn't get my
August memo about why the 2013 super team Lakers aren't the 2004 super team Lakers
, so we break down the differences and calm his nerves.
- (27:00):
Kobe has talked frequently and insistently about retiring after 2-3 seasons, in part because of a drastic slippage he'd rather avoid than accept, and also because of how hard the aging process makes the preparation that comes with playing at Kobe's level. As a musician with a career now 20+ years in the books, Ben understands the difficulty of maintaining his own standards, as well as the physical and mental grind of touring, seeking inspiration, etc. How does he keep the process feeling fresh?
He also attempts to uncover the meaning of life and our purpose on this planet, but that's a bit trickier.
- (35:08):
We close the show with
"I Don't Believe a Word You Say,"
a track from "Get up!" Good stuff.
March, 5, 2012
3/05/12
10:24
AM PT

By Brian Kamenetzky
ESPNLosAngeles.com
Archive
Over the last couple of seasons, we've been lucky enough to strike up a friendship with Grammy Award winning musician/die-hard Lakers fan
Ben Harper
. He's been a frequent guest on the podcast, talking hoops and music (including this really cool conversation about
cover songs
, and another about
Marvin Gaye's iconic anthem
) and we'll often get emails from him before, during and after games. Following the win over Miami Sunday afternoon, like a lot of Lakers loyalists, he was pretty fired up. This landed in my inbox, and for anyone looking to put into perspective the sort of season
Kobe Bryant
is having, Harper does a pretty good job:
"Today's Lakers is the team no one wants to face in a seven game series.


So lemme get this straight:


He gets his nose broken AND a concussion and STILL goes out and breaks Jordan's all time record of total points scored in all-star game history... mind you in the EXACT same number of all-star appearances, 14....THEN comes back not missing a game or practice and scores over 30 per game in the next 3 games whilst wearing a MASK still with a broken nose, all the while leading the league in scoring in his mid 30's!?

KB24MVP"
January, 27, 2012
1/27/12
10:55
PM PT
It's always fun when friend-of-the-podKast, two-time Grammy winner and die hard Laker fan
Ben Harper
visits the studio. We sat down for an extended conversation about the state of the Los Angeles Lakers (Ben's a little worried) and, of course, music. The show was broken into two sections
-- Part I and Part II can be heard in the entirety here
-- and the breakdowns can be found below, with specific links to certain sections.
Part I
- (3:10): Ben expresses concerns about this team
. For starters, Harper has concerns about the championship viability of a team featuring two seven foot players. As he notes,
Mike Brown
has talked about using
Pau Gasol
and
Andrew Bynum
the way
Tim Duncan
and
David Robinson
were used in during the Spurs' title runs, but that's also the last time we've seen that work. Playing the averages, is this really a winning formula?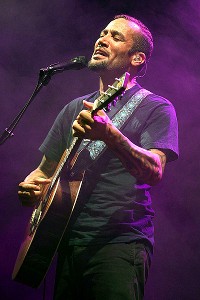 Mark Metcalfe/Getty Images
The Lakers and music are Ben Harper's passions.
- (7:25): Ben's also concerned Brown's emphasis on hellbent-for-leather defense 48 minutes a game
is inspirational in theory, but too draining in practice. Having said that, he's actually confident
Kobe Bryant
can maintain this pace and production over the next 47 games, despite this season's wrist injury and last season's knee/ankle problems. Watching him play like the dude wearing the #8 jersey has made the stretches of ugly offense a kick to watch.
- (15:13):
Kobe walks a high-wire act each game as the Lakers' scorer and primary play-maker
, and Ben feels for the superstar as he carries that burden. "He's brought us five rings, and to this day, the city can't decide if they him to shoot or pass," laughs Harper. In the meantime, Ben wants to see the German doc for his own knees. There's nothing wrong with knees, but seeing Kobe bounce up and down the court this season, why not?
- (18:25)
: We recorded this show hours before Wednesday Lakers-Clippers game, a contest that featured some animosity between the teams. Mention of the Clips also got a rise of out "Ben Harper the Laker fan." Between a dynamic he describes as "Yankees-Mets" and the local reminder
Chris Paul
should have been a Laker, let's just say the Clips won't be receiving complimentary copies of
"Fight for your Mind"
anytime soon.
PART II,
where we talk music, and specifically, the art of recording a cover song:
- (1:15):
"Covers have a way of finding you," Ben explains. Sometimes you'll hear them from friends or randomly on the radio. Other times, you'll be asked to take part in a soundtrack, as was the case when Ben recorded the Beatles' "Strawberry Fields Forever." It was requested he keep it very close to the original, which provided the challenge of remaining faithful to the employer while adding his own stamp.
October, 2, 2011
10/02/11
12:35
PM PT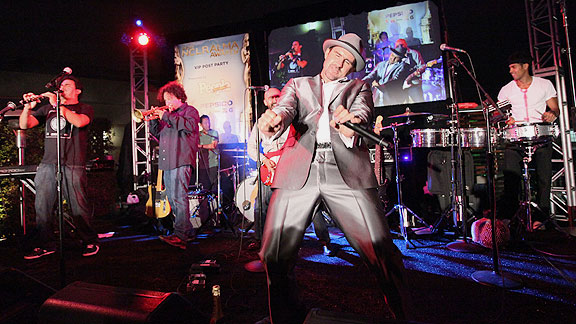 Jesse Grant/Getty Images
Ozomatli has a special place in L.A.'s music, Latino and sports communities.
In 1996, a movement was born at 4th Street and Bixel in Downtown Los Angeles. A community center needed additional funding, and among those on hand to drum up support were several musicians from different areas around L.A. Upon meeting, they decided to form a band called
Ozomatli
. Saxophone player
Uli Bella
describes the early days as "chaotic," joking that "whoever showed up was in the band." But they eventually got organized, then developed a rabid club following.
Cut to 2011. Ozomatli has released six records and played countless shows around the world. But they've never lost touch with their local roots. They remain a decidedly L.A. band and look to provide a voice for the city's Latino community. As sports fans, the majority of the band also bleeds blue, purple and gold. They've long been on our podkast radar, and with ESPNLA celebrating Hispanic Heritage Month, the time was right to finally get that ball rolling. Brian and I were joined in studio by Bella, bass player
"Wil-Dog" Abers
, and drummer
Mario Caliere
and guitarist
Raul Pacheco
.
The lively conversation
can be heard here. Among the talking points:
-
(4:34)
The band's musical influences, which can be traced around the globe. As Wil-Dog describes it, "Ozomatli's sound is the sound of when you're cruising down one of the biggest streets of L.A., and all the music that comes out of everybody else's car, that cacophony in the middle, that's Ozomatli.
"All the sounds and cultures that L.A. represents."
-
(11:18)
Ozomatli considers itself a political band, which by definition risks alienating fans. But despite being generally left-leaning, they're not rigidly partisan. They've played in protest of the Democratic National convention and, despite some outward criticism of the
George W. Bush
administration,
served as cultural ambassadors overseas on its behalf
. And similar to how
Bob Marley's
socially conscious lyrics were balanced by upbeat melodies, Ozo refuses to allow the joy to get sucked out of their music, regardless of subject matter.
-
(13:40)
Ozomatli aren't merely Dodger fans. The band has
actually recorded for the Blue
. (They've also cut one seriously funky version of
"Take Me Out to the Ballgame."
)
Fernando
Mania played a big role in making Uli a Dodger fan, but baseball's worldwide audience has since grown as diverse as the population of Los Angeles. These days, the sport is a worldwide welcome wagon. Like Raul points out, the Dodger "L.A." is this city's unofficial logo.
We also discuss how the
Bryan Stow
beating sparked conversation about the Dodger Stadium demographics and -- fairly or not -- the Latino faces in attendance.
February, 19, 2011
2/19/11
6:35
PM PT
With the L.A. All-Star weekend in full swing, it's fitting to recall
Marvin Gaye's
iconic, controversial rendition of the national anthem from the 1983 ASG at the Forum. The performance has since become accepted and admired, but at the time it represented
the latest example of art and patriotism in disharmony
. Before Gaye,
Jose Feliciano
entered
a firestorm
after his
acoustic rendition at the 1968 World Series
. Like Feliciano,
Jimi Hendrix
wasn't intentionally thumbing his nose
with his electric version at Woodstock
, but
had to defend himself against those accusations
.
PODCAST
With NBA All-Star 2011 upon us, Andy and Brian take a look back at the iconic- and controversial- performance of the national anthem by Marvin Gaye at 1983 ASG in L.A. with Grammy winning artist Ben Harper.

Podcast

For more perspective, we tapped two-time Grammy Award winning musician
Ben Harper
, a Lakers fanatic and no stranger to anthem performances. (His was on a lap steel guitar during the 2007 NBA Finals.) Brian asked Harper if a song as sacred as the anthem should be allowed artistic interpretation:
"It has to be. It has to be. Because as defining of a song as it is, that's what makes America beautiful. That freedom of interpretation. That's what makes us not only who we are, but who we can become. Or freedom to interpret even the most strict of guidelines, whether it's musical or social or political or spiritual."
Among the talking points of our conversation:
- Ben vividly recalls watching Gaye's rendition of the anthem, which sparked debate in his house. He also recognized immediately this was a moment he'd never forget. In particular, how the arrangement resembled (perhaps too closely) Gaye's most recent hit,
"Sexual Healing."
As Ben said, this was "
so
risky." But as he also noted, "it's so much who (Gaye) was. How else could he have done it?"
- The crowd's reaction to Gaye's performance. For much of the song, it feels like everyone wasn't even sure how they were supposed to react. Were they allowed to enjoy something so different and, to some, inappropriate?
- How race can perhaps make a performance like Gaye's, Hendrix's or Feliciano's seem more politicized than intended.
- Should the national anthem even be a staple at sporting events in the first place? It's a tradition, but does the song really mesh well with the venue?
As Ben asked, how did God, country and sports become so intertwined? At times, like after 9/11, this union helped our country heal during difficult times. At other times, it has been messy.
- Even as an artist with the guts to create an absurdly eclectic resume, Ben admits actually singing the anthem would be seriously intimidating. What could prompt him to actually take the plunge, much less with his own spin? An invitation to belt it out before his beloved Lakers play.
- And finally, for those curious, the class was in fact Lamaze, not Bradley.
November, 1, 2010
11/01/10
3:46
PM PT

By Brian Kamenetzky
ESPNLosAngeles.com
Archive
Throw a rock in this city, and you'll likely hit a famous person claiming to be a Lakers fan. Some are legit, some not so much. Saturday afternoon on ESPNLA.com On Air, Andy and I had the pleasure of welcoming two-time Grammy winner and Claremont native
Ben Harper
into the studio. He's a common sight around Staples Center, and we'd heard he had a true passion for the purple and gold. Still, you never know. Or we didn't, until he described the epiphany triggering his love for the Lakers:
PODCAST
Andy and Brian Kamenetzky welcome two-time Grammy winner and huge Lakers fan Ben Harper to studio, talking basketball and music.


Podcast

"As a kid, I didn't read Dr. Seuss, I read Jim Murray. In the 1979-1980 season, my parents had the newspaper spread across the table, as they did every morning. I was just at the age when I could read it, and recognize what was going on in it. Calendar section, ugh. Front page, meh. I said, "Wait a minute, what's this?" It just jumped off the page in 3-D. Kareem had gotten injured in Philadelphia, and Magic was going to start at center. And it pulled me in like a novel or something. I dove right into it. Our TV wasn't working, and I set my alarm to listen to Keith Erickson and Chick Hearn, and I listened to the game when Magic did the tip off. I haven't missed a game since."
He's not kidding. Harper told us of the incredible lengths he goes to guarantee he sees every game and consumes every article. Fair to say, the guy is hard core.
From there, we talk about a wide range of subjects including his opinion of this year's team, the incredible experience of being present for last year's Game 7 vs. Boston, his first game at the Forum, and a debate of
Derek Fisher's
rafter-worthiness. And, of course, we talk about Harper's incredibly varied music career and the wide range of styles he's engaged, plus his new band
Fistful of Mercy
and their album,
As I Call You Down
.
It's a very cool conversation about basketball and music with a true Lakers fan, and a good guy to boot.