Los Angeles Lakers:

Besiktas
November, 24, 2011
11/24/11
10:36
PM PT
They couldn't tempt
Kobe Bryant
, but as ESPN.com's Marc Stein reports, the Turkish club Besiktas appears to have landed a different Laker to pair with
Deron Williams
.
Lamar Odom, sources say, has agreed to play with the Istanbul-based squad:
"Final details will not be sorted out before Friday, sources said, but Odom has indicated that he plans to join the Istanbul-based team as early as next week if the NBA lockout continues. Sources told ESPN.com that the deal would pay Odom in excess of $2 million if he spends the rest of the season with Besiktas. The deal -- first reported in Turkey by NTV Spor and local journalist Mete Aktas -- will include an opt-out clause to return to the NBA as soon as the lockout ends, same as in Williams' contract.
In an ideal world, Odom will never board a plane, after
settlement talks planned for Friday between the league and its players
bear fruit, bringing a swift end to the lockout. More likely, any progress will be slower, allowing Odom the opportunity to pond hop.
As I've written, for L.O., it's a good call
. He's many things, but historically at least an offseason self-starter hasn't been one of them. When NBA camps eventually open they will be incredibly short. Players typically using a normal preseason to work themselves into shape, as Odom often has, won't have that opportunity. Adding the structure of a team environment can only help. Moreover, Odom is a rhythm player. Getting a few games under his belt (particularly in European competition, which tends to emphasize team play and ball movement, two things at which he excels) makes it that much more likely Odom will hit the ground running when/if the NBA season begins.
Add in the nice chunk of change he'll pocket, and it's a solid proposition for all involved.
For a little more opinion on Odom-to-Turkey, check out the newest edition of The Forum:
November, 23, 2011
11/23/11
10:21
PM PT
Because Besiktas apparently gives out contract offers like
Gideons
do bibles, I wouldn't be surprised if half of you reading this have a deal on the table to join the Turkish hoops squad.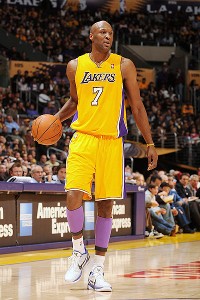 Evan Gole/NBAE/Getty Images
A little warm up time overseas could very well do Lamar Odom some good.
Particularly if one of you is
Lamar Odom
.
ESPN.com's Marc Stein reports Odom has been extended an offer by the Istanbul-based club
, which has at one point or another during the lockout been connected by rumors and reports to, among others,
Kobe Bryant
,
Kevin Durant
,
Kevin Love
,
Carlos Boozer
,
Luol Deng
,
Marcin Gortat
and
Deron Williams
, who is of course the only guy to actually sign. (I hear conversations with other luminaries like
Basketball Jones
,
Jesus Shuttlesworth
, and
Lola Bunny
are progressing nicely.)
Stein says Odom is "giving the offer real consideration," though insurance questions (among others, I would assume) need answering. I don't know if Odom will ultimately take the deal, but where most Lakers fans hope the team's stars don't make the jump overseas -- no need to put extra strain or injury risk on Bryant,
Andrew Bynum
, or
Pau Gasol
, for example-- in Odom's case it wouldn't be a bad idea. Frankly, he's never had a great reputation for showing up to camp in peak physical condition, so getting real, competitive run in before camp opens can't hurt. Moreover, he's a rhythm guy. I don't think it's a coincidence his best season in L.A. came after Odom helped lead Team USA in the World Championships two summers ago.
No Laker has kept a lower profile this extended offseason than L.O. Maybe he's in spectacular shape and is just keeping it to himself, in which case staying stateside is ideal. If I had to bet, more likely a little structure would do him some good, because whatever training camp the Lakers eventually get (knock on wood) won't be the type in which a player can work himself into shape. Anyone starting this season behind the eight ball physically will stay there. Bad things happen behind the eight ball.
Meaning a little burn in Turkey, or anywhere else for that matter, could be a wise move.
August, 5, 2011
8/05/11
2:59
PM PT
The NBA is in "All Lockout, All The Time" mode these days, so The Triangle is following suit. The K Bros and Ramona Shelburne examine who currently has the upper hand between the players and owners, and whether superstars going overseas strengthens or weakens the players' position at the bargaining table.


July, 31, 2011
7/31/11
3:39
PM PT
Short of the proverbial offer he can't refuse -- huge money version, as opposed to something from
The Godfather
-- for
Kobe Bryant
to suit up for Besiktas in Turkey, not exactly the most esteemed of European clubs, seemed a long shot. Still, talk persisted, fueled in part by Kobe's connections to Turkish Airlines and
reports of a meeting
scheduled for Saturday afternoon between Bryant, his representatives, and folks from Besiktas. But as
Dan Feldman reports for ESPNLA.com
, Kobe says he "hasn't spoken to Besiktas in weeks."
Doesn't sound like that meeting was very productive.
Though it appears Kobe won't be teaming with
Deron Williams
in what I have to assume would be the best backcourt tandem in that team's history, as it pertains generally to playing overseas he remains amenable. "I'm just waiting for my phone to ring," Bryant said. "I'll play anywhere."
(I recommend testing the theory by inviting him to your pickup game.)
So while the Besiktas angle appears dead, expect Kobe-to-______ rumors to persist through the summer and into the fall, particularly if it appears the lockout will extend into the NBA season and the financing to pay what I'm sure would be a hefty salary appears solid.
July, 28, 2011
7/28/11
11:28
PM PT
By the Kamenetzky Brothers
ESPNLosAngeles.com
Archive
July, 23, 2011
7/23/11
6:53
PM PT
The Ear Candy Express chugs along. Among the taking points:
PODCAST
Andy and Brian discuss Kobe playing overseas, Andrew Bynum's maturity and wacky trade scenarios. Plus, the proper way to say "Besiktas.".

Podcast

- Will he or won't he? That's
the question these days when it comes to Kobe Bryant and playing in Turkey
. While neither of us are remotely certain how to pronounce
"Besiktas
," we're both fairly confident the team is using The Mamba for some free publicity. For that matter, we both have strong hunches Bryant isn't going anywhere.
Between Besiktas' frozen assets, the very low monthly salary (by his standards), and the blip a Turkish league title would represent on his resume, this isn't worth Bryant's time on any level. There are more practical ways to stay in shape --
like barnstorming in China
-- at this stage of his career and health.
(On a related note...
Man alive, Kobe is wealthy
!)
-
Andrew Bynum's poor judgment with handicapped parking spots
is the latest incident prompting fans and media to question his maturity. As an isolated matter, Bynum's actions were indefensible, callous and
summarized poorly in 140 characters or less
, but not necessarily an overwhelming reason for concern.
But combined with a penchant for flagrant fouls and a mind freely spoken without fear of consequence, you wonder if he's mentally where he needs to be. Is Bynum ready for the expanded role he deeply desires? And even the answer is yes, how will
Mike Brown
balance the ambitions of his young center and a certain shooting guard?
- Because it was so much fun,
a look back at "Do it, Mitch!!!
"
July, 21, 2011
7/21/11
2:03
PM PT
Basically, says the report,
officials for Besiktas in Turkey say Camp Kobe is waiting for an offer
to join
Deron Williams
should the lockout extend into the NBA season. From there, I suppose conversations can begin. The Turkish club, however, would need a significant infusion of cash from a sponsor to cover Bryant's contract demands, reportedly $1 million a month. (In other news, Besiktas' basketball funds are
currently frozen thanks to a match fixing scandal involving the team's soccer operations
. Always a confidence booster...)
I still don't believe any of this puts Kobe even remotely close to signing a deal (and suspect the folks at Besiktas are using the opportunity for a little free P.R.). The difference between asking "What can you give us?" and saying "We're in." is large enough to span the
Sea of Marmara
four or five times. The former is due diligence. The latter, a far more serious commitment.
As I've said, should a team, Besiktas or otherwise, arrive at Bryant's front door flush with
exquisitely adorned sacks of Turkish lira
, enough cash to cover the insurance he'd have to take on the $85 million or so remaining on his Lakers contract and leaving enough to make the whole thing worthwhile, there's a reasonable chance he'd go play. The offer, though, would have to be overwhelming to make it worth Kobe's time and effort, and until I see such a deal don't believe it will come.
July, 7, 2011
7/07/11
7:00
PM PT
With the lockout now six days in the books, the world has waited for an NBA player to apply pressure by committing to an overseas squad.
Sonny Weems fired the first warning shot
, but was mostly met with responses along the lines of "Who is
Sonny Weems
?" On Thursday, however, things got a little more interesting.
ESPN The Magazine's
Ric Bucher
confirmed reports that All-Star point guard/theoretical Nets building block
Deron Williams has agreed to play for Besiktas in the event of a prolonged lockout
. (For those of you unfamiliar with the Turkish roundball circuit, this is the same team that briefly employed
Allen Iverson
.) With an agreement also in place with Hawks backup center --
and serial head butter
--
Zaza Pachulia
, Besiktas coach E
rgin Ataman
is apparently confident enough to shoot the moon:
"If there's a possibility, we'll talk with Kobe (Bryant) if he'd like to play in Europe with Deron and with other guys to play we can talk with him," Ataman said. "If Kobe would like to play with us, we will also contact his agent and maybe with him."
And with that bit of name dropping, let the rumor mill turn!!!
Or, if I may inject a bit of sanity... it's more than a little premature to fret Kobe ordering
some (presumably free) Turkish Airline tickets
and donning
Besiktas white and black
.
Ataman merely said he'd like to speak with Team Kobe, which is stating the patently obvious. For that matter, I'm sure he'd love to speak with Team
LeBron
, Team
Rose
and Team
Dwight
, too. That he chose to drop Kobe's name in particular feels more indicative of Kobe's worldwide popularity (bigger than any NBA player) and newly minted Turkish celebrity than the actual likelihood of something happening.
Yes, I realize Bryant has European roots and would easily attract individual sponsorship (which Ataman told SI's
Sam Amick
would provide bigger paydays for D.Will and, theoretically, Kobe
.) And Yahoo!'s
Adrian Wojnarowski
has reported Kobe would be
"open to considering overseas offers."
But again, why not? Bryant would be silly not to take a phone call.
Still, that's a long way from actually uprooting his family or committing to a life away from them on the other side of the planet. (Frankly, we're a long way from Williams boarding a jet. He wouldn't report until late August or early September, when the lockout could either be over or close enough to a resolution to bow out.) When you factor the history of players experiencing problems getting paid overseas, the culture adjustment, and by Kobe's ginormous standards, the relative pittance he'd earn at this stage of his NBA championship window, a Turkish schlep feels like a major hassle.
It makes way more sense to lead
a frivolous barnstorming tour in China
(which, as ProBasketballTalk's
Kurt Helin
wisely notes,
would probably enhance his brand than playing in Turkey
, and at half the sweat.)
Naturally, everyone is curious about the next step. Will other players feel emboldened by a player of Williams' stature and follow suit? I'm guessing no, since I think the idea of going overseas doesn't appeal to most NBA baller and most clubs can't afford to sweeten the pot. But it's certainly less stigmatic than during the last work stoppage. And does Deron's move (and maybe a few others) really put the screws to the owners? Again, I don't think so, because they knew Europe loomed going into this lockout. Plus, if they're truly willing to sacrifice a season to "win," they're by definition thinking about a picture too big to cave over a few stars updating passports.
Mostly, this wrinkle adds spice to an already zesty story line. And perhaps a little more posturing in an endless series of bluffs. As I said before, Williams is a long way from truly committed to a season overseas. I've long felt these negotiations and verbal battles have featured a fair amount of mutual posturing, heels dug in because nothing truly substantive has been lost yet. In other words, because they can.
Once crunch time approaches, I expect both sides to work harder in earnest to find a resolution in lieu of missing half or more of a season. Call me naive, but I believed that yesterday and I believe it today.