Los Angeles Lakers:

Bill Sharman
May, 20, 2014
5/20/14
9:48
AM PT

By Dave McMenamin
ESPNLosAngeles.com
Archive
NEW YORK -- His No. 42 is hanging up in the rafters at Staples Center, but James Worthy will be rooting for 21.5 on Tuesday at the NBA draft lottery in Times Square.


As in, the Lakers have a 21.5 percent chance of vaulting up to one of the top three spots in next month's draft, and Worthy -- the franchise's last No. 1 overall pick back in 1982 -- will be representing the team when they find out their fate at the lottery.

The Lakers finished with the sixth-worst record in the league last season at 27-55. They have a 43.99 percent chance of ending up with the No. 6 pick and a 30.44 percent chance of getting No. 7. The more remote possibilities are moving up (6.3 percent chance at No. 1, 7.1 percent at No. 2, 8.1 percent at No. 3) or dropping even further (3.96 percent chance at No. 8, 0.1 percent at No. 9).

Worthy caught up with ESPNLosAngeles.com to discuss luck and the state of the franchise, while also offering his endorsement on whom should be the next coach of the Lakers:
What was the genesis behind you being the representative for the team? You were the last No. 1 draft pick by the Lakers, and that is an obvious part of your story, but maybe it could have been Jeanie Buss in that role. Maybe it could have been Jim Buss. How did it come about?
"Well, I got a call. I got a call from [Lakers general manager] Mitch Kupchak and [Lakers vice president of public relations] John Black, and I'm not sure what the process was before that. I don't know whether Jeanie just didn't feel like going, or Jim, or one of the Buss children. I don't even know if they asked
Kobe [Bryant]
. I don't know that.
"But, when I got the call, Mitch kind of joked around and said he had heard me on a telecast saying we were overdue for a really high pick and he asked me if I would represent the Lakers at the lottery. So I felt honored, being an old-time Laker from that '80s era. Hopefully we'll bring some of that magical, mystical luck and get us to a good pick. I'm feeling good about it."
[+] Enlarge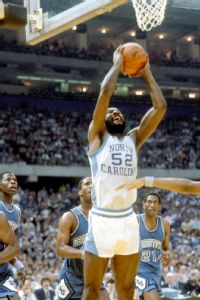 Malcolm Emmons/USA TODAY SportsJames Worthy was the last No. 1 draft pick by the Lakers back in 1982.
I saw on social media that you have a Chick Hearn bobblehead doll with you for the trip. Are there any other knickknacks or lucky items you brought along with you?
"Well, the piece I'm still looking for is Bill Sharman. Bill Sharman was very instrumental in making the trade that brought me to Los Angeles, so I'm looking for [a bobblehead doll of] him. And Chick Hearn was at the draft in 1982 when I was drafted. Chick Hearn was there representing the Lakers. So I'd like to have three bobbleheads up there –- Chick Hearn, if I can get Bill Sharman and then Dr. [Jerry] Buss. Hopefully that will be enough to get us a top-3 pick."
What's your opinion on how important this draft is going to be or how important this pick is going to be for the Lakers, considering where the franchise stands right now?
"I don't think they're looking for a quick fix. I don't think that's what they're looking for. I think most teams kind of look at new-coming rookies as a projection. Something they can grow in the future, two to three years. I think that's what they'll be looking for. There used to be a time when you looked for a certain position, or centers were available back then –- the Ralph Sampson days, those kind of things –- but I think the way the game is evolved is talented players are [defined by] talent, athleticism.
"I haven't talked to Mitch about anything about what they're going to pick, but based on what I've seen in the league the last 10 years, I think that's what they're looking for: The best pick that's going to fit their unit."
Another Laker legend, Jerry West, who we know for his irascible-type personality, once told me at the 2006 draft lottery that he doesn't really like the event because it's a "celebration of losers." Is there any sense of this being below the Lakers' standard to be involved in this?
"[Laughing] You know, I'm certainly not going to argue with Jerry West. He's the king of lottery drafts and precision. But, yeah, it's unfortunate. The Lakers don't like to be in this situation. We'd like to be where we used to be in the past and being a top team, or one of the top three teams. So, it's unfortunate that we've found ourselves here. It's not something we're used to. But I look back over the last three to four years. We thought we had
Chris Paul
and didn't get him. That was very unfortunate. We get
Dwight Howard
and
Steve Nash
, and we only have a plethora of injuries. Then we lose Dwight Howard, when we were thinking of him as the future-of-the-franchise type of player. And now we have only three players coming back under contract [for next season].
"So, it's unfortunate, but this is where we are. There's really no shame. We just have to deal with it and get back the brand that we're accustomed to, and this is part of the process. It's unfortunate, but I think we're happy to be where we are. I don't think we're
happy
to be where we are, but we'll utilize the situation the best we can to get us back where we want to be."
What's your opinion on the various reports out there that the Lakers would be open to trading the pick? Should you bring them luck, you move up into the top 3 and suddenly you could maybe deal it for an established veteran. For instance, Kevin Love. What do you think about going that route?
"For all of my NBA career and for what I've seen since then, that's an option. That's an option that's very feasible, and if you can get the right pick, you can use it for your team or you can use it to get some players or trade that. Knowing Mitch, he's extremely methodical and he's going to weigh all the scenarios and I'm sure if it makes sense to trade the pick, I'm sure that's one of the plays in his playbook. Like I said, I haven't had any conversation with him about it, but just from my experience in what I've seen, it's possible."
March, 28, 2013
3/28/13
6:28
PM PT

By Dave McMenamin
ESPNLosAngeles.com
Archive
MILWAUKEE -- Former Los Angeles Lakers coach Bill Sharman had enjoyed relative anonymity for years, as the 86-year-old continued to serve as a consultant to the team and attend games with regularity.
Well, ever since the Miami Heat threatened his 1971-72 Lakers' record 33-game winning streak, Sharman became relevant on a national scale again.
Apparently Sharman is using all that attention for good.
Sharman is raffling off his 2010 Lakers championship ring to raise money to be spread across eight charities of his choosing.
Metta World Peace engaged in a similar endeavor, raffling off his 2010 ring and
raising more than $650,000
for mental health charities. While World Peace's ring was special because he earned it by scoring 20 points in Game 7 of the Finals against Boston, Sharman's NBA credentials are even more impressive. Sharman is one of just three people to be inducted into the Naismith Memorial Basketball Hall of Fame as both a player and a coach.
More details about the raffle will become available after a news conference Wednesday. The fundraiser is being put on thanks to NetRaffle.org by Celebrities For Charity.
November, 7, 2011
11/07/11
4:41
PM PT

By Brian Kamenetzky
ESPNLosAngeles.com
Archive
There were many standout moments at Monday's Staples Center news conference
commemorating the 20th anniversary of Magic Johnson's retirement
, not the least of which was the check for $1 million presented to his foundation. Johnson spoke of that day two decades ago, when he announced HIV would force him out of the game. He spoke of how he coped and the optimism he felt in the face of what many believed a death sentence. He talked about his health, advancements in treatment and the people to whom he feels indebted for helping him stay healthy. Magic thanked his wife and family, and noted the obligations he feels as the face of HIV not only in this country, but abroad.
But on a day filled with
remembrances
of a
landmark moment
in American culture and sports history, one small moment best defined the magnetism of Magic. After delivering his speech and fielding questions from the assembled media for more than 20 minutes, Magic invited the former Lakers in the crowd to join him on stage for a picture.
Jerry West, Pat Riley, Michael Cooper, James Worthy, Mychal Thompson, Kurt Rambis
and
Mike Dunleavy
. He noticed
Lakers trainer Gary Vitti
in the crowd, and called him up, too.
"I said all Lakers," Magic instructed.
Quietly, Lakers P.R. director
John Black
walked past the stage, and whispered something to Magic. "Of course,
Bill Sharman
," Magic declared, pointing to the legendary former coach and basketball pioneer seated maybe five rows deep. Come on up.
Sharman is 85 years old, and moving from crowd to stage isn't an instant process. It could have been awkward had another man controlled the microphone. Magic, always the floor general, instantly recognized the situation and started into a story about a free-throw shooting competition he once engaged in with Sharman. He hit 15 or 16 in a row, and was summarily dusted when Sharman stepped to the stripe.
It was a quick anecdote, maybe 90 seconds, and I suspect most people won't remember the details. But because Magic so successfully worked the room, they also won't remember the difficulties Sharman had negotiating the steps up to the stage, or the people moving there to help him. Suddenly, he was there in the front row, and the photo op continued.
That's Magic Johnson.