Los Angeles Lakers:

Brandon Knight
February, 3, 2013
2/03/13
2:20
PM PT

By Dave McMenamin
ESPNLosAngeles.com
Archive
AUBURN HILLS, Mich. --
Metta World Peace
was hit with a flagrant foul 1 in the Lakers' 98-97 win over the
Detroit Pistons
on Sunday for getting tangled up with Pistons guard
Brandon Knight
, and Knight doesn't believe that punishment was severe enough because he was hit with a fist.
"The play needs to be reviewed because he definitely threw a punch," Knight told reporters after the game. "It felt like he threw a punch. That's why I reacted the way I did.
"The play was over and he grabbed me around the neck. If someone grabs you around the neck, you're not just going to let that happen. You do what you need to get that person off you."
World Peace and Knight tussled under the hoop with 1:43 remaining in the second quarter while going for the rebound after
Greg Monroe
was called for a shooting foul on a shot attempt by
Pau Gasol
. Play was stopped and an official timeout was signaled so the referees could assess the situation, no doubt bearing in mind the "Malice at the Palace" incident that World Peace was involved in as a member of the
Indiana Pacers
in 2004.
"He's a small guy," World Peace said after finishing with eight points and nine rebounds in the win. "(Knight) was trying his hardest to keep me off him. He worked hard, man. That kid, I don't know where he's from, I don't know what school he went to, because he was guarding me and I was crashing the boards. He's a tough kid, man. He tried to keep me off the glass and he did a good job. That's all I can say. He's a tough kid, very great. He's a tough point guard or shooting guard or whatever he is."
It was the first flagrant foul of the season for the sometimes volatile World Peace, who was suspended for seven games last season for an elbow to the head of
Houston Rockets
swingman
James Harden
, who was playing for the
Oklahoma City Thunder
at the time.
"They got tangled up and they determined that he was a little bit more aggressive than the other other guy," said Lakers coach Mike D'Antoni. "It happens."
November, 4, 2012
11/04/12
11:58
AM PT
By akamenetzky
ESPNLosAngeles.com

As I mentioned in
the Rapid Reaction from Friday's loss to the
Clippers
, I'm not losing my head over this 0-3 start. However, if the
Lakers
remain winless after a date with the
Detroit Pistons
, a team that probably won't make the playoffs
in the Eastern Conference
, I will in fact panic. Not in response to the loss itself, but rather because the streets of L.A. will be filled with fans who've lost their minds. They'll inevitably turn on each other, which will quickly transform L.A. into an apocalyptic free-for-all. And I care too much about my loved ones to expose them to such madness. Thus, I'll pack up the fam and the cat, and we'll head to an undisclosed location, preferably at higher ground. (Big Bear sounds safe enough.)
So those are the additional stakes in play as the Lakers try to get off the schneid: My ability to continue living in Los Angeles County.
For more perspective on the Pistons, I sent five questions to Patrick Hayes, who covers the team for the TrueHoop network's
Piston Powered
blog.
Land O' Lakers:
With the season now underway, what have been your biggest takeaways of the Pistons? Do you think they have any ability to surprise this year?
Patrick Hayes:
The Pistons appear to be taking advantage of all of the youth on the roster by looking to run more on offense after being one of the slowest-paced teams in the league the past three seasons or so. In the season opener against
Houston
, although the defense was bad, the Pistons did come up with 12 steals, which helped their transition game. Most of the players on the roster will never be confused with good defenders, but they do have a lot of length, even at the guard position, and quickness, so being disruptive in passing lanes could be a new skill displayed this season.
As far as ability to surprise, I'm not convinced. I think they'll be improved and more fun to watch, but I don't necessarily think that will automatically lead to more wins. They'll be in the conversation, along with three or four other teams, for the final playoff spot in the East if everything goes perfectly. My guess, though, is 30-35 wins.
March, 6, 2012
3/06/12
8:11
AM PT
By The Kamenetzky brothers
ESPNLosAngeles.com
Archive
Words won't be minced. The Pistons are a bad team. Yes, second year center
Greg Monroe
--who could receive Most Improved Player of the Year votes -- and rookie point guard
Brandon Knight
could emerge a foundation worth building around. But unless they can jump forward in time five or so years, gain seasoning and veteran savvy, then go back to March 6, 2012 to stop the Lakers (like
"The Terminator,"
but with basketball), they can only elevate a crummy Detroit squad so much. The Lakers are a far superior team, which makes this a game that should feature 5-10 minutes of garbage time from
Devin Ebanks
,
Jason Kapono
,
Josh McRoberts
, and
Luke Walton
.
Then again, being so outmatched, in its own right, makes the Pistons potentially dangerous. The Lakers are coming off a victory against Miami, which makes a battle in Detroit feel anticlimactic by comparison. The game should be pretty one-sided, but those expectations could turn this into a legitimate game. A sham will do just nicely, thank you very much.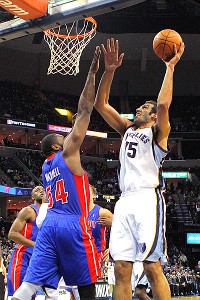 Spruce Derden/US Presswire
The Piston cannot stop Hamed Haddadi. They can only hope to contain him.
For more thoughts on the Pistons, we called upon
Patrick Hayes
of the True Hoop Network's
Piston Powered blog
.
Land O' Lakers: I realize there are many to choose from, but if you had to put your finger on the single biggest reason the Pistons are struggling so mightily this season, what would it be?
Patrick Hayes:
Yeesh ... like you said, tough question. I'll go simply with defense, though. Heading into the season, the reality was everyone knew the roster had major deficiencies.
Lawrence Frank
has done a good job with restoring some semblance of locker room harmony and he's given young players Greg Monroe, Brandon Knight,
Rodney Stuckey
and
Jonas Jerebko
plenty of minutes, but with Frank's defensive pedigree, I hoped the Pistons would be more competitive at that end of the floor sooner. There are many games where opponents simply do whatever they want offensively with no resistance.