Friday, Brian took a look at what Kobe Bryant loses in the event of a lost season. And while the purple-and-gold universe rightly revolves around The Mamba, he's not the only Laker with skin in this game. His teammates would also feel the effects of an obliterated season. The stakes vary, but none will go untouched. Here's a look at what's potentially lost for the rest of the roster if 82 games go down the porcelain.
Pau Gasol: Hall of Fame bid, a reputation cleanse
As I wrote in a recent post regarding lockouts and legacies, I don't think any Laker has more to potentially lose than Pau. Brian noted the legitimate stakes for Kobe, but I firmly believe his legacy is essentially set in stone, partially because of his excellence and partially because of the "Jordan thing," fair or not. Without an eye-popping surge in achievement (or a seriously ungraceful career twilight), I doubt the perception of Bryant changes much. Where he finishes in the G.O.A.T. rankings among pundits is an exercise in subjectivity, and an often arbitrary and meaningless one at that.
Pau, however, is in my estimation on the Hall of Fame bubble. He has been terrifically successful in the Association, and his European career certainly provides a push. At the same time, his NBA story contains many chapters about failure.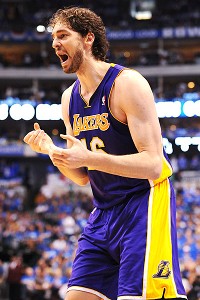 Noah Graham/NBAE via Getty Images
Pau needs this season to rediscover all kinds of mojo.
The Grizzlies were swept three times in as many playoff series with Gasol the focal point.
The 2008 Finals, when he became the face of a team unable to bang with Boston.
The 2011 Finals, when fingers pointed mostly in his direction for the sweep at Dallas' hands.
The way he continually takes two steps forward, two steps back at erasing the "Ga-soft" tag.
A third championship could firmly solidify Pau's Springfield credentials. He could make it anyway, but another title would probably tip the scales in his favor for good, and the Lakers' window as contenders ain't getting any wider. Beyond his future legacy, shedding some current baggage would be beneficial. His name is sullied right now, and this admittedly is not sitting well. The longer we go without basketball, the more negative imagery sticks.
Lamar Odom: Membership with the Lakers
Ramona Shelburne noted during the most recent edition of The Forum how a lost season could be Odom's last in a Laker uni. The salary cap will only grow more restrictive, which could necessitate painful cost-cutting. Odom, whose 2013 salary is only partially guaranteed for a $2 million buyout, could emerge a brutal casualty.
From the team's perspective, this would be a tough pill to swallow, as LO's value can't be overstated. In his primary role, he's an absolute luxury off the bench. When Andrew Bynum inevitably gets injured, Odom offsets that damage. His versatility allows him to play anywhere, make plays for others and work the glass to critical effect. I've long maintained he's among the more underrated defenders in the league, much less on the Lakers. Lamar is also the team's emotional center, and that personality would be difficult to replicate.
Plus, for fans who've watched Lamar mature over seven seasons from an enigma to a crucial part of two championships, a final season vanishing into the ether would be horrible to watch. Nothing lasts forever in sports, and there's no guarantee his career would end in purple and gold under the old CBA. Still, we can all agree he deserves a better farewell.
Derek Fisher: His last shot as a starter
Beyond the mother of all lost hero opps -- being remembered as the man who saved the season by spearheading a palatable CBA -- this season may have been Fisher's last among the first five.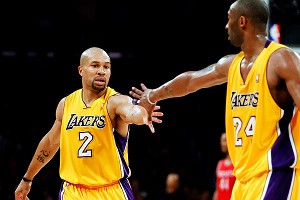 AP Photo/Chris Carlson
Fish would rather slap hands with Kobe before the opening tip, rather than as a sub.
A truly open competition for starting point guard honors is coming. The triangle, which doesn't require Fisher to function as a traditional point guard, will largely be scrapped. Phil Jackson is gone, along with the unconditional trust and leeway he afforded Fish. If Fisher retained his starting job this season, I imagine it would have largely been a matter of meshing skill sets. (Or Steve Blake flailing.)
But in the final year of his deal at age 38, Fisher feels like a serious liability playing starter's minutes. Even at just 15 minutes per night as a "starter in name only," you have to question what's gained.
Fisher considers the starting job an honor pried from his cold dead hands. Thus, every last opportunity to retain it will be coveted.
Andrew Bynum: The chance to prove his worth, locally or around the NBA
Can Bynum go an entire season without a significant injury? What's Bynum's role in Mike Brown's vision of the future? How will Bynum and Kobe co-exist in that vision? Is Bynum physically and mentally ready for the increased workload and presence he clearly desires? Will his voice finally matter in the locker room? What happens if it doesn't?
Do the Lakers pick up his $16+ mil option? Do they bang out an extension? Do they trade him? (And if it's the latter scenario, does his value suffer without any evidence for the previous questions?)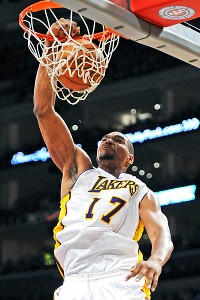 Win McNamee/Getty Images
What becomes of Andrew Bynum and the Lakers? Without this season, it's harder to say.
Lotta questions on the kid's plate as we speak, all potentially answered by the 2012 campaign. Instead, Bynum remains a matter that may require decisions while flying somewhat blind.
Metta World Peace: Focus and skills
During his inaugural season, MWP's fit with the Lakers was often questioned but never his focus. Thus, this famously flighty player's quirks were viewed by fans as endearing. His followup campaign, however, left much to be desired, so post-loss antics like spraying "Unbreakable" or tweeting about a single elicited less "that's just Ron-Ron being Ron-Ron." This offseason has featured more music, a comedy tour, "Dancing With the Stars" and a British soap opera flirtation... and that's BEFORE games were lost. People have even wondered if his philanthropic efforts, noble as they may be, represent too much on his plate.
MWP bristles at concerns over focus, and told me "damn skippy" it's possible to hit a Game 7 dagger while thinking about "Champion." Still, the clock is back on MWP to prove himself, and the longer he remains off the court, the easier it becomes to picture his attention irreversibly scattered.
Or in the case of his skills, irreversibly diminished. Even if MWP returns for the 2013 season with a laser focus, the dude will be a year older, slower and more vertically-challenged. Will this equal a sustained decline in scoring or even his calling card defense? The Lakers don't just need a sharpened focus from their starting small forward. He needs to play better. Is a bounce back feasible for a 33-year old after more than a year off?
Steve Blake: A bounce back opportunity
Few people talked up Blake as a perfect acquisition more than yours truly. And nobody would like to see Blake validate my armchair G.M. prowess -- albeit a year late -- than Blake himself. If for no other reason than to avoid a repeat of this horribly awkward exit interview.
Matt Barnes: Stability
Barnes has played for eight teams in his eight NBA seasons. (He is the only player in history to play for all four California teams.) Two consecutive seasons in purple and gold would mean a lot to Barnes even if the Lakers weren't the team he grew up worshiping. Maybe another good season could be parlayed into a modest multi-year deal. Instead, a lost season makes him a free agent without the second chance to cement his value, which means perhaps yet another U-Haul reservation.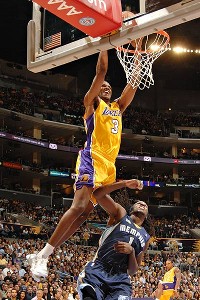 Noah Graham/Getty Images
Devin Ebanks demonstrated some promise, but an ASAP followup opportunity is crucial.
I'd say the same for fellow journeyman Shannon Brown, who finally discovered stability in L.A., except I'd have been pretty surprised if he returned to begin with.
Luke Walton: Truth be told, very little
Were the CBA ironed out with a presumed amnesty provision, unless he retired for medical reasons, the Lakers cutting anyone but Walton would have been shocking. From there, the odds favor his NBA career ended. Even at the veteran's minimum, I don't understand why another team would sign a 31-year-old with dwindling athleticism and a back at risk every time he sneezes. Walton's a fantastic "locker room" guy, but you can find others with better odds of remaining useful. There's simply little incentive to pick him up.
If, however, basketball picks up next October with Walton in the last year of his deal, the Lakers might opt to let it expire or move him, then waive either MWP or Blake for bigger savings. Subsequently, Luke gets one last shot to prove he can stay healthy and contribute. Granted, these odds also feel long, but certainly better than any scenario where he doesn't begin the season on a roster. Along these lines, Walton is the only Laker who arguably benefits from a lost season. If nothing else, he has the least to lose.
Devin Ebanks/Derrick Caracter: A proving ground
Ebanks barely sniffed the court during the first half of his rookie season, then missed the second half because of a leg injury. Caracter wasn't mentally prepared for his sporadic early minutes, then barely made a ripple beyond an arrest the night before a playoff game in New Orleans. Both have talent (and in the case of Ebanks, a good reputation among the Laker brass), but neither is a lock to remain in the league. They desperately need this season to land on a roster and demonstrate NBA level skills.
Darius Morris/Andrew Goudelock: Quite literally, an NBA career
Doomsday scenarios probably affect Goudelock more than Morris, the more relatively established commodity. However, both could get squeezed competing in fall 2012 with two seasons' worth of draft classes and free agents for a roster spot, whether with the Lakers or elsewhere. Should they get iced, opportunity may never knock again.
Either way, no athlete should ever be jealous of what the blogger who covers their team makes. For the time being, Morris and Goudelock probably are.