Los Angeles Lakers:

Cash Warren
November, 9, 2011
11/09/11
9:29
AM PT
By The Kamenetzky Brothers
ESPNLosAngeles.com
Archive
As part of a continuing series, NBA players share how growing up in L.A. shaped their games.
We bring you the second part of our interview with
Baron Davis
, the NBA player we feel most epitomizes "L.A." Between his upbringing with roots in South Central and Santa Monica, plus an eye fixed on Hollywood and the next generation of ballers, Los Angeles remains a huge part of Davis' identity.
In part I
, he talked about learning the game as a child, the influence of his family and neighborhood and how he arrived at the prestigious Crossroads School. In part II, the L.A. journey continues.
Land O' Lakers
: During your senior year, Crossroads won the state title
by absolutely destroying Sacramento Encina 93-57.
How did such a lopsided win happen?
BD:
In high school, we were
good
. [And] they were a real challenging team. So when we run out for the warm-ups, they were looking at us, like, laughing! Like we were a joke. I think they were a tougher team. I don't know what neighborhood they were from, but they d--- sure acted like it. They were just shaking their heads, like, "C'mon, dude!
This is
Crossroads? Which one is Baron Davis?
Are you serious
?"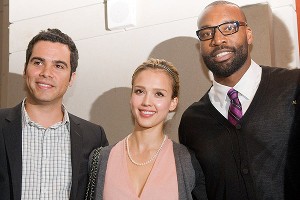 Kris Connor/Getty Images
Before working on movies together, Cash Warren and Baron Davis led Crossroads to a state title.
I was like, "Dude, we're about to beat the s--- out of you. You have no idea what's about to happen." (laughs)
That was the best game we played as a team and that was probably the best all-around game I ever played at the school. I think I was the second- or third-leading scorer of the game. The guys that were seniors, myself,
Cash Warren
,
LeQuan Tolbert
, it was our last time knowing we'll ever play with each other. So it was like, once again, somebody is underestimating us, let's go smack them in the mouth one more time.
And we had lost in the semifinals [the year before]. We were so hungry it was crazy. That's why we beat them by [46]. We were throwing the ball off the backboard by the end of the game. We were so afraid to lose. There was 10 seconds left in the game, we were still pressing and laying the ball up. It was crazy.
Land O' Lakers
: You guys had already beaten
Christ the King
and some other great schools across the country.
BD:
We beat Christ the King. We beat
Simon Gratz
. We beat Inglewood. We lost, I think, to Mount Zion, we lost to Dominguez at Dominguez, Crenshaw at Crenshaw. When we lost to Dominguez, they were No. 1 in the country. When we lost to Mount Zion, they were No. 1 in the country. And going to Crenshaw thinking you were gonna get a victory, you have a whole other thing coming.
We were up 20 going into the fourth at Crenshaw. Then all these [Crips] came in the gym and I just felt real uncomfortable. (laughs) The thing about Crenshaw, they never stopped playing. They were like Golden State -- no lead was too big for them to overcome. And we were playing in their house. And once the Crips walked in, it was like a whole different thing with me. It was like … OK … uh … where are
my
homeboys at? I was a little distracted at the time.
If you put that in the article, the dudes who were standing on that wall, they know what I'm talking about. They'll read that and laugh, I guarantee.
Land O' Lakers:
Is that why the Crips were there? Or were they just there to watch the game?
BD:
I don't know. I just know they came in right in the fourth quarter and that was very uncomfortable. We were up 20 before they walked into that gym … My antennas went up. They had to go up, you know what I mean?
November, 5, 2011
11/05/11
7:18
AM PT
By The Kamenetzky brothers
ESPNLosAngeles.com
Archive
As part of a continuing series, NBA players share how growing up in L.A. shaped their games.
During his interview for this series,
Brandon Jennings referred to Baron Davis as "the Godfather of Los Angeles basketball
." While Baron is too modest to declare himself Don Corleone, more than any other player in the NBA,
Baron Davis
embodies Los Angeles. Not simply because he grew up here or because he spent two seasons at UCLA, although both factors certainly play a role, the connection comes in the way Davis' L.A. story reflects the multicultural, eclectic nature of the city and his everlasting connection to it.
A product of South Central L.A. (Manchester Blvd. and San Pedro), he moved in with his grandparents after living with his parents grew, as he put it, "very rocky and unstable." In seventh grade, he was offered the chance to attend Crossroads, a prestigious and affluent private school in Santa Monica, where his classmates included
Kate Hudson
and
Cash Warren
.
Davis is now
part of the Hollywood jet set
, but ties with his original community remained strong, as well as his availability to the L.A. ballers who came behind him. As Jennings noted, "you can text BD right now, he'll pick up the phone."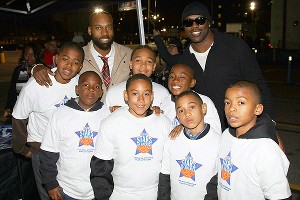 Arnold Turner/WireImage
Baron Davis has remained a fixture in many walks of the Los Angeles community.
"This next generation of L.A. basketball is so exciting to see," Davis gushed. "It's so exciting to see what's on the horizon for them. Now we're finally starting to get our respect in the NBA."
Land O' Lakers:
The first place you ever played was, around age 4, a makeshift court your grandfather set up.
BD:
Yeah, my grandfather put up a court in the backyard of his house. It was a Christmas gift. It was one of those courts you buy from the store. A wood court with a Styrofoam wood backboard and an all-wood beam. Matter of fact, it was just a hoop and my grandfather found a wooden pole, dug a hole in the ground and basically put the wood pole in the dirt with some rocks and stuff around it to hold the court up.
I was very surprised to get it. I'd never really asked for anything on Christmas, but he knew how much I loved basketball. We could come in from Sundays and he would watch the Dodger game. As soon as he'd fall asleep, I'd turn to some NBA.
Land O' Lakers:
Were there a lot of games in your backyard?
BD:
Kind of. There was a school across the street from my house. South Park elementary. So that's where we played most of our basketball. But in the backyard, my cousins, who are all 6 or 7 years older, they would pull the pole up to 8 or 9 feet, so they could dunk. The court was probably 5 or 6 feet tall. Every time they would pull the pole out of the ground, my granny would go and water the pole down so it would shrink back to its normal size.
Land O' Lakers
: Did you ever play at the taller height?
BD:
Yeah, I would have to. [My cousins] would just come over and do it and there would be nothing I could say. And it gave me a chance to play with them.
Land O' Lakers:
And the uneven terrain helped you develop a handle.
BD:
Well, it was like a strip of cement and then it was dirt in front of the court and grass on the other side of the yard. So you had to be able to dribble just to get to the rim, because the cement strip was man-made. The yard was man-landscaped. So there was a lot of
bumps and bruises
. (Laughs)
Land O' Lakers:
You mentioned the elementary school across the street. Which parks did you also play at growing up?
BD:
None. I played at no parks.
Land O' Lakers:
Why is that?
BD:
Where I'm from, you don't really travel outside your neighborhood unless you're traveling with a bunch of people. To go play at a Westchester Park or Raleigh Park, you would have to know somebody over there. And plus, you
just don't leave your neighborhood
, you know what I mean? If you leave your neighborhood, you better know somebody or you better be going somewhere looking for some trouble. When I was young, it was like that. "This is our neighborhood. This is our park. This is our court. And we're gonna stick to this."
But there were a lot of older guys, teenagers and college guys around. So for me, when I was 5 or 6 years old, those are the dudes I would play against.
Land O' Lakers:
What was the vibe of these games?
BD:
A
lot
of physical [play]. Because when I played, I played with mostly gangsters. I played with mostly the gang members. Sometimes, some of the high school guys would come by.
Chris Ford
and
Michael Tate
, who went to Fremont High School. Dudes like that would come to the elementary to play every now and again. But mainly, just the gang members. I played with all the dudes in the neighborhood. A lot of those were good players, they just dropped out of school and was just gang banging.
Land O' Lakers:
How does that shape your game?
BD:
Well, one, there was no crying. (Laughs) There was no being soft. I think those guys were extremely tough on me, because I was the littlest of little brothers, you know what I mean? They took care of me. They would send me on store runs. By the time I was 7 or 8 years old, I was one of them.