Los Angeles Lakers:

Celtics
February, 1, 2011
2/01/11
11:22
AM PT
There were two points in
Henry Abbott's post at TrueHoop Friday afternoon
. The first surrounds the popular notion crowning
Kobe Bryant
the NBA's best clutch performer, and Abbott's belief the numbers say unequivocally he's not.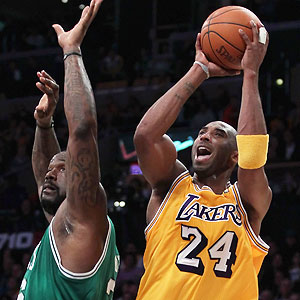 Jeff Gross/Getty Images
Kobe Bryant was again a lightning rod for debate following Sunday's loss to Boston. Won't be the last time, I'm sure.

From a percentage standpoint, Abbott is right, but
as I wrote following our podcast with Henry on the subject
, I don't think straight make/miss counts are a great metric for measuring "clutch." There are too many variables impossible to quantify in what are still very small sample sizes. Bryant has certainly missed in make-or-break moments, but he's also delivered. He's clearly clutch, as it's traditionally defined. The clutchest? Who knows? He's plenty clutch, which is all that matters.
Abbott's second point, much more important as a practical matter but overshadowed by the Kobe-clutch debate, addresses the drop in L.A.'s offensive efficiency in late-game situations (larger in relative terms than most teams around the NBA), and how the Lakers, like most teams, operate at that point in games.
One of the major narratives surrounding the end of Sunday's game in Boston was whether Bryant shot his teammates out of the game, down the stretch in particular but even earlier because teammates didn't get enough touches to stay in rhythm. Without totally rehashing
what I wrote following the loss
, I thought Kobe's shot selection was very good early, and while he clearly forced shots late, his teammates did little to assert themselves throughout -- or as
Phil Jackson said:
"I don't think anybody else wanted the ball." In broad terms it was a great example of league-wide trend favoring isolation-heavy offense in late-game situations, a fourth quarter "hero ball" mentality across the NBA.
Generally speaking, isos are an inefficient way to score, meaning the Lakers, like most teams, would be better served to keep a broader playbook available down the stretch to maximize their good looks at the basket.
Regardless of where you come down on Abbott's evaluation of Kobe in the clutch, it's worth
reading his follow up
from Monday afternoon on TrueHoop, and also some
very interesting work from Rob Mahoney of TheTwoManGame.com (among other sites), writing here for the New York Times
. Mahoney has some great video clips showing key sequences of the game, and his overall points about the inefficiency of iso-heavy offense are compelling.
January, 30, 2011
1/30/11
8:58
PM PT
Interesting exchange between reporters and Derek Fisher after Sunday's 109-96 loss to the Celtics Sunday afternoon. He was asked about seven different ways what amounts to the same question. Finally, he asked for some clarification:

Reporter 1: Are you concerned?

Fisher: Somebody define for me what "concerned" is.

Reporter 1: Are you more concerned than in prior seasons?

Reporter 2: Do you see a reason to be concerned?

Fisher: We're concerned every day. That's why we go to practice, that's why we play the games, that's why we put the time in we put in. Unless you win every single game, you're concerned. Every day, you want to get better defensively. Every day, you want to get better offensively. Every day, you want to play harder. Every day, you want to correct the mistakes you made the night before. So I don't know what is supposed to dramatically change, other than incrementally doing your job on a day-to-day basis, and turning things around over time. There really isn't a magic pill or a snap of the finger that's going to change things. But I've just played too many seasons and I've been on too many successful teams to get bunkered down on ups and downs over the course of the season that happen to everybody. That's just part of it.

Reporter 4: Are you guys hard to gauge right now?

Fisher: You guys do that. You get paid to gauge us. That's not a question for me to answer, that's what you get paid to to, is to gauge us and judge us and decide how good we are or are not. My job is to come to work every day and keep doing the best that I can, and every guy in the locker room, that's the responsibility on their hands. Hopefully, that allows us to be the best we can be. If I say yes, I'm concerned, or if I said hey, we're not playing as well as we'd like to play right now and that's where the gauge is, what does that really tell us?

(scene)

Nobody, from Fisher on down, is pleased with the way the Lakers are performing. Even Lamar Odom, who continues preaching calm and confidence, also acknowledges what they're doing now won't cut it. This isn't a point of debate.

"We keep saying it's a work in progress," Luke Walton says, "but it is frustrating having the results against [those elite] teams. We need more execution. More of the little things. More focus on what we talk about, what we do in practice, and carry it into games."

How to fix their problems, how good they can get, how good they will get- these are all vital questions without concrete answers. Maybe at this point, it's still easier to focus on things more tangible. "We have to understand that the regular season isn't crucial [as the playoffs are], but it is important," Pau Gasol said Sunday. "The better record we finish with, we also have better chances down the road. We can't slip too much ... or the games that we have given away, we might have to think about those."


January, 30, 2011
1/30/11
8:52
PM PT
One of the big talking points postgame in our Lakers Late Night Facebook show was
Kobe Bryant's
shot selection down the stretch. At one point, he took over ten consecutive shots. Hardly ideal, to say the least.
But as I wrote after the game
, while Bryant's hoists grew increasingly forced as the game dragged on (in part because he seemed tired, which tends to manifest itself in bad shots, but for which he's remains responsible), the guys around him hardly without blame. It's difficult to blame the outcome on Bryant.
After the game,
Phil Jackson
seemed to agree. "I don't think anybody else wanted the ball," he said, in a fairly lengthy discussion of the topic:
The eternal "chicken and egg" debate around Kobe- do guys fade away when he shoots too much, or does he shoot too much because they fade away- won't be answered by Sunday's game. Clearly, though, going forward the Lakers' supporting cast needs to find ways to stay engaged when teams play Kobe straight up early in games, and he gets high percentage looks.
As a group, they need to figure out ways to succeed when Kobe, taking quality shots and exploiting what defenses give him to start games, has a larger portion of the offense.