Los Angeles Lakers:

centers
June, 29, 2010
6/29/10
12:45
PM PT

By Andy Kamenetzky
ESPNLosAngeles.com
Archive
Yesterday, I took
a look at the potential -- and realistic -- free agent options at the guard spots
for the Lakers this offseason. Part II tackles the forwards and centers on the market.
The list of bigs is shorter. The taller the player, the more money he generally stands to make. And the Lakers don't have much to toss around.
Still, with
D.J. Mbenga
and
Josh Powell
unlikely to return,
Andrew Bynum's
medical history and
Derrick Caracter hardly a lock to make the team (much less a dent)
, a new reserve big is probably a must.
Mitch Kupchak
also noted the uncertain status of
Luke Walton's
back, meaning more than
Devin Ebanks
may be needed at the wing next season.
As a quick refresher, same rules as before. No restricted free agents the Lakers can't realistically make a play for make the list. No far-fetched scenarios where
Chris Bosh
lands in L.A. as a mid-level-exception sixth man, and no Bosh sign-and-trades, either. The scale of 1-10 grade assumes a reasonable contract, since an unreasonable one is highly unlikely. And finally,
Shaq
is not coming to L.A. for a plethora of reasons, so don't ask why he's not included.
SMALL FORWARDS
MATT BARNES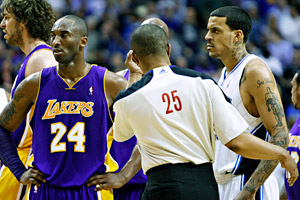 Matt Raoux/AP Photo
Matt Barnes can be a useful player. He can also go off the reservation at times.
POSITIVES:
Fairly versatile. The Lakers could use small forward depth. Willing to defend. Adds toughness.
NEGATIVES
: Sometimes appears to fancy himself a better three-point shooter than he actually is. Would get fewer minutes in L.A. than he probably wants.
He and Lamar Odom may need to hash out differences
. Often comes off
like a stark raving loon
. And it's not clear the Lakers really need to get tougher.
On a scale of 1-10, this signing is a . . . 6.5.
On paper, Barnes sounds like a sensible pickup. But there is one issue I can't get past: Why is it a player of his caliber can't seem to stick
anywhere
? Is he difficult to coach? Bad in the locker room? Just one of those "solid but hardly irreplaceable" guys? I've always wondered about Barnes' permanent journeyman status and have asked a few people. They in turn had no answers, but also found it curious. Possibly much ado about nothing, but the situation nonetheless feels a little hinky to me.