Los Angeles Lakers:

Chad Ford
October, 8, 2011
10/08/11
4:09
PM PT

By Andy Kamenetzky
ESPNLosAngeles.com
Archive
Everybody who watches TV and movies knows
J.K. Simmons,
because he's been in about a billion different roles, and he's pretty much always awesome. The new face of
Farmers Insurance
is perhaps best known for playing white supremacist Vern Schillinger on "Oz," the father in "Juno," Will Pope on "The Closer" and the eccentric editor J. Jonah Jameson in the "Spiderman" trilogy. He's also a lifetime Detroit Tigers fan, which made watching the Yankee empire crumble on Thursday even more sweet.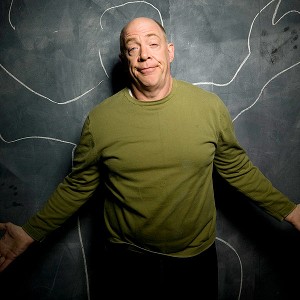 AP Photo/Victoria Will
J.K. Simmons shifts into whatever role with ease.
Friday, Simmons joined us for a fun conversation about baseball and acting.
You can listen to the entire show here
, or if you want to jump around to specific parts listed in the breakdown below, click on the links.
-
(2:25) After sharing the inside story for a running joke on "Oz,"
Simmons celebrates the Tigers' opening round victory over the Yankees. We talk about how he became a lifelong fan of the team, and later the merits of Cy Young lock
Justin Verlander
as AL MVP. Like me, Simmons feels a pitcher having such an exceptional season shouldn't be met with so much resistance.
- (6:55) Life, art and sports met at a wonderful intersection for Simmons
when he was cast as the manager of the Tigers in the 1998 film, "For Love of the Game." Simmons originally read for the smaller role of team trainer, but after shooting the breeze about baseball with director Sam Raimi, he got to try out for the meatier part. They've since worked on four other films together, including the Spiderman trilogy. And beyond the professional benefits, he got to play the manager of his favorite team in sports!!! How awesome is that?
- (11:44) Simmons explains the process of tapping into a reprehensible character like Vern Schillinger, along with his effort to avoid being typecast as Hollywood's go-to racist. Thankfully, he caught a break in quickly getting cast in a recurring role of psychiatrist "Dr. Skoda" on "Law & Order." Thus, audiences and casting agents were constantly seeing him in polar opposite roles.
-
(19:58) We discuss how a show like "Oz" helped pave the way for the explosion of quality basic and pay cable television shows
. Believe it or not, it were efforts, thankfully short-lived, to shoot episodes of "Oz" with language suitable for network syndication. Simmons also talks about the luxury of having strong relationships with directors like Raimi,
Jason Reitman
, and
the Coen Brothers
.

- (28:21) Simmons is commonly described as "a character actor."
What does that label mean? According to us, that he's extremely talented and versatile. According to Simmons, that he's not terribly good looking.
September, 15, 2010
9/15/10
4:23
PM PT
ESPN.com's Chad Ford released his
offseason grades for Western Conference teams this afternoon
(insider required), giving the Lakers a B-. Writes Ford:
"The Lakers, fresh off their second consecutive NBA title, weren't going to reinvent the wheel this summer. The team had most of its key players in place once Phil Jackson decided to return and really needed to address one big issue -- point guard. The Lakers took care of business by bringing in free-agent guard [Steve] Blake and then re-signing [Derek] Fisher. Fisher is getting old and Blake won't light up the world, but together they're strong enough to lead the Lakers to a third straight title. The Lakers' front office also did a solid job in the draft. With two second-round picks it landed [Devin] Ebanks, a Trevor Ariza-like long, athletic wing, and [Derrick] Caracter, a low-post bruiser who can really score in the paint. Both players would've been potential lottery picks had their bad reputations not scared teams away. If Jackson, Kobe & Co. can keep them in line, the Lakers may have scored big in the second round."
A couple things: First, I don't know exactly on what criteria Ford issues his grades, and obviously that makes a difference. Second, he appears to be one of those uncool teachers who doesn't believe in grade-flation, because L.A's report card leaves them 6th among the 15 W.C. squads. He treats C as average, meaning the Lakers come in above it. It's not like Ford gave the front office a public flogging.
Still, it seems low to me (and no, I wasn't the type to haggle for grades).
March, 2, 2010
3/02/10
11:49
AM PT
Your Los Angeles Lakers: The gift that gives now, and should continue giving well into the future.
So say the analysts, at least, who believe the Lakers will age more like Catherine Deneuve or Helen Mirren than, say, Kathleen Turner. ESPN.com's
Chad Ford
and
John Hollinger
have published the
newest edition of their Future Power Rankings
- "ESPN Insider's projection of the on-court success expected for each team during the 2010-11, 2011-12 and 2012-13 seasons"- and while the Lakers don't top their list (an honor quite reasonably going to the precocious, cap-space-n'-draft-choice-laden Oklahoma City Thunder) they do land at a very close #2. (Note: Insider required to see the whole story.)
Write Hollinger and Ford:
The Lakers seem to have everything going for them -- they are the defending champs, have the league's second-best record, and seem set for the next few seasons, with a nucleus of Kobe Bryant, Pau Gasol and Andrew Bynum. And while the Lakers won't have salary cap space this summer to join the superstar free-agent chase, the game remains rigged in their favor, money-wise: L.A. produces the most revenue of any team and can easily stomach paying luxury tax to keep the likes of Gasol and Lamar Odom....
It's hard to argue the Lakers aren't well-set for the next few seasons. Kobe may have a lot of wear for a guy barely into his 30s, but what athlete is more dedicated to preserving his body than Bryant? Everyone ages, but relatively speaking he'll go slower than, say, the rest of humanity. Gasol is in his prime, while Bynum is growing into his. Sixth-man status should help preserve Odom, and while
Ron Artest
is likely to lose some agility over the next couple of years, limiting his general versatility as a defender, his size and strength ought to preserve much of his value on that side of the floor.
And in the meantime, it would be hard for Artest's game to get less vertical than it already is.
The key to the equation is Bynum. While he's a pretty productive player now, there's certainly a lingering sense he could be much, much more. If Bynum develops into a true monster, the Lakers are in great shape. Alternatively, he represents L.A.'s most appealing trade asset. In one way or another, Bynum will play a massive role in determining how good the Lakers are three or four years down the road.
More from HollingFord:

"...Still, they're only second overall in our rankings because of the uncertainty about coach Phil Jackson's future and how that might relate to Bryant's. Jackson has yet to re-up for next year, and the smoke signals coming from L.A. make one wonder whether the team will look for a less expensive replacement. If so, Bryant could play the ultimate trump card by opting out of his contract and signing elsewhere. Is that far-fetched? Perhaps, but as long as it's in play, it's a risk that warrants mentioning..."

I didn't expect PJ to sign for next year until this summer, and still don't. But I believe he'll be back, probably for more than one more year, and that Dr. Buss will pay him. For Kobe, the lack of an extension agreement (which everyone thought earlier in the year to be a formality) is a little more unsettling for fans. Until he's signed, there's always a chance, I guess, he could go. But it's a small one. The odds are overwhelming he'll be a Laker next year. My take is Kobe is waiting to find out as much information as possible about what a new CBA could look like before making his move. Purely a guess, but that's my thinking.
Fordinger's final words:
"...The other concern is a paucity of quality young talent. Bynum is the only starter who is likely to get better, rather than worse, over the next three years, and the bench doesn't appear to hold any future stars. With no first-round pick this year, the Lakers will have to hope the current core ages well as they look for opportunities to make trades and sign inexpensive free agents..."
If there's a major concern for the Lakers projecting forward, this is it. Should the current nucleus underperform or age faster than anticipated, it'll require some deft management from
Mitch Kupchak
and Co. to keep the team competitive. Outside of Bynum, the Lakers lack young, core-worthy talent, and barring disaster won't be in a position to replenish through the draft. Kupchak has shown an ability to find good pieces for flotsam and jetsam (
Trevor Ariza, Shannon Brown
), but it's not easy.
Another concern: Rising payrolls could encourage
Jerry Buss
to squeeze the back end of the roster, creating less depth to carry them through injuries or declining performance. Often observers look at what's going on at the top end of a team, but it's easy to erode a squad from the bottom, too. It just takes longer.
Finally, who knows what happens in the new CBA, and how that could affect the way in which the Lakers do business?
But as always seems to be the case, it's good to be a Laker fan. Yes, there are questions, but far fewer than other teams face. Certainly there aren't many (any?) franchises who wouldn't swap lots in life with the purple and gold, both for this season and beyond.
December, 29, 2009
12/29/09
1:15
PM PT
Ouch.
Writes Ford (Insider required)
:
"...Chalk (Adam) Morrison up as Michael Jordan's second devastating mistake as a GM. (Land O'Lakers Note: Having already taken on Kwame Brown, L.A. is officially only one Jordan bust short of a free latte.) This time the scene moves to Charlotte, where Jordan had just bought a stake in the Bobcats and was named the team's vice president. The Bobcats were in desperate need of a 2-guard, and (Brandon) Roy looked like the perfect fit. However, Jordan was wowed by Morrison's career at Gonzaga, loved his workout and decided to gamble on the athletically challenged player. The results have been disastrous for Charlotte. Morrison was awful as a rookie. He missed his entire sophomore season with a serious knee injury, then was traded to the Lakers. Meanwhile, Roy has developed into one of the best 2-guards in the game..."
Sounds about right.
Call me a softie, but sometimes this sort of thing makes me feel- relatively speaking, of course- bad for a guy. I can't vouch for his time in Charlotte, but by all accounts since arriving in Los Angeles Morrison has worked hard and tried to resurrect his reputation and career, even spending the offseason in Vegas for Summer League, not something typically done by non-rooks and sophomores. He's a quiet-but-perfectly nice guy. Injuries have played a big role in cementing Morrison's bust status, but in the end the guy just wasn't good enough to be drafted with a #3 pick. It's not like there weren't people at every level who
wondered if Morrison lacked the athleticism to create his own shot and defend at the NBA level
. (For example, I watched his last NCAA Tournament with one noted talent scout, who wondered aloud exactly how "that awkward guy" was supposed to play against NBA players, and also thought crying on the floor was inappropriate. Tough cookie, my wife.)