Los Angeles Lakers:

Chandler Parsons
December, 4, 2012
12/04/12
9:16
AM PT
Under the best of circumstances, conventional wisdom dictated the Lakers would require some time to jell. With so many new faces (and at the time, a new offense, which eventually sparked the decision for a new coach), instant chemistry would be a tall order. However, the opening 17 games on the schedule were, in theory, a reprieve of sorts. Home-heavy with few games against contenders from either conference, this slate of contests was made to be exploited ... or frittered away through poor execution, inconsistent play, injuries and periodically middling energy, whichever makes the most sense.
The Lakers are now 8-9 and staring down nine December road games. The first comes against the Houston Rockets, a similarly rebuilt team tasked with coming together on the fly. After a slow start, they're seemingly in better sync these days, having won four of their past five games. Not that the Lakers have earned the right to take any team lightly -- just ask the Orlando Magic -- but Houston may offer a tougher contest than I certainly figured a month ago.
For more perspective on the Rockets, I sent some questions to Rahat Huq, who covers the team for the TrueHoop network's
Red94 blog
. Below are his responses.
Andy Kamenetzky: When these teams met at Staples Center on Nov. 17 for an eventual Rockets loss, Houston was 3-6 heading into the game. They're now 8-8. What's happened to explain this?
Rahat Huq:
Offensively, the Rockets have been playing out of their minds, averaging 113 ppg on 49 percent shooting overall (46 percent from deep) during their current five-game home winning streak. They've also gotten consistent contributions across the board, with all five starters in double figures in each of their past three home games. In the most recent outing against Utah,
seven Rockets finished with at least 13
.
Plus, third-year forward Patrick Patterson has been a revelation. The Kentucky product has put in
at least 20 points in four of Houston's past five games
, scoring from an assortment of spots, including the corner 3. In his past 10 games, Patterson has averaged 17 ppg on 55 percent shooting from the field and 43 percent from behind the arc.
April, 6, 2012
4/06/12
8:49
AM PT
After a few weeks of middling and even disinterested looking performances, Wednesday's victory over the Clippers felt like just what the doctor ordered. The Lakers were dialed in for 48 minutes, often executed with precision, and seemed unwilling to accept anything but a win. In theory, that showing should provide fans with a good feeling heading into tonight's contest with the Rockets. In reality, however, it could be meaningless as an indicator of what lies ahead.
As I've maintained all season, the Lakers can only be counted on to perform well against teams they genuinely dislike. In my estimation, those squads are the Clippers, Mavericks, Celtics . . . and disappointingly few else.
Maybe
the Suns qualify, since the Lakers often go as Kobe goes and he admittedly hasn't gotten past Phoenix bouncing his teams in 2006 and 2007. (Or he's just lashing out at anybody who reminds him sharing a backcourt with
Smush Parker
.) And if you're feeling generous,
maybe
a hard-fought win at Staples over the Heat means they've developed a distaste for LeBron and the gang. But to the best of my knowledge, the Lakers have nothing against the Rockets, and without tangible evidence of animosity -- or inherent professionalism -- it remains difficult to bank on the Lakers showing up. However, I'm willing to see my theory disproved, and tonight's as good a time to start as any.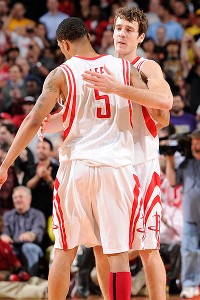 Bill Baptist/NBAE/Getty Images
Dragic and Lee are just two among many keeping the Rox in the playoff hunt.
For more knowledge about the Rockets, we called upon
Rahat Huq
from the True Hoop network's
Red94
blog. Below are his thoughts on four questions about Houston's squad.
LO'L: The Rockets have managed to stay afloat despite prolonged absences from Kyle Lowry and Kevin Martin. Who/what has allowed this to happen?
Rahat Huq:
It's been a collective effort.
Goran Dragic
and
Courtney Lee
have played even better as a duo than the men they replaced.
Chandler Parsons
has evolved into a new-and-improved
Shane Battier
, doing a little bit of everything from defending the opposition's best player to spacing the court on the perimeter.
Luis Scola
has regained his touch and rebounding form.
Chase Budinger
has hit big shots in timely moments.
Marcus Camby
has filled the lineup's previous sole true hole.
Early Boykins
has stood tall. Everyone has chipped in to an outcome in the standings which, from any vantage point, is truly remarkable.
They won't win the title but the fact that the Rockets are alive is a great story.
March, 20, 2012
3/20/12
8:37
AM PT
With the Western Conference tighter than
James Brown's rhythm section back in the day
, every game counts for the Lakers. Which, by definition, made Sunday's debacle against a short-handed Jazz squad an opportunity gone irresponsibly wasted. And which, by further definition, raises the stakes of this two-game road trip even more. The Lakers have been unpredictable all season away from Staples, but could be catching Houston at just the right time. Point guard
Kyle Lowry
, who's been playing at an All-Star-ish level, is out with a bacterial infection. Scorer
Kevin Martin
is day-to-day with a strained shoulder, and hasn't played since March 13. In theory, this sets up nicely for a game the Lakers really need to win.
Then again, the same felt true about a game in L.A. against the Jazz, down
Al Jefferson
and
Earl Watson
. The Lakers played like a team expecting to win, which could explain the lack of focus resulting in 24 turnovers and some rather porous defense. Better to enter the Toyota Center
expecting a bar fight
and being pleasantly surprised.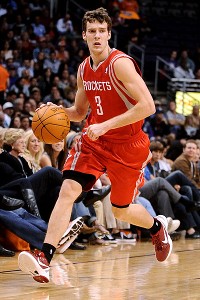 Jennifer Stewart/US Presswire
There's a lot of pressure on Dragic at the moment.
For further insight on the Rockets, we called up
Rahat Huq
from the True Hoop network's
Red94
blog. Below are his thoughts on four questions about Houston's squad, plus one item I'll be curious about.
Land O' Lakers: How does Lowry 's absence affect the way the Rockets operate? Can anybody other than Goran Dragic run an offense?
RH:
The short answer: no. The Rockets lost the game in Phoenix when
Goran Dragic
went to the bench early in the first half with foul trouble.
Courtney Lee
has taken on the bulk of the backup playmaking duties but he isn't a point guard.
Courtney Fortson
--signed to a 10-day contract--has been horrific in limited minutes. When Dragic sits, the Rockets fall apart. They need Lowry back as soon as possible if they want to remain this race.
LO'L: If Martin can't play, where do you expect Houston's points to come from, particularly with Lowry (another scorer) also sidelined?
RH:
Even when in the lineup, Martin wasn't giving the team much in recent weeks, so his loss isn't the issue - it's losing Lowry that has hurt. The Rockets score the same way they have all year: through running the break and misdirection motion sets in the halfcourt. They've looked to
Patrick Patterson
in the post much more of late and I wouldn't be surprised to see that continue against LA.