Los Angeles Lakers:

Chase Budinger
January, 3, 2012
1/03/12
10:15
PM PT

By Andy Kamenetzky
ESPNLosAngeles.com
Archive
And with that, the Lakers are back above .500 again. Here are five takeaways from the win:
1
) Kobe Bryant shot the ball a lot again, but with considerably improved selection
Predictably, Kobe's 6-for-28 disaster in Denver generated the talk typical of games where The Mamba hoists a fair amount of shots to ill-effect. Specifically, people obsessed over the shot count, and whether, in this particular case, "28" represents too many. Among the questions asked... what's the "right" amount for Kobe, especially in a game where
Andrew Bynum
and
Pau Gasol
(among others are hitting shots)... Will
Mike Brown
call him out... Will Kobe come out the next game "aggressive" (code for "hucking like there's no tomorrow") or facilitating (code for "allowing others to touch the ball")?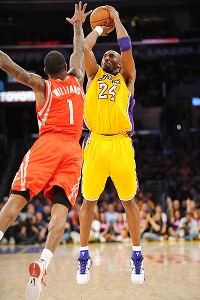 Andrew D. Bernstein/NBAE/Getty Images
Kobe took more shots against Houston than Denver, but controversy won't likely follow.
But largely lost in the conversation was the true issue, which was the shot selection itself. For a natural scorer like Kobe capable of hitting from anywhere on the court, it's not necessarily
how many
shots go up, but
where
and
how
they're launched. Against the Nuggets, Kobe was reckless, launching without conscious, discretion or regard for the consequences. As a result, several possessions ended on empty notes, and the Laker D was constantly on its heels in transition.
But against Houston, Kobe was sensible and methodical about where he chose to let fly. More often than not, Bryant went to work down low, posting up the smaller likes of
Kyle Lowry
,
Kevin Martin
and other Rockets absolutely mismatched against his superior size. Whether taking it to the rim or turning around to pop a J before the double arrived, this was a controlled, relaxed scoring display. Yes, it took some time to get cooking, and Bryant finished the first half 5-14 with 15 points, but
the shot chart was considerably more pleasing to the eye
.
(As an added bonus, Kobe operating like this also meant fewer opportunities to get stripped in space or on an attempt to split a double. Thus, the ball was turned over only twice (against six assists), a decided improvement over Sunday's six gaffes.)
During the second half, Bryant caught heat. And down the stretch, we saw Kobe what's made him a legend: Make difficult shots to close out a game. But again, these monster buckets were generally set up and executed better, with Kobe backing down defenders and making quick, decisive moves, rather than jab-stepping himself to death in isolation. He ended the evening with a reasonably efficient 14-29 clip, but had he missed a few more, I wouldn't have had too many complaints (save one below), because it was generally difficult to find fault with the shots themselves.
All in all, Bryant's 37 points provided a great reminder about how the story isn't found in raw numbers. Context means everything.