Los Angeles Lakers:

Chauncey Billups
January, 25, 2012
1/25/12
3:27
PM PT
By The Kamenetzky Brothers
ESPNLosAngeles.com
Archive
January, 14, 2012
1/14/12
11:31
PM PT
Arash Markazi joins the fun following
Saturday's 102-94 win for the Clippers over the Lakers at Staples
.
It was an interesting night on a few levels. First, the Clippers dominated the boards, particularly the offensive glass. Given their relative positions statistically heading in (the Clippers at the bottom, the Lakers at the top), this was a surprise. Among the other topics of conversation:
Star-caliber performances from Chris Paul and Kobe Bryant, who notched his fourth straight game with 40-plus points. How did CP3 break down the Lakers? Where was Kobe getting his looks?
Third-quarter chippiness hints at a rivalry that could grow pretty intense given a little time and some context (a playoff series, for example).
Questions of fatigue. The Lakers played their 14th game since Christmas Day, including Friday night against the Cavs. The Clips, meanwhile, have had among the NBA's cushiest schedules, enjoying two days off before Saturday's tilt, only their ninth of the year.
The Lakers offense. Kobe has dominated, actually managing to improve on the 37.7 points a night he's posted over the previous six games (while shooting 50 percent on the nose), but as a whole, is it devolving?
Despite the big night from Paul, Darius Morris acquitted himself well in his third NBA game. Checking CP3 is burly work for anyone, let alone a rookie who could be playing his junior year at Michigan right now.
In-show vids from
Mike Brown
, Bryant, Gasol, and
Darius Morris
.
More postgame video below, from Bryant, Morris, Gasol, and Brown.
December, 22, 2011
12/22/11
9:50
AM PT
By ESPNLosAngeles.com
ESPNLosAngeles.com

With the start of the season just around the corner, we asked some of our NBA experts to look ahead. Can the Lakers remain a title contender without Lamar Odom? Will the Clippers of Chris Paul and Blake Griffin deliver on their promise?
Andy Kamenetzky
LAKERS
Predicted record: 42-24
Predicted finish: Western Conference Semifinals, then eliminated.
The recent days haven't been sunny. Trades nixed. Sixth men traded. Direction questioned by the franchise player, who Monday added "torn wrist ligament" to a sea of recent injuries. By comparison, the lockout was fun.
Still, the sky hasn't quite fallen. Yes, the lack of two-guard depth and wings capable of creating their own shot is problematic, as is learning Mike Brown's systems on the fly. But the Laker big three stacks up well against any in the league, and some roster issues (frontcourt depth, outside shooting) were addressed. Plus, getting slapped by reality during the playoffs should erase any complacency.
I don't consider the Lakers front-runners anymore, but they're way too talented to dismiss. Good health and perhaps good use of the Odom trade exception, and they may just surprise.
CLIPPERS
Predicted record: 46-20
Predicted finish: Western Conference Finals, then eliminated.
The Bizarro-Lakers: Nothing but excitement, optimism, and finals talk. It's a mite early to declare L.A. a "Clipper town," but the legitimacy Chris Paul provides is a game-changer. Plus, that Blake Griffin character is pretty good, and Chauncey Billups, Caron Butler and DeAndre Jordan equal an excellent starting five.
Of course, there are questions about health (Butler, Paul), age (Billups) and the bench (low on scorers beyond Mo Williams). Vinny Del Negro isn't proven. And if a deep playoff run awaits, how will Griffin fare in his first appearance?
For that matter, how will overnight expectations of greatness be handled?
However, if the answer is "well," the Clips could be among the NBA's scariest teams.
---------
Dave McMenamin
LAKERS
Predicted record: 42-24
Predicted finish: Second round of playoffs
The reports of the Lakers demise are greatly exaggerated. While they might not be the top-five championship contender they've been the last several seasons, it's not like they're lottery bound either. As long as Andrew Bynum can stay healthy and Kobe Bryant doesn't miss too much time because of the torn ligament in his right wrist, the Lakers' core as it is currently constructed should end up somewhere in the 3-5 seed range, with a good shot at a home playoff series to begin the postseason.
CLIPPERS
Predicted record: 40-26
Predicted finish: First round of playoffs
They aren't quite there yet in terms of being a title team, but the offseason acquisitions of Chris Paul, Chauncey Billups and Caron Butler should be enough to push them into the playoffs for the first time since 2006. They had better invest in a backup big man, however. After Blake Griffin and DeAndre Jordan, their frontcourt depth gets very thin. Just because predictions are meaningless (does anybody else remember Phil Jackson guaranteeing the Lakers would be bringing their Western Conference semifinals series back to L.A. after falling down 2-0 and heading to Dallas?), I'll say the Clippers end up the five seed, the Lakers end up the four seed and I won't have to book any hotels, flights or car rentals for the first round of the playoffs.
December, 21, 2011
12/21/11
8:45
AM PT
Two days later, they meet again. As we continue to gauge the readiness of the Lakers and Clippers as Christmas looms, here are five items to watch for in their final preseason action.
1) How much progress is evident for the Lakers in Game 2?

As Brian noted after Monday's Lakers loss, the blogosphere and Twitter reaction ranged from "Trade EVERYONE for Dwight Howard!" to "Jim Buss is destroying the Lakers!" to "Finally, an organic excuse to follow my secret dream of being a Raptors fan!" (Okay, the third reaction might be made up.) No question, the Lakers didn't look so hot, particularly during a brutal third quarter lowlighted by nine turnovers and just 17 points. For a Laker Nation already sweating last season's playoff exit, the Phil Jackson-Mike Brown transition and the clock ticking on Kobe Bryant's prime, this flat start did nothing to calm nerves.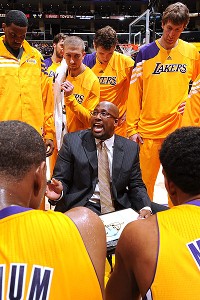 Andrew D. Bernstein/NBAE via Getty Images

It'll take some time before Mike Brown's schemes become second nature.
At the same time, disappointing as Monday's showing was, it was to be expected. The Lakers opened training camp 12 days ago, in which time the Lakers have lost Lamar Odom, signed Jason Kapono, Josh McRoberts, and Troy Murphy, and have begun the process of learning a brand new offense and defense. And by "new," I don't mean tweaked versions of what's been in place. The shift is radical.
Between his innate basketball intelligence, 15 NBA seasons and unquenchable "student of the game" tendencies, Kobe is an old dog difficult to teach genuinely new tricks. So if he's learning under Brown, you know everyone else is.
Those looking for a quick fix, whether fans or players, will likely be disappointed. I realize in a 66-game season, each contest matters more and time is not on the Lakers' side. And you can't sidestep the learning curve. The Lakers have no choice but to embrace the kinks and work through them.
What can be reasonably expected, even two games into the preseason, is some kind of tangible progress. Increased comfort, however small, on both sides of the ball. Possessions more fluid. Players more sure of where to go, especially defensively.
If the Lakers can move forward, even with baby steps, in the ways described above, it's absolutely reasonable to keep demanding more. But it's equally reasonable to feel perhaps things aren't as hopeless as the vibe 48 hours ago suggested.
(For those noting how the Clippers are dealing with the same issues -- new personnel, limited practices -- that's technically correct, but the situations aren't quite identical. Highly skilled additions like Chauncey Billups, Caron Butler, and Chris Paul make this transition much easier through their talent than the Lakers' addition of new role players. Plus, when your orientation is led by CP3, the best player in the league at keeping games on a string, the "getting to know you" period becomes even easier. That's not to say the Clippers don't deserve credit for a sharp performance, but that situational difference is hard to ignore.)


February, 24, 2011
2/24/11
7:27
PM PT
Man alive! Has this been a crazy 24-48 hours or what?
Kobe Bryant
said during Thursday's practice it's the most active trade deadline day he can recall, and it's hard to argue. Some pretty big names have swapped unis, and the NBA looks awfully different now.
Well, except for the Lakers, who stood pat.
Whether because of confidence, a lack of options or both, save perhaps a free-agent big man to play the
"Theo Ratliff"
role, the team that beat Portland Wednesday is the team that will defend its title. How does today's zaniness affect that quest, or simply reshape the Western Conference? Let's take a look at some of the major deals.
Thunder get Kendrick Perkins, Nate Robinson (plus Nazr Mohammed in a separate deal with Charlotte). Celtics get Jeff Green and Nenad Krstic.
Without question, this is the transaction creating the most shock waves. It's a doozy, steeped with potential to alter the playoff landscape. And in particular, how it affects the Lakers.
For the Thunder, the move reflects commitment to a serious run. Not to mention fighting fire with fire. For all the hand-wringing over OKC's athleticism and speed, the Thunder have lost seven of the last 10 games against the Lakers, playoffs included. The Lakers' size has been too much to handle, so Perkins (and Mohammed, to a lesser degree) addresses that issue. Perk is among the best in the biz at bodying the likes of
Pau Gasol
and
Andrew Bynum
, and his ability to operate without help allows
Serge Ibaka
(the new starting 4) freedom to block from the weak side. He'll also set some big screens to free up Durant and Westbrook. In the meantime, Robinson takes some second-unit scoring pressure off
James Harden
, and Lakers fans are plenty familiar with the harm he can inflict.
Plus, Green's career splits reveal
wretched shooting against the Lakers
. Considering how bad a defender he is (Krstic, too, for that matter), if Green's not making shots, his value is marginalized. I've written before about OKC's need to upgrade from the Georgetown product if it really wants to get serious against the Lakers. Perkins fits that bill.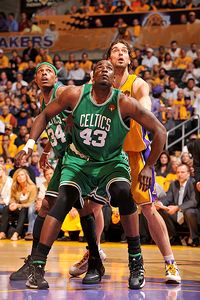 Garrett Ellwood/NBAE via Getty Images
Kendrick Perkins' move from OKC is important to the Celtics, Thunder and Lakers.
Is it foolproof for OKC? No. Perkins and Ibaka form a wicked defensive tandem, but offensively, they're somewhat redundant. Ibaka is
solid from 10 to 15 feet, but pretty mediocre farther out.
Perkins' range is roughly 17 inches, and neither has ever really been counted on to score. Ditto
Nick Collison
. When Mohammed is the closest thing to a scoring machine among big men, that's not a good thing. Durant will be asked to provide even more frontcourt points, and his load is already pretty big. The Thunder have also slipped defensively this season, and it remains to be seen whether Perkins will be as effective in a system with more leaks than Boston's.
All in all, I think it's a very good move for the Thunder, but any urge to crown them should be slowed.
From the Celtics' perspective, I'm mystified. Maybe it's a proactive move after
Perkins declined an extension offer
. Maybe they don't trust his balky knees (although I'd bet on Perk before the O'Neals). Maybe they're not as concerned about Orlando (i.e.,
Dwight Howard
) and don't feel obligated to retain Perkins for one player. Maybe they think Perkins will help the Thunder eliminate the Lakers, providing even less need for beef. And from a practical standpoint, Green and Krstic will stretch the floor and with
Delonte West
and
Von Wafer
, provide a nice punch for the second unit.
But considering the obvious impact of Perkins' absence during the Finals, and the way
Doc Rivers
reminds people every five seconds the Celtics have never lost a series with their ideal starting five (Rondo-Pierce-Allen-KG-Perk), the move feels curious. Boston's defense will undoubtedly suffer from Perkins' absence. Between this move and the side deal moving
Semih Erdin
, the Celtics have transformed themselves from one of the league's biggest teams to one lacking reliable size. I also wonder how the tight-knit -- and often moody -- Celtics veterans will respond to one their core players being moved. My guess? Not too favorably, even if it doesn't torpedo their enthusiasm toward the season.
Of course, as a Lakers fan, what do I care? You're a genius,
Danny Ainge
! A genius!
April, 8, 2010
4/08/10
11:51
PM PT
The final play was, to be frank, a disaster from the start.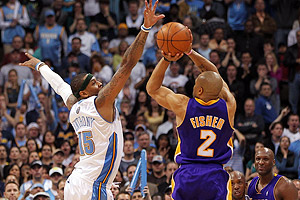 Doug Pensinger/Getty Images
Shorter man with no vertical vs. tall man who can jump = bad outcome on final shot.
With 12.7 seconds remaining and the Lakers down by two to the Nuggets in Denver,
Pau Gasol
inbounded the ball to
Derek Fisher
, who quickly pushed up court against
Chauncey Billups
. With about seven seconds to go,
Lamar Odom
popped out and set a screen for Fish, blocking off Billups. The other three Lakers --Gasol
, Sasha Vujacic
and
Ron Artest
(you'll notice an important name missing) -- were closely guarded. Here Fisher missed what would be his best chance to fire away. It would have been a deep three, but compared to what followed would have been ideal.
Off the screen and heading right at the wing, Fish was picked up by
Carmelo Anthony
on a switch. Six seconds to go. Fish tries to find space to make an entry to Odom, who is fronted by Billups, but can't do it over/around the much larger Anthony. Fish tries to probe with the dribble, but it's hardly his strength. With about 3.5 to play, Artest flashes high beyond the top of the arc. Maybe Fish could have hit him there? Moving away from the bucket and with
J.R. Smith
in the vicinity, it would have been a tough look.
Out of options, Fish rose, pulled the trigger ... and was blocked easily by 'Melo.
Lakers lose, 98-96.
Obviously the outcome wasn't good, but neither was the execution. The Lakers had a timeout remaining, and despite the risk of letting Denver set its defense could (should) have used it to advance the ball and set up a play. I don't think Fisher, who struggles to create with the ball, should have brought it up. Better Odom, with his potential to create better mismatches and also get off a shot against any defender Denver had on the floor. Once LO set his screen and Fish still wasn't free, someone else needed to come and give him a better outlet.
All that said, it's still hard to get too worked up over Thursday's result. Any visit to Denver is a potential loss, even with a full complement of players available. Take away
Kobe Bryant
,
a late scratch because of swelling in his right knee
, and
Andrew Bynum
? Yikes. Add in a first half in w'hich the Lakers finished 12 points down 12 and shot 33.3 percent from the field, thanks to a combined three of 19 from Vujacic,
Shannon Brown
,
Jordan Farmar
, and Fisher, and suddenly the context of the final shot changes.
Now, it's suddenly more impressive the Lakers had one trip to tie or win. That they didn't seem less consequential.
March, 1, 2010
3/01/10
9:44
AM PT
We analyzed the heck out
several moments
and relayed some
chatter about excessive chatter
. Here's more reading material for the masses:

GAME REPORTS
-Mike Bresnhan, L.A. Times
-Kevin Ding, Orange County Register
-Andrew Feinstein, Denver Stiffs
-Benjamin Hochman, Denver Post
-Jeremy Wagner, Roundball Mining Company
-Elliott Teaford, Los Angeles Daily News
-Dan Weber, Press-Enterprise
NOTEBOOKS
-Bresnahan (LAT), on
the second-half defense
-Hochman (DP), on
the Nuggs' pursuit of Big Z
-Teaford (LADN),
on Artest's defense
-Broderick Turner (LAT), on
Ron Artest's defense
-Weber (PE), on
Artest setting a tone
and trying to
lose weight

COLUMNS
-J.A. Adande
, ESPN.com,
questioning the Nuggets championship credentials
-Ding (OCR)
, on the
Lakers conquering brawn with brains
-John Ireland
, ESPNLosAngeles.com, on
the Lakers' Jekyll and Hyde performance in victory
-Craig Kwasniewsk
i, The Association, on the
Lakers finally showing up for a big game
-Arash Markazi
, ESPNLosAngeles.com, on
Artest's effect on the game
-Dave McMenamin
, ESPNLosAngeles.com, on
the Lakers silencing the trash talking Nuggets
-Mark Medina,
Lakers Blog, on
Artest being the key to victory
-Jeff Miller
(OCR), on
Artest officially "arriving" as a Laker
-Randy Youngman
(OCR), refuting those who think
Kobe's bad shooting makes him a liability
NBA
-Allen Iverson's
return to Philly
remains up in the air.
-Big Z, according to his agent,
hasn't made up his mind about returning to Cleveland
. Plenty o' teams would love to
enlist the services of the big lug
. In the meantime, Cleveland could definitely use him, since Shaq is expected to
miss 8 weeks after thumb surgery
.
-The Rockets future plans still
hinge on Yao Ming coming back healthy
.
-The Timberwolves
suspend an apologetic Al Jefferson after a DWI arrest
.
-Dwight Howard
remains a whistle magnet
.
-Rook
Dante Cunningham
has grown up a lot this season
for the Blazers.
February, 27, 2010
2/27/10
4:45
PM PT
Rarely does a regular-season game feel so chock full of ginormous implications, much less implications potentially bigger for
the 44-15 defending champions than the 39-19 challengers
. But that's about the size of things as Sunday's game against the Denver Nuggets looms just ahead.
PODCAST
Chalk talk! Ahead of Sunday's big game against Denver, Andy and Brian break down the Nuggets' powerful offense with coach Dave Miller. How to stop one of the NBA's best O's? Click to find out.
Podcast

The Lakers have dropped a pair of contests to last season's Western Conference finals foe by
26
and
13 points
and it stands to reason they don't want to provide this hungry, dangerous squad additional reasons to like its 'chip odds. Whether you think this game matters more to Denver or L.A., that the question can be legitimately debated illustrates why it behooves the Lakers to eliminate
their admitted complacency
and match the Nuggets' predictable intensity.
Or heck, just match the intensity of the K Brothers, who went the extra mile and provided the Land O' Lakers faithful
not one but two
poddys analyzing this showdown. So much knowledge and insight dropped, the average listener, regardless of age, size or conditioning, would be able to take the court and shut down
Carmelo Anthony
without the assistance of a second defender.
PODCAST
Andy and Brian Kamenetzky preview Sunday's game against the Nuggets with Benjamin Hochman of the Denver Post, talking about Denver's confidence against L.A. and how they're handling George Karl's battle with cancer.
Podcast

Seriously, it's
that
illuminating.
First is a chalk talk with our man
Dave Miller
, former NBA and college assistant coach. Denver has an explosive offense, capable of making hay from everywhere on the court. Miller explains the best ways to tame the beast.
-(4:00): In Miller's mind,
Chauncey Billups'
nine 3-pointers against the Lakers on Feb. 5 was a mix of good O and bad D, prompting thoughts on how to avoid the latter. Also, with a guy as talented as Billups, are you better off when he's a playmaker or a scorer?
-(6:39): A discussion of 'Melo's ever expanding game. He has become more efficient and selfless, which makes him an even bigger nightmare. Anthony is, however, still bothered by physical D and his decision making remains a work in progress, Miller says. He also offers a candid opinion on the
Ron Artest
-Anthony matchup.
-(16:00): The Nuggets still go off the grid at times when it comes to playing system ball, but there's now much more method than madness. Miller talks about Denver's new-found discipline, which starts with Billups.
-(20:49): With all the attention focused on Melo, Billups and the still-maturing
J.R. Smith,
Denver's bigs often get lost in the shuffle.
Kenyon Martin, Nene
and
Chris Anderson
, however, are a big piece of the Nuggets' puzzle.
Johan Petro
? Not so much.
-(24:20): Failure to run a system often leads to bad shots and opposing teams capitalizing in transition. Miller explains below:
"All of the shots that come out of the triangle once you have that normal overload and form the strong side triangle or what I call 'the backside triangle," Tex Winter put that together and Phil Jackson uses it because it balances the floor. When individuals take a shot that's not 'their shot'... when somebody catches the ball and does something out of the norm, that's when your floor isn't balanced. And teams like the Denver Nuggets, that's like throwing chum into the ocean trying to get sharks. They see those bad shots and they see those those long rebounds, and now they're running and they're pushing it.
Chauncey Billups has been a calming effect and is trying to run some offense, but I don't care what team you play for and I don't care what coach have, the best offense is transition. The best offense is to play defense, contest the shot, get it off the boards and then push it down their throats... People listening need to realize that shot selection and floor balance equate to defending other people's transition."
February, 6, 2010
2/06/10
4:32
PM PT
With the possible exception of the Christmas Day game against the Cavs (when it rained foam fingers instead of Denver three-pointers),
Friday's loss to the Nuggets
stands as the season's worst for the Lakers, or at least their fans. A fully healthy Lakers team letting a nine-point third quarter lead slip away to a visiting team without its best player? That just ain't right.
The contest's signature participant, of course, was Denver's
Chauncey Billups
, who hit nine of his first 11 threes and finished with 39 points.
After the game, Phil Jackson was asked if Billups deserved credit for incredible shooting or if the Lakers allowed him to go off
thanks to bad defense. "That was all him," PJ said. "He might have had one in the first half that guys didn't close out and get to him, and Fish a couple times, he's down helping out and as a consequence he got going. But he was shooting beyond the line considerably."
So is he right? I went back this afternoon, fired up the DVR, and took a look. Below is a rundown of all nine Billups threes. Settle in.
February, 5, 2010
2/05/10
11:26
PM PT
I spent all afternoon maneuvering around Los Angeles with my rain jacket zipped high and umbrella wide open. It never occurred to me to bring the 'brella with me to my seat in press row. Huge mistake, because Friday night at Staples, the Denver Nuggets rained down three-pointers on the Lakers like
Tlaloc, the Aztec water diety
. An angry, vengeful Tlaloc. So much rain, the USC band floated out of the upper deck two-by-two while courtside patrons were presented plastic sheeting as if they were sitting front row at a
Gallagher
show. It was the only way to stay dry.
Noah Graham/NBAE via Getty Images
A Chauncey Billups 3-pointer. Something he did to the Lakers nine times Friday night. Nine times? Nine. Times.
Because man alive, the Nuggets
shot the lights out in their 126-113 win
. 57.1% overall, and an astonishing 15-22 (68.2%) from beyond the arc.
None of the 15 were more important than four coming in the last four minutes of the third quarter. With the Lakers up by eight,
Chauncey Billups
came down the floor and, off a pass from
J.R. Smith
, ripped a three from 27 feet at 3:47. 43 seconds later, Billups again nailed a triple. And, just for good measure, at the 2:10 mark Billups pulled up at the top of the arc in front of a far too passive
Sasha Vujacic
and again found cord. Eight points up to one point down in 97 seconds. It was like a video game.
He wasn't done, either.