Los Angeles Lakers:

Cheryl Miller
ESPNLA has launched a Sweet 16, Los Angeles-style. The most beloved figures in L.A. sports history. As you can imagine, there are one or six Lakers in the bracket. Make sure you drop by and vote.
Vote here:
The Most Beloved.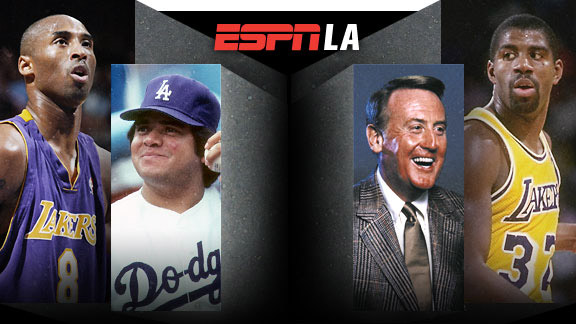 ESPN.com Illustration
August, 3, 2011
8/03/11
8:45
AM PT

By Andy Kamenetzky
ESPNLosAngeles.com
Archive
As part of a continuing series, NBA players share the various ways growing up in L.A. shaped their games.
It goes without saying
Tina Thompson
is a women's basketball icon. The WNBA's
all-time leading scorer
, she has been a member of the league since the 1997 inaugural season. But she's also a Los Angeles basketball icon. The Culver City resident was slated to attend Palisades High School, but the desire to play elite basketball prompted a transfer to the famed Morningside High School in Inglewood. ("When I tell you they're worlds apart," says Thompson of the schools and the demographics, "they're
worlds apart
.") She enjoyed a storied career -- right on the heels of fellow legend
Lisa Leslie
-- after which she graduated as the 1993 California AAA Player of the Year, with over 1,500 points and 1,000 rebounds in her pocket. At USC, teamed with Leslie for one campaign, her four seasons concluded with her as
the fourth-leading scorer and third-leading rebounder in Pac-10 history
.
Most strikingly, Thompson learned the game as a kid on the courts at Robertson Park in West L.A. For most elite ballers, this process represents a rite of passage rather than a particularly unique step. For a girl, it's teeth cut the hard way. She first arrived at 10 years old and wasn't even allowed run in the actual gym for a few years. From there, even more respect had to be earned, whether absorbing the physical play of a man or simply convincing them she was worth guarding. It wasn't easy, but that experience made Thompson a tougher, confident player by the time she began carving out a place in the record books.
"Who I was as a basketball player happened way before I came to Morningside," explains Thompson of her years at Robertson Park. "I pretty much knew who I was."
Andy Kamenetzky
: When you first started playing at Robertson Park, you were basically tagging along with your brother T.J.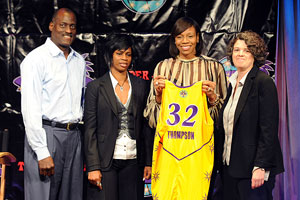 Noah Graham/NBAE via Getty Images
Thompson's childhood days at Robertson Park laid the groundwork for her eventually joining the Sparks.
Tina Thompson:
Yeah. It was me and all his friends. My brother was young, too. He's only three years older, but he and his friends were really good. They could play with the men in the gym and have no problem. But I was younger. I was thin as a rail. And I was also a girl, so actually trying to get play in our gym was tough. Guys didn't want to lose because the likelihood of them getting back on the court anytime soon were slim to none. That's how many people would be in the gym. You had guys like
Cedric Ceballos
and
Chris Mills
. And other guys that didn't play in the league but were very good. The talent level was really high. A lot of kids played on great high school teams or went to college and played for Division I universities. The competition was pretty sick.
AK:
Initially, they used to make you practice outside while everyone else played in the gym.
TT:
Yeah, it's classic playground. If the ball goes to the other end, guys would just shoot on the other end. The ball would come back to that end and you run off the court. I started trying to do that, and I think maybe one time, which happened with several people, I didn't get the ball in time and it might have interrupted the game. My brother was like, "Get out!" Like, "If there's going to be a nuisance, it's not going to be you. Get outside. If you want to play basketball and you want be good, you gotta practice."
Of course, playing outside, cement, metal backboards, chain-link fence, it wasn't prestigious at all. Not very many people played outside. It was just the
older
guys. But it kind of gave me a toughness. Basically, it was a challenge. I wanted to prove them wrong. In the evening, my brother and his friends would play later in the night. So we would be there until after midnight playing at the park. And one of the guys who used to play with my brother is
David Fizdale
. He's now an assistant coach with the Miami Heat. We would meet on a corner early in the morning, walk into the gym and stay there until very late hours. Just practicing and putting in the necessary work was second nature, being a product of that park.
I had also played in a league at the park that my brother and his friends played on. I was
on the team
, but I never played. [Laughs.] I got to practice and stuff, but I didn't get any minutes in the game unless it was a complete blow out. Then they told me to reverse the ball and never shoot or dribble it. I was pretty restricted. [Laughs.]
AK:
What was the feeling when you first were allowed in that gym for the real runs?
TT:
Well, first of all, it happened because, on that day, there weren't enough people. There was no one else, so I got to play. I think they kind of realized, "She's pretty good. She's been working on her game." So it was great. You go from being kicked out of the gym to actually being picked up.
Guys who hadn't been at the park for a long time or new to the park, they're kind of like, "Who has the girl? Who's guarding
her
?" They took me lightly. Then after I scored two or three baskets, they're like, "Oh, man. You have to guard her." It was definitely an experience. It gave me a toughness I don't think I would have gotten in any other situation. It's not something that you can make up.
AK:
How did the men play you, in terms of physicality?
TT:
Guys that were familiar with me, from the neighborhood or whatever, they would play me seriously. They would play me tough. They would foul me. They would hit me. Sometimes they would foul me and wouldn't give me the call. Just like, "Toughen up. Get over it. We don't call those types of fouls." But of course, they were fouling me harder than they would foul my brother. And he would get the call.
AK:
Did you dish it back?
TT:
Oh yeah! It got to the point where I got pissed off and I was fouling hard back. So they were kinda like, "Oh ...
okay
." And then a guy would try to call a foul and my teammates were like, "
Seriously
? You're calling the foul
on the girl
?" I slowly but surely started getting respect.